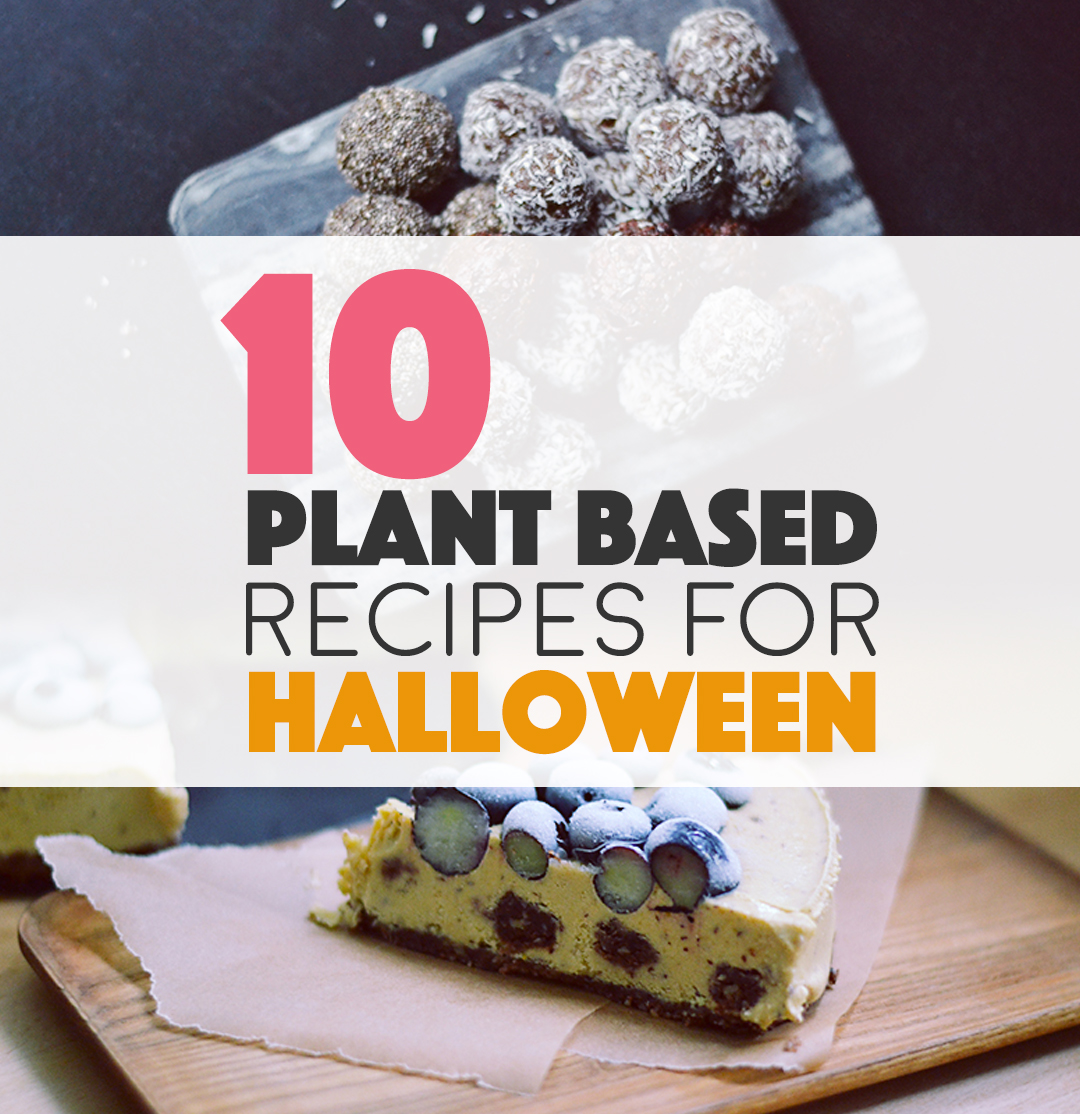 If you're anything like me, you're more concerned about what to bake for Halloween than what scary costume you're going to be wearing to the party. There's all kinds of crazy and creative baking ideas out there to create the scariest (or most disgusting) looking cakes, cupcakes, and candy. But most of it is also packed with refined sugar and unnatural colors. So to counteract that stream: here are 10 Plant Based Recipes for Halloween that are refined sugar free and use all natural ingredients.
Unleash your creativity on this dairy free raw cheesecake. Decorate with color appropriate fruits and berries to create a frightening decor (might I suggest blueberry "eyeballs", raspberry "blood" sauce, or chia seed "bugs").
Some people are frightened just by the mention of liquorice. These black bliss balls are not for the faint of heart. ;)
What more appropriate finger food than a big bowl of orange hummus? Pair it with carrot and cucumber "fingers" and people are guaranteed to be grossed out.
Orange is no doubt one of the primary colors of Halloween. So anything carrot goes! A friend of mine loved these so much she once made three batches of them in a week!
It's all in how you present it, right? Call this coconut, ginger and lime juice monster snot (or alien tears?) and you'll get people in an appropriate mood for your Halloween party.
I can think of a bunch of gross (and scary) comparisons that can be used to describe this creamy, thick and orange pumpkin soup. But I'll refrain from giving you any gross associations to this because this Creamy Pumpkin Soup is actually delicious and I want you to try it!
Once again, that scary liquorice flavour! I love the stuff, but I have friends who cringe at the thought of it. Maybe give them a forewarning this is liquorice flavoured before the poor things down a big gulp of it!
Another great finger food that'll go great with that hummus are these beet chips. They're super quick and easy to make too. Plus, they're red, and thinly sliced in a spherical form…just saying, that these could bring up some pretty gruesome thoughts.
Fill your Halloween goodie bags with delicious Brownie Peanut Butter Chocolate Chip Bliss Balls instead of stuffing yourself (or your kids) with chemically colored and sugar packed sweets. These are a definite crowd pleaser!
It's orange, it's festive, and it can be decorated to suit whatever theme you're going for. This gluten free carrot cake is a favourite!
Plant based Halloween recipes around the internet
Maple Pecan Halloween Treats by Deliciously Ella
5 Ingredient Gluten-Free Sweet Potato Gnocchi by Heartbeet Kitchen
Vegan Pumpkin Cheesecake by Minimalist Baker
Vegan Candy Corn by Chocolate Covered Katie