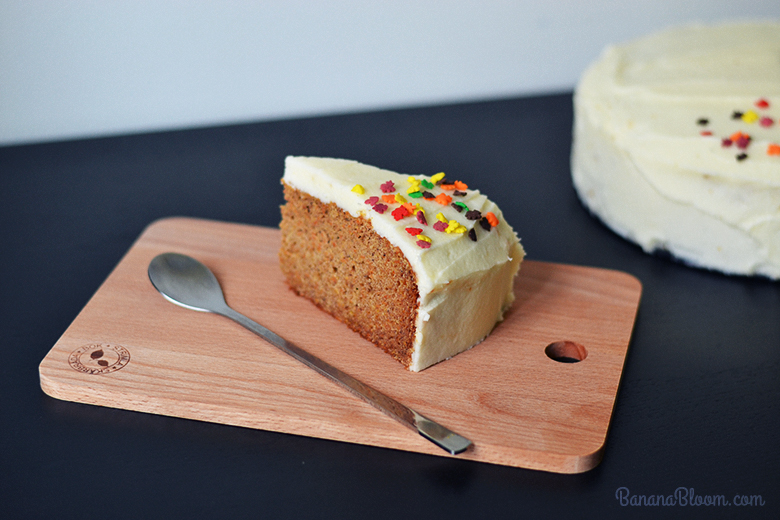 A couple of weekends ago, I stepped into the kitchen with determination. I had a clear idea in mind, which had been brewing ever since that disaster of a carrot cake I made a couple of weeks ago. I had carefully considered just what ingredients I was going to stir together, and I had a clear vision of what I wanted the result to be.
Isn't it beautiful when experiments reach their desired outcome? That was – much to my satisfaction – the case with my carrot cake.
The Banana Bloom Vegan Carrot Cake (gluten free)
Dry ingredients
2 1/4 cups gluten free flour
3 tsp baking powder
1 tsp baking soda
1 Tbsp cinnamon
1 tsp pumpkin spice mix
1 tsp freshly grated ginger
1/2 tsp pure vanilla powder
Wet ingredients
2 cups grated carrots
7 small fresh dates
1-2 tsp liquid vanilla extract
1 ripe medium/large banana (the riper the better)
1/2 cup raw cane sugar
1/2 cup coconut sugar
3/4- 1 cup Almond milk
1/2 cup coconut oil, melted
Method:
Mix all the dry ingredients together in a big bowl and set aside.
Using the grating or shredding blade in a food processor, grate the carrots finely, then set aside in a separate bowl. Add the chopping blade to your food processor and add the dates, vanilla extract and banana. Mix until it reaches a smooth and creamy consistency. Add the sugars and milk and mix again, then add the melted coconut oil while the food processor is running. Add the carrots back into food processor and mix until combined.
Add the liquid mixture to the wet ingredients and fold together with a spatula.
Oil a 20 cm / 8 inch round pan with coconut oil and dust with coconut sugar and coconut flakes. Pour the batter into the panand bake in the oven for 35-40 minutes at 160 C / 325 F / Gas mark 3. Remove from oven and allow to cool completely before spreading the frosting on top.
Frosting
3/4 cup vegetable butter
3 – 4 cups powdered sugar
juice of 1 lemon
1 Tbs apple cider vinegar
3-4 Tbs almond milk (to desired consistency)
1 tsp vanilla extract (optional)
Mix all ingredients together until you reach the consistency – and taste – that you like. Using a frosting knife, carefully spread a generous amount of frosting on top and around the sides of the cake. Decorate with sprinkles.
Note: this recipe makes a thick cake that can easily be cut in half to create a two layer cake with frosting spread between the layers. It's recommended; the more frosting, the better!
Enjoy!