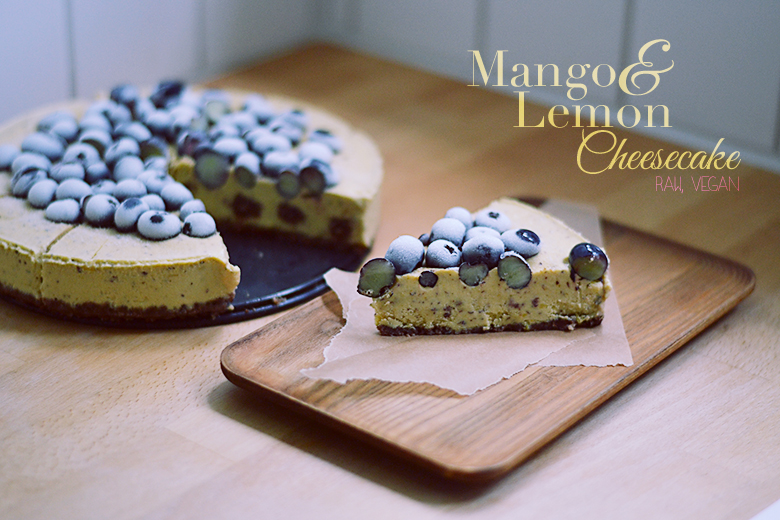 It's been a while! I've been experimenting with all kinds of fun new recipes, the latest of which is this recipe for mango and lemon cheesecake, that technically isn't cheesecake because there's not actually any cheese in it. Yup, you heard me. This is a raw, vegan, refined sugar free, and packed-full-of-goodness healthy not-cheesecake. And it is absolutely mouthwateringly delicious.
RECIPE:
Raw Vegan Mango Lemon Cookie Dough Cheesecake Yield: one 8 inch / 20 cm cake
INGREDIENTS CRUST & COOKIE

DOUGH:
1 1/3 cup walnuts
8 small (or 4 large medjool) dates
pinch of salt
1 tsp raw cocoa powder
FOR THE CHEESECAKE:
1 cup cashews, soaked for 4-8 hours (or overnight)
12 small (or 8 large medjool) dates
1/2 cup water
1 cup fresh or frozen (thawed) mango, diced
2 tsp lemon zest
1/4 cup freshly squeezed lemon juice
1/4 cup coconut oil, melted
2-3 Tbs reserved crust
Blueberries for decorating (optional)
HERE'S WHAT YOU DO:
To make the crust: blend the walnuts, dates, salt and raw cocoa powder in a food processor until you've got a crumbly mixture.
Reserve about 1/4-1/2 cup of the crumbly crust to fold into the filling as cookie dough bits later. Press the remaining crumble into the base of an 8 inch (20 cm) round springform pan, set in the freezer to cool while you prepare the filling.
To make the filling: Drain and rinse the soaked cashews, add them to your food processor together with the dates and water. Process for about 5 minutes, until you've got a very smooth creme.
Add the mango cubes, lemon zest, lemon juice, and coconut oil and process again until smooth.
Form small balls out of the reserved crust dough. Remove blade from food processor (or pour the cashew creme into a bowl) and, using a spatula, carefully fold in the cookie dough balls.
Pour the filling over the frozen crust and decorate with fresh blueberries, raspberries or other fresh fruit or berries. Set aside in the freezer for at least 3 hours to set.
Once ready to serve, remove from the freezer and allow the cake to defrost for 10-20 minutes before serving. Store sliced up (for convenience) in an airtight container in the freezer.
Enjoy!