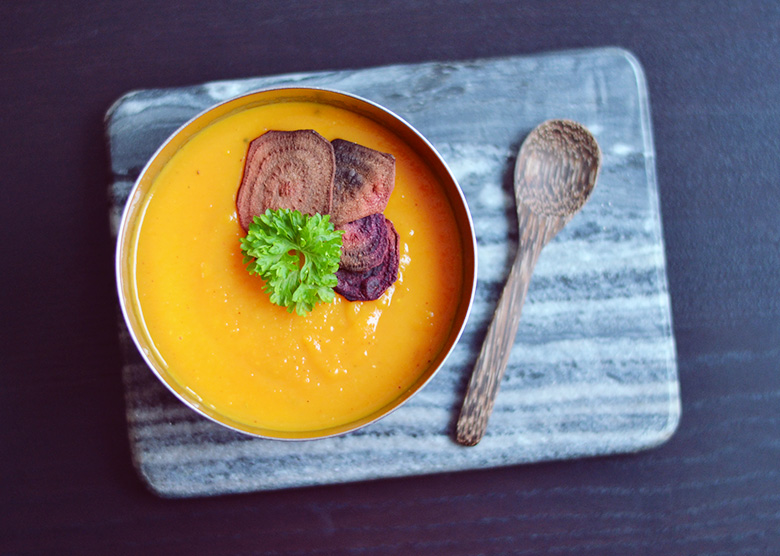 I always make a huge batch of this so that I can freeze some of it for quick dinners or lunch boxes during the week. It can be endlessly varied, add whatever vegetables and spices you have on hand. And f you've got time, make some freshly baked bread rolls to go with it!
CREAMY PUMPKIN SOUP
Serves: 8-10
1 medium size butternut squash or pumpkin
5-8 medium carrots
2 onions
3 cloves garlic
1 can light coconut milk
1-2 cups of water, optional
Pinch of chili
1 tsp smoked paprika (or to taste)
1 tsp oregano
METHOD
Peel and chop the pumpkin and carrots into 1 inch squares, place in a large pot.
Chop the onion into chunks and peel the garlic and press it with the side of the knife to break it, add it to the pot.
Fill the pot with water until all the vegetables are just covered. Place over high heat and allow to come to a boil.
Boil for about 10-20 minutes, or until all the vegetables are very soft and starting to fall apart.
Once the veteables are soft, remove the pot from the heat and drain the water.
Add the coconut milk and give it a quick stir.
With a hand mixer or in a food processor, mix the vegetables until smooth and no lumps remain.
Place back on the heat and add some water if the soup looks too thick.
Add salt, pepper, chili, smoked paprika spice and oregano and stir again.
Allow it to bubble for a couple of more minutes and then serve.
Enjoy!