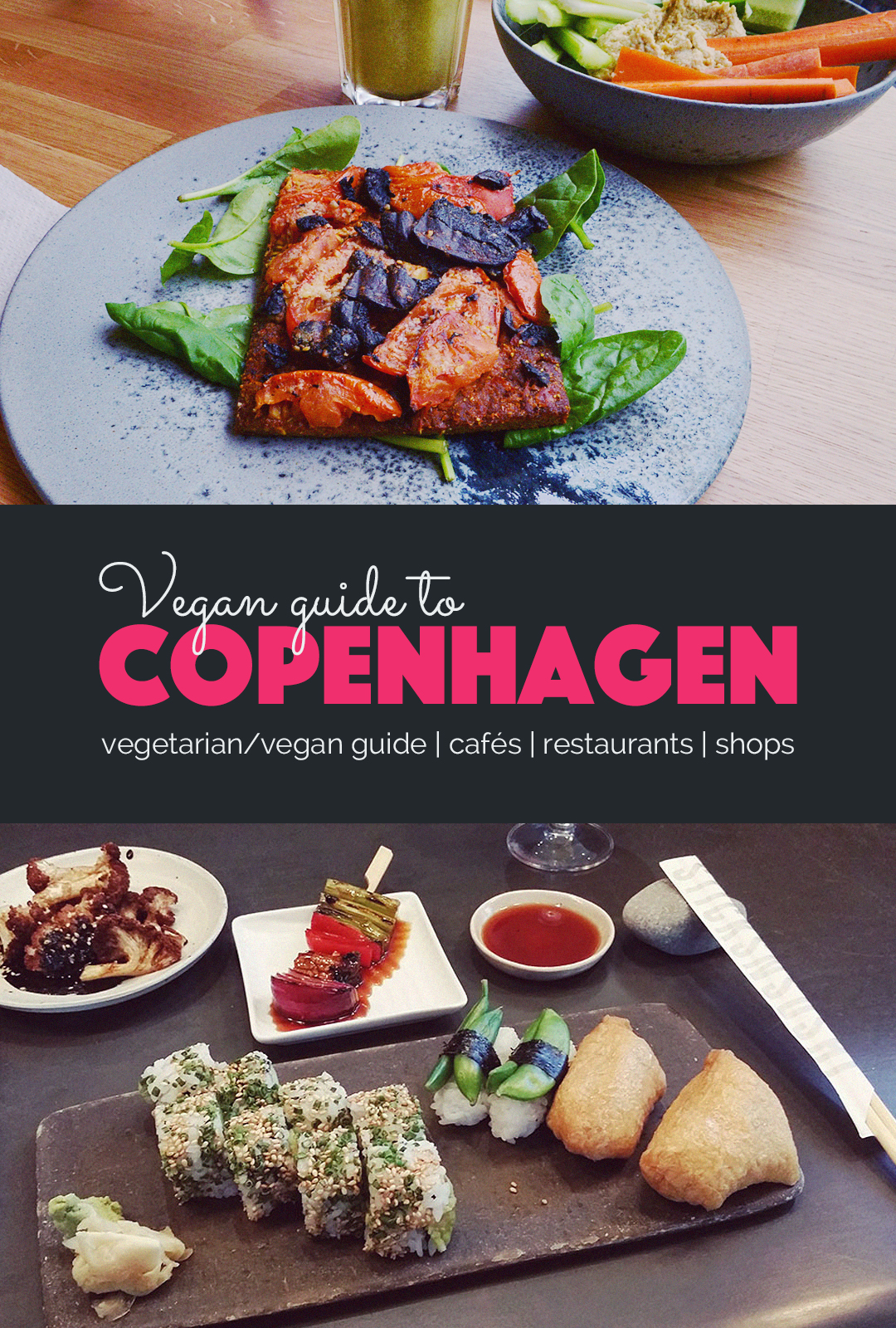 Traveling to Copenhagen and looking for vegetarian or vegan food? Copenhagen is pretty big on the raw food trend, and have a lot of nice dining options for vegetarians and vegans. Check out the vegan guide to Copenhagen below, and click through to my reviews of the places I have visited.
42 Raw
Pilestræde 32 / 42Raw.com
Raw food café with light meal options and raw cakes and cookies. The place is trendy and popular, and the food and cakes are really good. I tried both their food and sweets when I was there, read my review of 42 Raw here.
Sticks n' Sushi
Tivoli Hotel, Arni Magnussons Gade 2 / sushi.dk
Don't miss this fancy sushi restaurant, it might just be the best sushi you'll ever taste. The menu is extensive and several fully vegetarian options are available, the staff are also happy to help you get exactly what you want. Check out my review of Sticks n' Sushi here.
BioMio
Halmtorvet 19 / BioMio.dk
All organic restaurant with vegetarian and vegan options on their menu. View my review of our visit to BioMio here.
Verandah
Havnegade 44 / Verandah.dk
Verandah offer fancy modern take on indian cuisine focused on local and seasonal produce. The restaurant has a beautiful interior decor and is located right next to the waterfront. They have an all vegan set menu as well as non-vegan menus and a la carte. We opted for the set menus during our visit and were thoroughly blown away by the delicious food. Highly recommended.
Botaniq
Frederiksborggade 26 / Botaniq.com
Sustainable restaurant that offer an all vegan menu and raw food. Most dishes are organic and the menu includes snacks, larger meals and brunch.
SimpleRAW
Oehlenschlægersgade 12 / Simpleraw.dk
As the name would suggest, the dishes – meals, cakes and beverages – at SimpleRAW are all made up of raw food. That means fresh fruit, vegetables, grains and nuts, and nothing heated over 42 degrees celsius.
The Raw Tribe
Blågårdsgade 2A, kld.
The Raw Tribe serve raw and vegan food. The menu includes a wide range of healthy dishes, raw treats and smoothies.
Biom
Fredericiagade 78 / Biom.dk
Biom is highly focused on being all organic, even the paint on the walls of their restaurant is organic! They have breakfast, brunch and dinner menus and have vegetarian options.
Torvehallerne
Frederiksborggade 21 / Torvehallernekbh.dk
Torvehallerne is a large two-building venue with market style stalls offering fresh fruit, vegetables, grains, spices and more. There are several cafés and eateries located inside and around the venue. Well worth a visit just to soak up the beautiful displays and enjoy some fresh food or cakes. Read my review of our visit to Torvehallerne here.