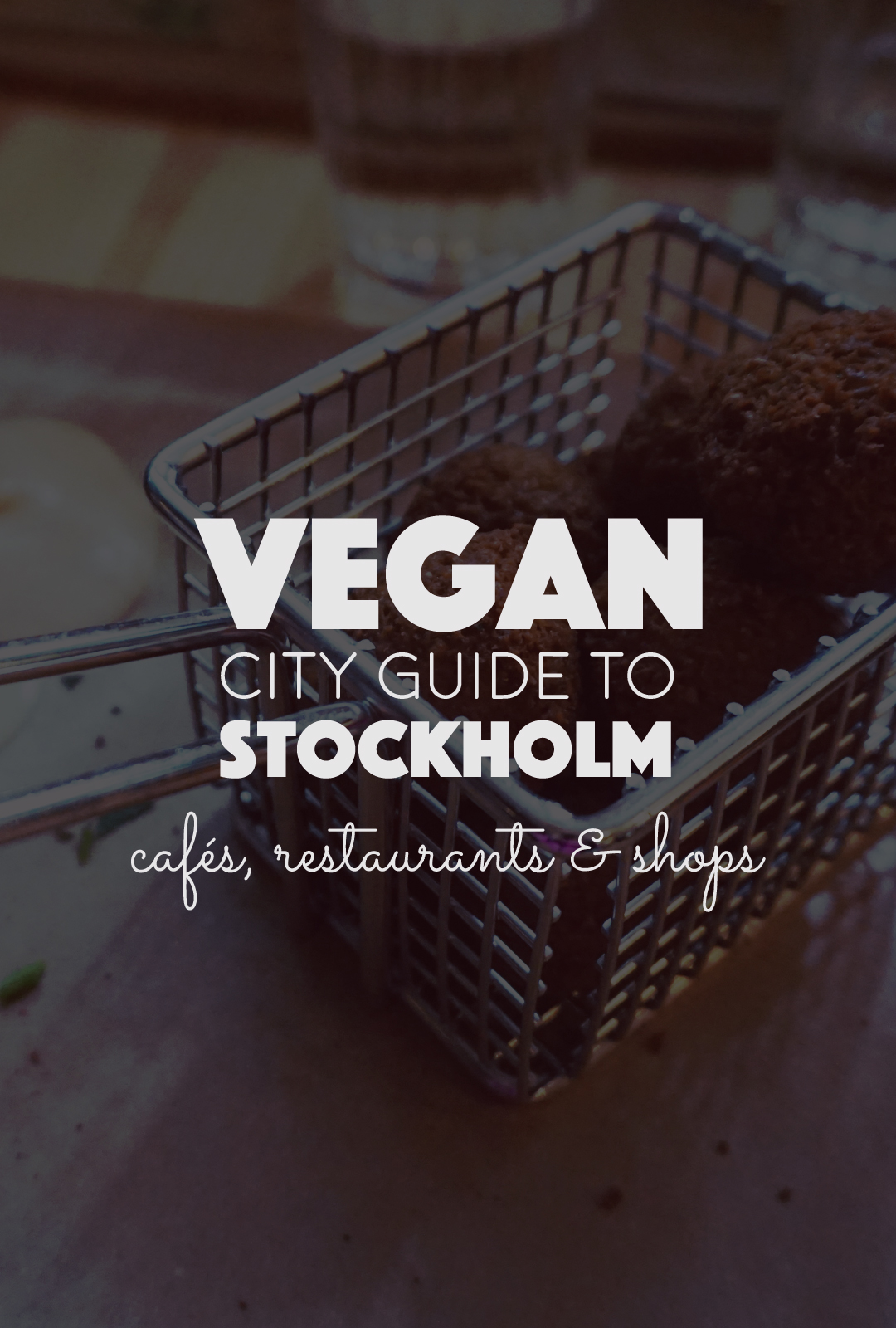 Not long ago, I wrote a guide of vegan cafés, restaurants and shops in Stockholm. However, with the abundance of new vegan, raw food and healthy spots opening in Stockholm, I felt the list needed an update. This Vegan City Guide to Stockholm includes a lot of new places, as well as some mentioned in the previous list.
CAFÉS & RESTAURANTS
all vegan or vegan friendly
Sthlm Raw
Långholmsgatan 11 | website
Raw food café that mainly offer sweet treats and coffee or tea. Every day they've got a selection of raw bliss balls, cakes and other treats including acai and chia bowls, juices and smoothies. During lunch hours they have a small lunch menu of 2-3 dishes, their raw Caesar salad is a favourite of mine. Read my review of Sthlm Raw here.
Hälsocafet
Hornsgatan 61 | website
Hälsocafet are a health food café with light meals, breakfast options, and lots of yummy treats. They make beautiful acai bowls daily that a bursting with color and toppings. And they're always whipping up some creative raw cakes and treats. Most of their dishes and treats are vegan and there's vegan milk options for your coffee as well.
Yogayama
Jungfrugatan 8 | website
Small café/restaurant in conjunction to the yoga centre Yogayama, open for breakfast and lunch. Vegetarian and vegan friendly dishes and sweets.
Lilla ekot
Riddargatan 20 | website
Café focused on healthy and raw food dishes and sweets. They offer daily meals, salads and a selection of raw food cakes and other treats. Only open on weekdays and limited hours.
The Green Queen
Norr Mälarstrand 64 | website
Organic vegetarian and vegan friendly street food café open during the summers (only outdoor seating). Delicious salads and meals as well as a small selection of raw food sweets and ice cream. Read my review of The Green Queen here.
Bagel Street Café in Hornstull
Hornsgatan 174 | website
Bagel Street Café is a franchise which means the menu at each location varies. The Hornstull café is the best in town with an extensive menu including a special local vegan menu of 4-5 different vegan bagels (with the option to have them as a salad). Delicious meals and friendly staff.
Bagarn' i Hornstull
Långholmsgatan 23 | website
Bagarn' i Hornstull is located in the tunnel leading to the subway in Hornstull. They've recently started offering vegan bake goods on occasion, such as vegan croissants and buns, as well as vegan cronuts!
Blueberry Lifestyle
Klarabergsviadukten 59 | website
Juice and health food café with 8 locations in Stockholm. Their menu includes breakfast, lunch, healthy sweets, juices, smoothies and special hot drinks such as chaga coffee latte, ginger spice latte, and green matcha latte.
Le Mond
Folkungagatan 67 | website
Café for bike enthusiasts that offer daily vegan lunch options as well as vegan snack plates and acai bowls.
Babel Deli
Långholmsgatan 27 | website
Babel deli offer healthy and organic dishes including meze plates, salads and wraps. Several vegetarian and vegan options on the menu. Their restaurant in Hornstull is my favourite.
Green Peas
Fridhemsgatan 3 | website
Vegan restaurant with buffet of daily hot meals such as vegetarian patties and stews.
Hermans
Fjällgatan 23B | website
Vegetarian buffet restaurant located on Fjällgatan with a gorgeous view of the city. After a recent renovation and reopening of the restaurant, Hermans is now said to be all vegan.
Matapoteket
Bondegatan 6 | website
Small organic raw food café offering daily lunch and dinner dishes, take away and raw cakes and sweets.
Växt café
Polhemsgatan 21 | website
Vegetarian and vegan buffét, the chef is said to have years of vegetarian and vegan cooking experience and rumoured to have worked at the popular vegetarian buffét restaurant Hermans.
Vegetariskt Matcafé Legumes
Hornsgatan 80
Small vegetarian/vegan restaurant offering a daily buffét of dishes. Excellent food.
Maxos
Scheelegatan 13
Falafel restaurant on Kungsholmen in Stockholm. Vegetarian and vegan options.
FLFL
Skånegatan 87 | website
Excellent falafel restaurant on Södermalm in Stockholm. Most of the dishes on the menu are vegan aside from a select few dishes that contain egg. Both small and large dishes are available, including several sides and complimentary salad bar.
Falafelbaren
Hornsgatan 39B | website
Possibly the best falafel in town. Falafelbaren is a small hole-in-the-wall restaurant that is very popular (if you go at lunch hour on a weekday expect there to be a line out the door). Their menu includes falafel as a wrap, in pita or as a salad. The falafel salad is my favourite – delicious crispy falafel, great hummus and tangy pickled vegetables.
Ho's
Hornsgatan 147 | website
Very popular thai restaurant (make sure you book a table). Their menu includes several all vegan dishes such as wok vegetables, tofu, deep fried tofu and as well as mock meat dishes.
Femtopia
Hornsgatan 149 | website
Small vegan café offering daily home made bake goods.
Lao Wai
Luntmakargatan 74 | website
Chinese vegetarian (all vegan) restaurant with dishes inspired by Sichuan och Taiwanese cuisine.
Martin's Gröna
Regeringsgatan 91 | website
Vegetarian lunch restaurant serving a daily vegan and vegetarian lunch. Dishes are inspired by cuisines and spices from around the world.
FANCY DINING
all vegan or vegan friendly
Farang
Tulegatan 7 | website
Highly rated fine dining restaurant. Farang's menu is centered around an Asian fusion theme with inspiration and dishes coming from Thailand, Vietnam, Malaysia and Indonesia. They have set dinner menus, and the vegetarian menu is all vegan. Read my review of our visit to Farang here.
Brasserie Godot
Grev Turegatan 36 | website
Fine dining French restaurant with vegan options on the menu.
Minh Mat
Odengatan 94 | website
An excellent vietnamese restaurant with a whole separate vegan menu! The food here is unique and exciting. The flavours and combinations offer a food experience in both flavour and texture. Minh Mat is a Banana Bloom favorite!
SHOPS & GROCERY STORES
all vegan or vegan friendly
Paradiset
Brännkyrkagatan 62 | website
Sweden's equivalent to Whole Foods. Paradiset is a large grocery and health food store stretched over two floors with a small food court on the second floor. You'll find a wide range of organic and vegetarian/vegan products here as well as beauty and health products. The food court houses a flat bread pizzeria (with vegan options on the menu) as well as a café with raw food cakes and sweets and fresh salads (several vegan options available), among other eateries.
Pepstop
Riddargatan 3A | website
All vegan grocery and health food store. Pepstop offer prepared boxes of raw food meals and sweets for take away as well as juice cleanses and a wide range of daily juices and smoothies. Their vegan chocolate muffins and almond milk with dates and vanilla are delicious. Click here to read my review of Pepstop.
Goodstore
Hornsgatan 176 & Skånegatan 92 | website
All vegan and mostly organic grocery store with a wide selection of gluten free products. My favourite grocery store in town! Goodstore have an excellent selection of vegan products and are always stocking up on new stuff. Friendly staff, a must visit!
Götgatsbackens hälsokost
Götgatan 21 | website
Small health food store that's been around since 1985. This is a good place to find special products such as superfood powders, holistic medicines and a selection of pantry staples. Lots of vegan and gluten free products.
Gryningen
Folkungagatan 68 | website
Health food and grocery store offering a wide selection of organic products, fresh produce, candy, and pantry staples. They also have a large section of holistic medicine, superfood powders and organic beauty products.
Hornsgatans hälsokost
Hornsgatan 45 | website
Small health food store mainly focused on offering holistic medications. A selection of vegan products such as chocolate and candy, grains, nuts, bars, and teas are available.
Eat Ekoaffären
Tegnérgatan 3 | website
Organic health food grocery store offering a wide range of products, including fresh produce. They have several vegan products and a small take away selection of daily lunch box meals.
ReStore
Hornsgatan 170 | website
Health food store mainly focused on superfood powders, protein, nuts and grains. Vegan products available but ReStore is not an exclusively vegan store.
Greenshop
Bergsgatan 29 | website
Newly opened vegan grocery store that are stocking all the latest vegan products on the market.
JUICE & SMOOTHIE BARS
all vegan or vegan friendly
Juiceverket
Långholmsgatan 19 | website
Juice bar in 5 locations in Stockholm. Extensive menu of juices and smoothies. Several vegan smoothies.
Olssons Juice
Odengatan 49 | website
Organic juice bar, opened summer 2015. Their menu includes acai bowls and raw balls.
PIZZERIAS
offering vegan pizzas
O'Mamma Mia
Kungstensgatan 60
Separate vegan menu with over 30 pizzas.
Feca
Torkel Knutssonsgatan 35 | website
Separate vegan menu with several vegan pizza and pasta dishes, as well as vegan dessert.
Pizzera Oliven
Folkungagatan 86 A | website
Vegan cheese available, ask the staff.
Pizzera Fellini
Midsommarvägen 11
Special vegan menu of pizzas with vegan cheese and mock meats.