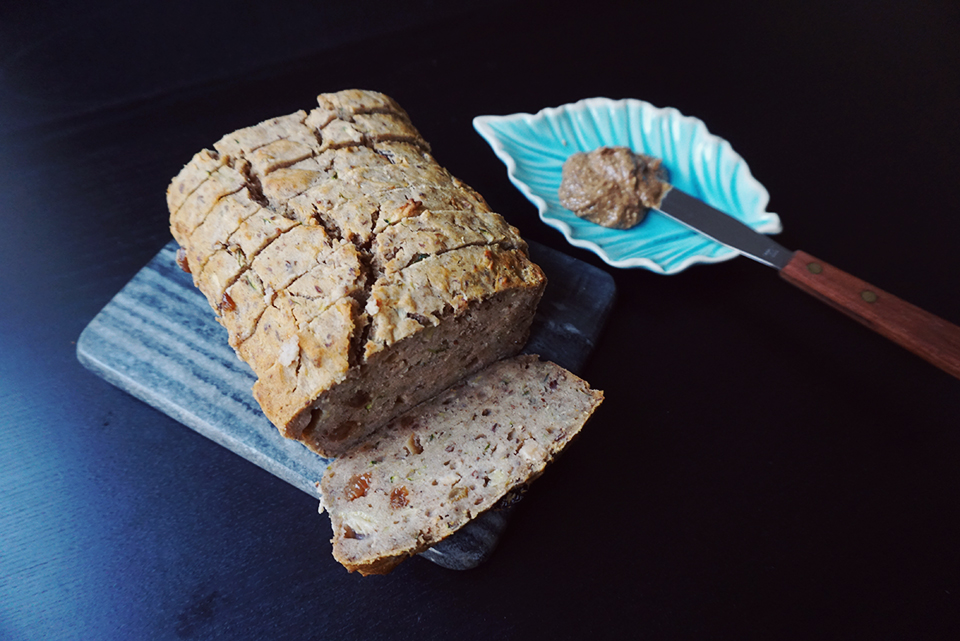 I love breakfast. I belong to the group of people (and I know there's enough of us to fill a medium sized country) that could eat breakfast every meal of the day. And I totally have breakfast for dinner whenever I can't be bothered cooking something.
My mornings are a kind of zen experience and I often get up extra early just to get as much time as possible to hang around and enjoy my breakfast. The added bonus of my morning ritual is that I actually look forward to my mornings! Lately, I've been longing for breakfast more than usual. The reason is this vegan zucchini banana bread, it's become a standard that I bake a loaf of it every weekend to cover my breakfasts throughout the week. I can't go without it.
I typically have it with vegan cream cheese, or with almond butter and chia seed jam.
Vegan Zucchini Banana Bread
1 3/4 cups gluten free all-purpose flour
2 1/2 teaspoons baking powder
1/4 teaspoon baking soda
1 teaspoon pumpkin spice mix (or cinnamon)
1/2 teaspoon pure vanilla powder, optional
1/2 teaspoon salt
1-2 Tablespoons coconut sugar, optional
1/2 cup non dairy milk (I use almond)
2 very ripe bananas
2 Tablespoons coconut oil
1 medium sized zucchini, grated or shredded
Instructions
Preheat the oven to 180 C  / 365 F
Mix together all the dry ingredients – flour, powders, spices, and optional coconut sugar – in a medium sized bowl.
In a blender or food processor, blend the bananas, non dairy milk, nut butter, molasses, vanilla. Blend until smooth. (You can also mash the banana in a bowl until smooth then mix in the non dairy milk, and coconut oil.
Add the wet mix to the bowl of dry ingredients. Mix until well combined, the batter should be pretty thick. Add the grated zucchini and mix until incorporated.
Line a small loaf pan with parchment paper and spoon the dough into it.
Bake for 35 minutes at 180 C / 365 degrees F. Then reduce the heat to 175 C / 350 F and bake for another 5-10 minutes. Check with a toothpick to see that the bread is baked through.
Allow to cool for a couple of minutes in the pan, then transfer to a wire track and allow to cool completely.
Enjoy!
Similar recipes around the internet
Flourless Banana Bread by Chocolate Covered Katie
Gluten free vegan bread by Fork&Beans
One Bowl Gluten Free Banana Bread by Minimalist Baker
What's your favorite banana bread topping?