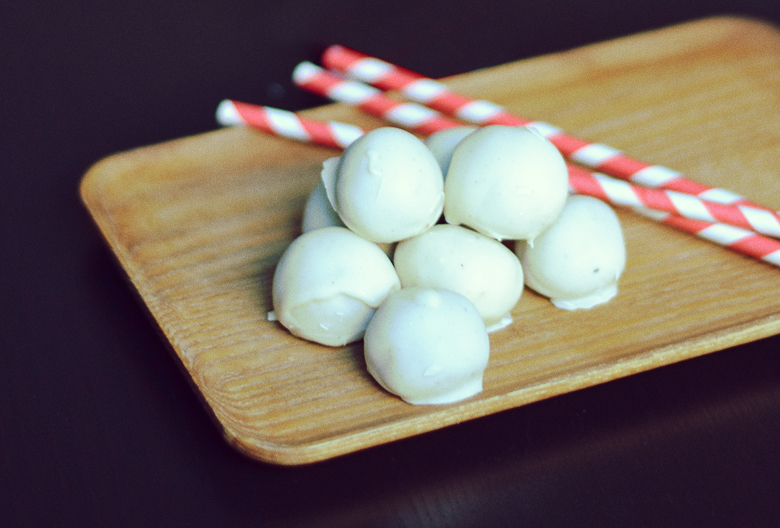 Last Christmas I had some leftover gingerbread cookies (Swedish pepparkakor) and cream cheese from some baking projects I'd done. Not wanting to waste them I threw together something that has become one of my most requested recipes to date.
My recorded recipe of these is however not vegan, but can easily be veganized, which is exactly what I did this Christmas. As a vegan, I might be biased, but I'm petty sure the vegan version of these is better than the original. I'll let you be the judge.
VEGAN WHITE CHOCOLATE GINGERBREAD TRUFFLES
Yield: about 15 truffles
20-25 organic gingerbread cookies (pepparkakor)
1 Tbsp vegan cream cheese
1 Tbsp light muscovado sugar (or regular sugar)
150 grams / 5 oz vegan white chocolate (I used rice milk white chocolate)
Method:
1. In a food processor, pulse the gingerbread cookies until you've got fine crumbs.
2. Add the vegan cream cheese and sugar and process again until a dough forms.
3. Line a tray with parchment paper.
4. Roll the dough into balls and place them on the tray. Place in the freezer to set for at least 30 minutes.
5. Melt the white chocolate and then dip each of the gingerbread truffles in the chocolate, making sure to coat completely. Once you've coated all the truffles, place them back in the freezer to set (about 30 minutes to an hour).
6. Store in an airtight container in the fridge or freezer.
Enjoy!