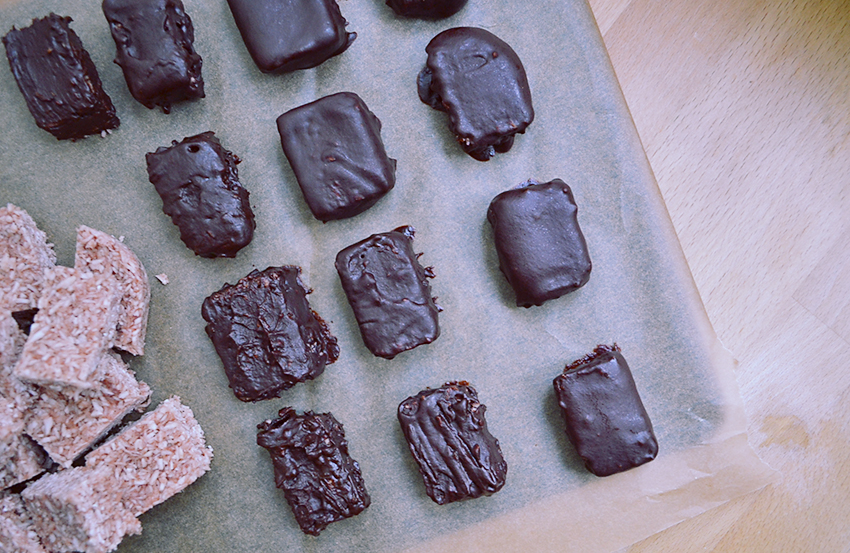 It's been on my to do list for a while to make my own coconut candy bars. If you've ever had a Bounty bar, then you know what kind of a candy bar this is. With one big difference, these are raw and refined sugar free, which makes them that much healthier and (honestly) tastier.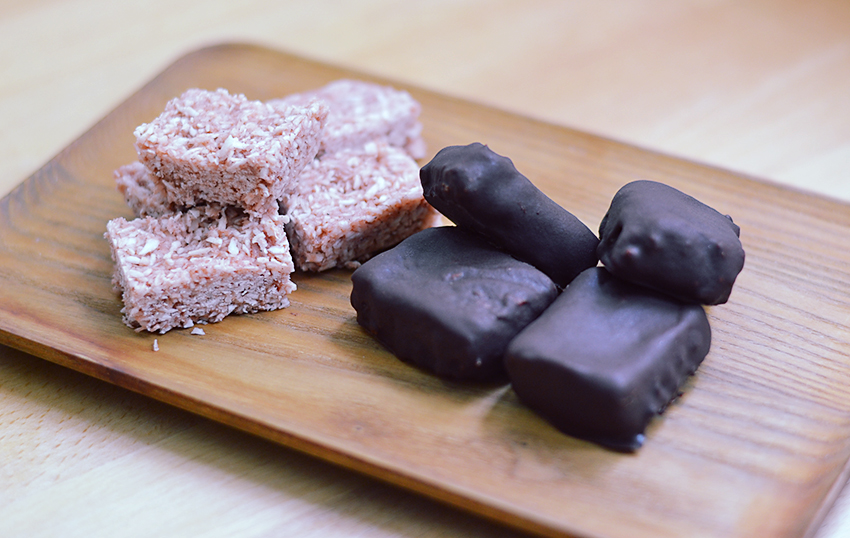 These raw coconut bars are so easy to throw together, but you might want to double the batch right away, they didn't last long in this household.
Raw Coconut Bars
Yield: about 15 small bars
2 cups of unsweetened shredded coconut
1/4 cup coconut oil, melted
4 Tbs date syrup (or other sweetener)
1 tsp vanilla extract, optional
pinch of salt
1-2 Tbs water
Raw chocolate coating
1/4 cup coconut oil, melted
2-3 Tbs unsweetened cacao powder
1/4 cup date syrup (or other sweetener)
pinch of salt
Place the coconut in a large bowl and sprinkle the water over it, mix and set aside. In a separate bowl, mix together the melted coconut oil, date syrup, vanilla extract and salt. Pour the coconut mix over the shredded coconut and mix until completely coated. Line a small baking dish with cling film and press the mixture into the base of it. Place in the freezer for at least 30 minutes to set.
Prepare the chocolate coating by mixing all the ingredients together in a bowl. Once the coconut bars have set in the freezer, chop them into small bars and dip in the chocolate to coat. Place on parchment paper on a tray and place in the freezer to set (about 30 minutes to 1 hour).
Store in an airtight container in the freezer.