Whenever I go on vacation abroad I go on a mission to find and try all the vegan cafés and restaurants or check out all the best bakeries. Or both.
This summer we travelled to Barcelona and then on to Valencia in Spain to visit my best friend who's been living and working remotely in Valencia for the past year. A large portion of our travels were spent dipping into the top rated bakeries in the area to soak up inspiration for my future baking projects.
Here's some of all the stunning cakes and pastries I saw (and tasted) during our travels.



I quickly noticed some trends among the sugar laced displays – donuts, generously topped pastries (croissants, donuts, cakes) and Kinder Bueno. Bakeries in both Barcelona and Valencia clearly have a penchant for these hazelnut creme filled wafers.
As I ohh:ed and ahhh:ed over all these cakes, an idea started to form in my mind. I'd seen croissants stuffed and topped with Kinder Bueno, I'd seen donuts topped with Kinder Bueno, and I'd seen lusciously frosted cinnabuns, but I'd not seen Kinder Bueno Cinnabuns. I had to try this idea!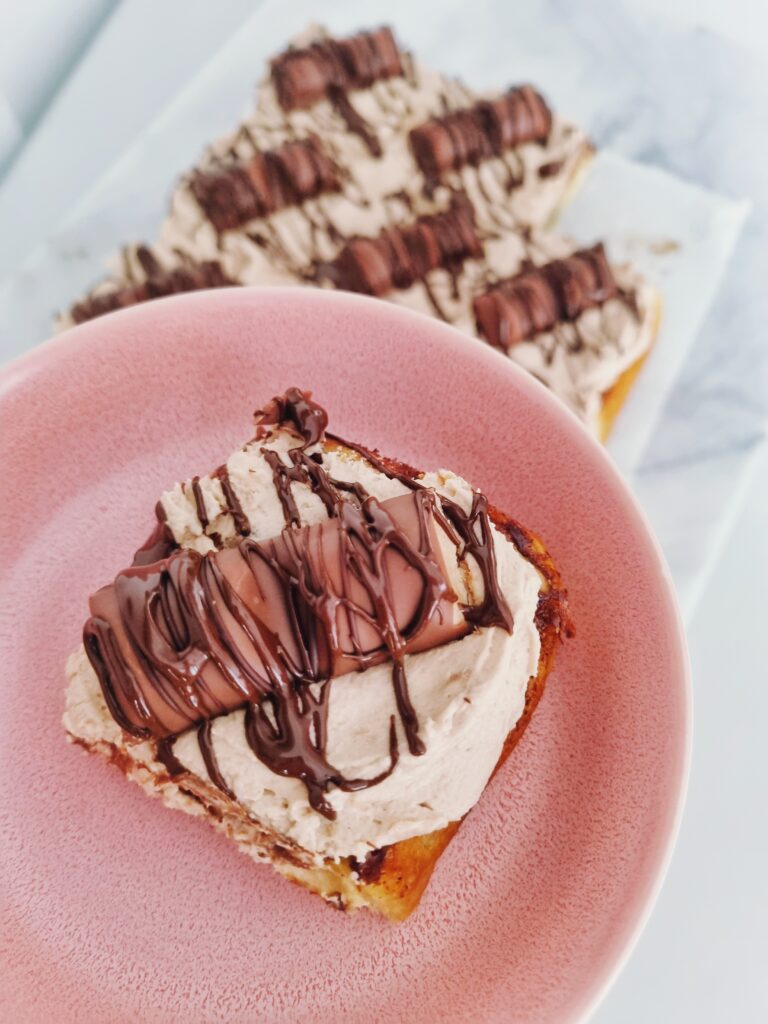 I started forming a plan in my head while still in Valencia. I would combine my go-to bun dough with a large batch of cinnamon bun filling. Then I'd smash and melt some Kinder Bueno, combine it with a classic buttercream frosting and decorate it all with chopped Kinder Bueno pieces. Could it work? Hah, did it work!
Not only do these look mouth watering, my tasters all agreed they belong in a bakery (in Valencia perhaps?) Yay, what a success!
Now to try all those other baking ideas my travels inspired…
This recipe is all vegan by the way, aside from the Kinder Bueno bars. However, you can make it completely vegan if you can get the Cream Wafer Bars from LoveRaw.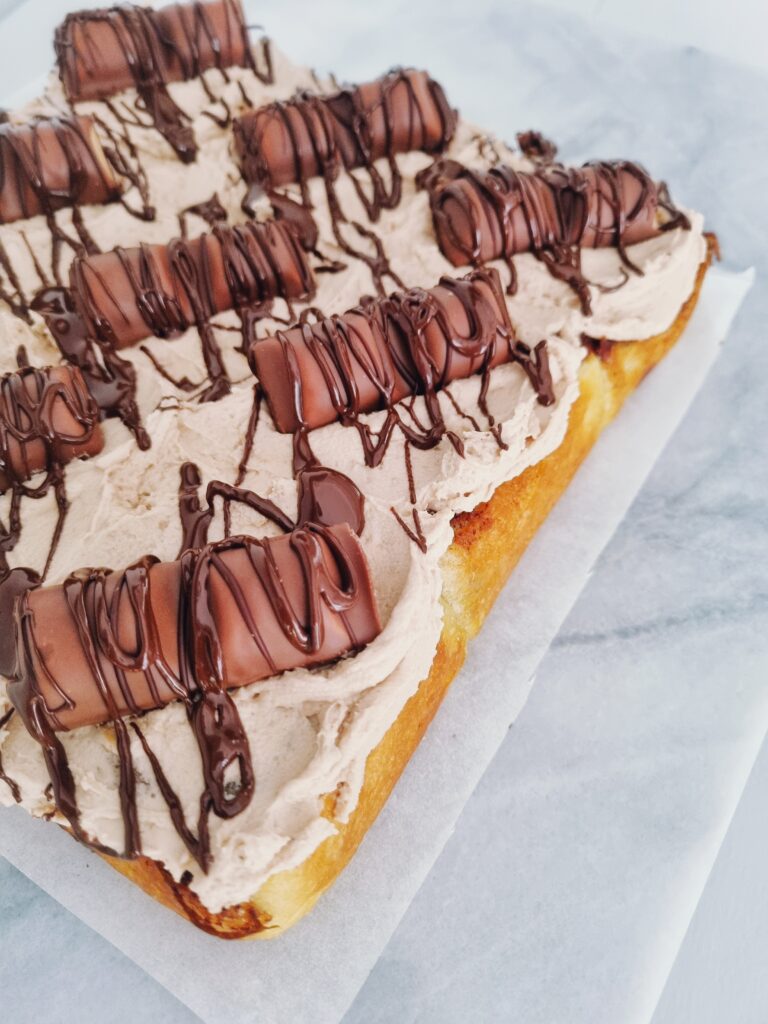 Kinder Bueno Cinnabuns
Ingredients
Dough
300 g white bread flour (such as Manitoba cream) or all-purpose flour
40 g sugar
6 g instant dry yeast
180 ml non-dairy milk, 40°C (lukewarm)
80 g vegan butter/margarine, room temperature

Filling
120 g brown sugar
20 g ground cinnamon
150 g vegan butter/margarine, softened
1 Tbsp corn starch
pinch of salt
non-dairy milk or cream to brush the tops of the buns
Syrup
60 g sugar
60 ml water

Frosting
75 g vegan butter/margarine, room temperature
150 g powdered sugar
50 g Kinder Bueno, finely crumbled
To decorate
5 sticks Kinder Bueno
50 g dark chocolate
Instructions
Ideally, make the dough the day before you plan to bake these Kinder Bueno Cinnabuns
Make the dough: Pour the yeast and about a teaspoon of the sugar into a small bowl. Pour a little bit of the lukewarm (ideally around 40°C/100°F) non-dairy milk over it and let sit for 10 minutes. This is to activate the yeast. It will bubble and create a foam layer on top. If not, your yeast is dead and you need to try again with a fresher package of instant dry yeast.
Combine the flour and the (rest of the) sugar in a medium mixing bowl. Add the rest of the lukewarm non-dairy milk and the yeast mixture and knead until you have a smooth dough.
Add the soft butter to your dough. It'll be very sticky and wet at first and might seem like you've not got enough flour but keep kneading it until the butter is incorporated into the dough and you've got a smooth, silky and slightly sticky dough.
Shape the dough into a ball and place it in a lightly oiled mixing bowl, cover with plastic wrap and place it in the fridge to rise overnight.
Prepare the filling: combine all the ingredients for the filling with an electric beater. Set aside in the fridge until ready to spread.
The next day: Take the dough and filling out of the fridge and let sit for 30 minutes to an hour, to come to room temperature.
Line a square or round baking dish with parchment paper. I used a square 20x20cm non-stick baking dish.
Roll the dough out on a lightly floured surface, aim for a long rectangle about 20cm wide and 60-90cm long.
Spread the filling evenly over the surface of the dough and then roll the dough up tightly from one of the short ends.
Slice into about 2cm thick slices and place with just a finger space between in the baking dish. I fit 3×3 buns in my 20x20cm dish.
Cover with a clean towel and let rise for 1 hour, or until doubled in size.
Preheat the oven to 180°C/350°F.
Brush the tops of the buns with non-dairy milk or cream. Bake in the oven for 30-40 minutes, keep an eye on them and check after 30 minutes. You can also use a probe thermometer to check the inner temperature of the buns, it should be at least 90°C/195°F
While the buns are baking, prepare the syrup by combining the sugar and water in saucepan. Bring it to a boil and then let simmer until the sugar has dissolved completely. Remove from the heat and set aside.
Brush the top of the buns with the syrup as soon as they come out of the oven, keep brushing the tops until you've used up all the syrup (make sure you use it all to get moist and lovely cinnabuns!). Se aside to cool completely before adding the frosting.
Prepare the frosting: smash the Kinder Bueno into crumbs and heat in the microwave until melted, keep mixing between heating. Smash it up as much as you can and set aside to cool slightly while you mix the butter and powdered sugar.
Add the softened vegan butter to a mixing bowl and whip while adding the powdered sugar little by little until it's all mixed together. Then slowly add the melted Kinder Bueno until completely incorporated.
To assemble: Chop each stick of Kinder Bueno in half, and melt the chocolate. Spread the frosting over the top of the cinnabuns, stick half a Kinder Bueno piece on top of each bun and then drizzle the melted chocolate diagonally over the top of it all. Gorgeous!
Slice into bun sized pieces and enjoy!