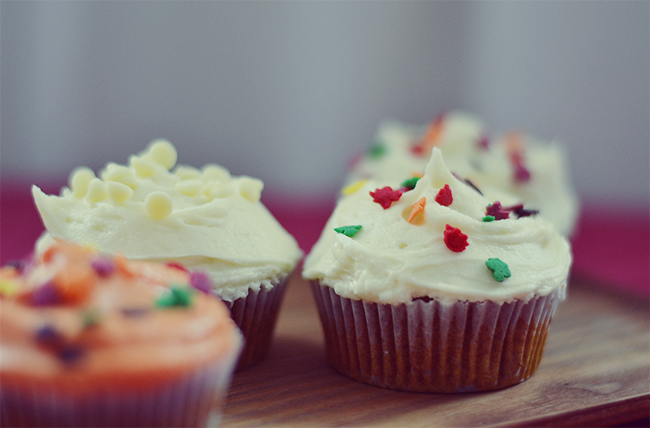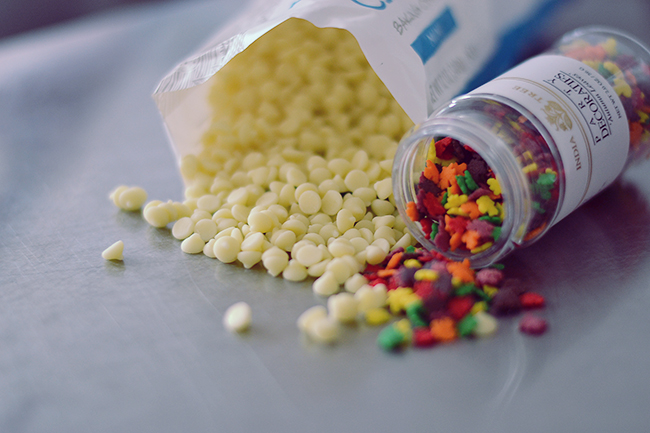 During my visits to the US, I make sure to pick up a couple of ingredients or baking supplies that are either hard to find, or bare ridiculous price tags in Sweden. I returned home from my most recent trip to NYC with sprinkles, mini white chocolate chips, and pumpkin pie spice in my suitcase.
Eager to put my new ingredients to use, I whipped up some pumpkin cupcakes with white chocolate cream cheese frosting, neatly sprinkled with white chocolate chips and colourful leaves. Generous amounts of frosting are of uttermost importance.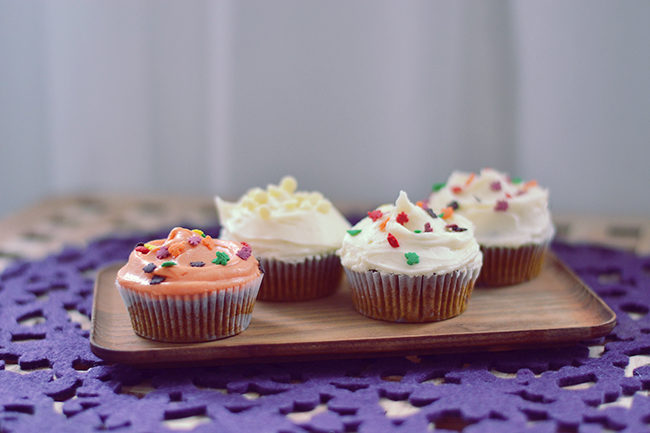 Inspired by my recent visit to Magnolia Bakery, and the fact that I had purchased the exact same leaf sprinkles as were on their seasonal cupcakes, I decided to colour a portion of my frosting orange (using red and yellow liquid food colouring).
Keep in mind that the liquid colouring will make this portion of your frosting a bit more water-y than the rest. Therefore, it'll fall rather flat on your cupcakes as it liquifies quicker than the non-coloured frosting.
These were a definite hit among my taste testers (myself included).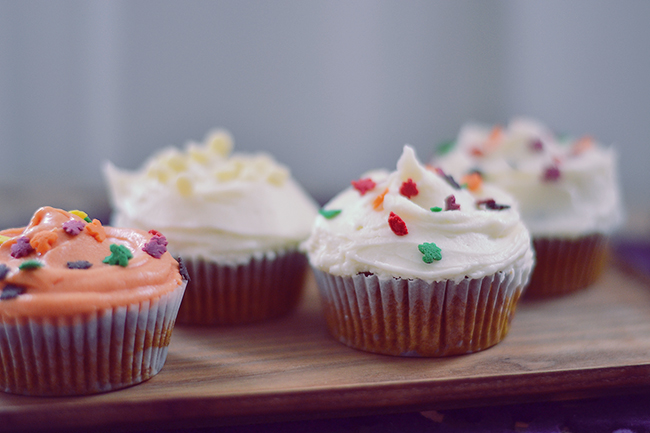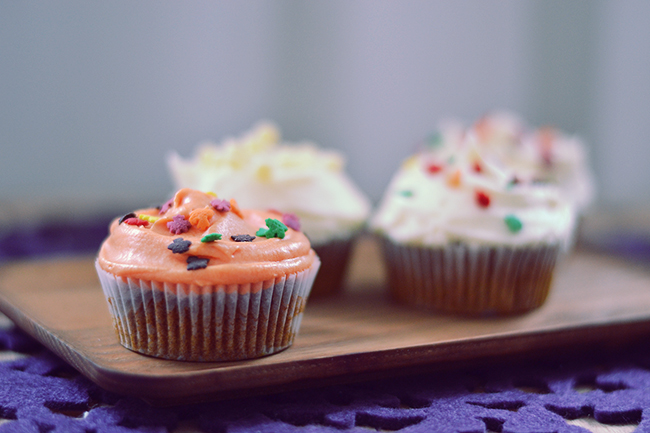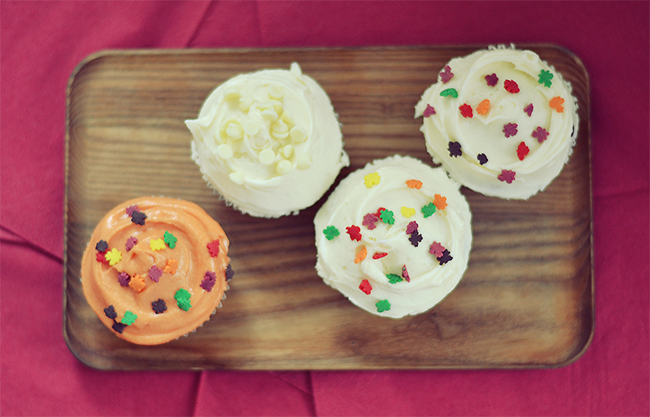 Recipe
Yields: about 14 cupcakes
Time: 1 hour (+ 1 hour for cooling)
For the cupcakes
1/3 cup (0.8 dl ) canola oil
1 cup (2.4 dl) pumpkin puree
1/2 cup (1.2 dl) granulated sugar
1/2 cup (1.2 dl) light muscovado sugar
1/4 cup (0.6 dl) milk (I used soy milk)
1 teaspoon liquid vanilla extract
1 1/4 cups (3 dl) flour
1/2 teaspoon baking powder
1/2 teaspoon baking soda
1 teaspoon cinnamon
1 teaspoon pumpkin pie spice
a pinch of salt
For the frosting

3 ounces (85 grams) white chocolate, chopped
5 tablespoons cream
3 cups (7 dl) powdered sugar
1/2 cup (1.2 dl) butter, softened
4 ounces (115 grams) cream cheese, softened
1 teaspoon liquid vanilla extract
zest of one lemon
Here's what you do: 
Cupcakes:
Place cupcake liners in your muffin tin and preheat oven to 177 C / 350 F.
Stir together oil, pumpkin, sugars, milk and vanilla extract until smooth.
In a separate bowl sift together flour, baking powder, baking soda, cinnamon, pumpkin pie spice and salt.
Add our dry ingredients to your pumpkin mixture and stir together with a fork or spatula.
Fill cupcake liners two-thirds full and bake for approximately 20-24 minutes keeping an eye on them towards the end of the baking time so they don't brown too much and get too dry.
Transfer to a wire rack and allow to cool completely before frosting the cupcakes.
Frosting:
Combine the white chocolate and the cream in a sauce pan over medium heat, stirring frequently until the chocolate has melted.  Allow to cool for 30 minutes.
Mix together the butter and powdered sugar.
Add in the cream cheese and stir until smooth.
Mix in the melted white chocolate mixture, vanilla extract, and the lemon zest, stir until smooth.
Enjoy!