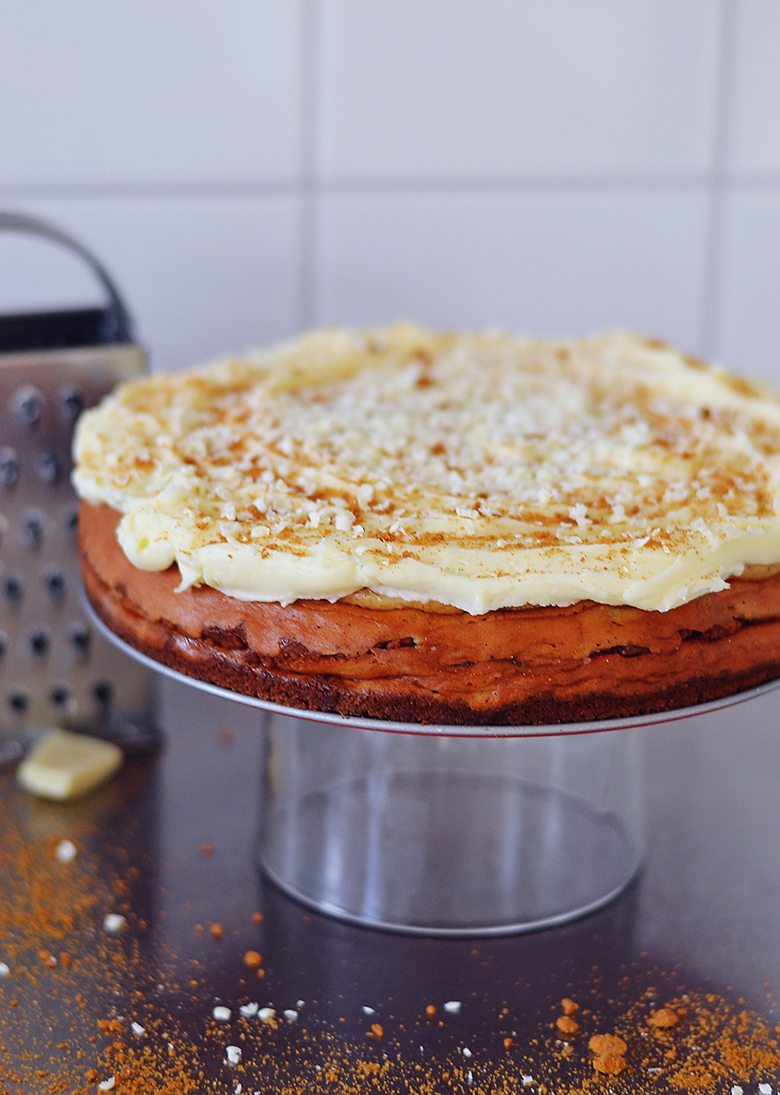 If you've ever been to Sweden in the winter, you'll know that this time of year, our days are very short and our nights last forever. However, Christmas is still my favourite holiday. Christmas markets, trees, and goodies like lussebullar , Aladdin chocolates, and hot spiced wine (aka glögg) make the time leading up to Christmas so cosy. Oh, and then there's the baking. Christmas baking always gets me excited. My first project this Christmas was a Gingerbread Cheesecake.
This cheesecake has a nice mix of traditional holiday spices such as cinnamon, cloves and ginger, as well as a bit of a tangy flavour from lemon juice (in the frosting) and orange zest (in the cheesecake).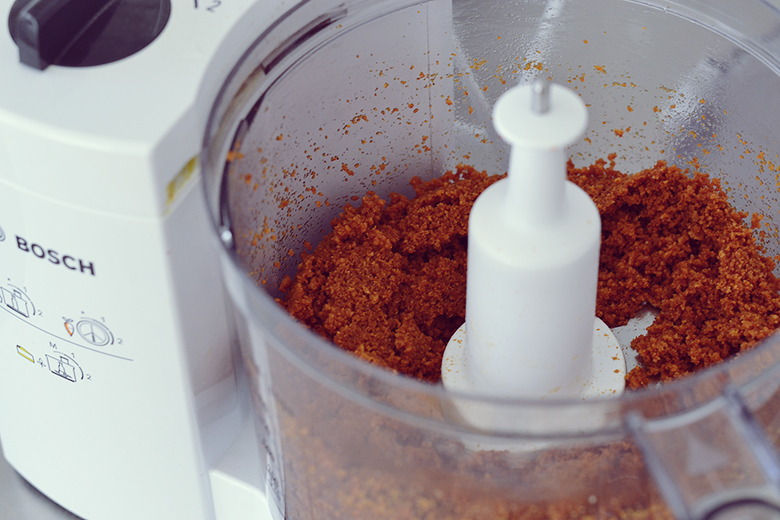 Gingerbread cookies (we call them pepparkakor in Sweden) are both used for the crust, and to add a little crumble to the middle of the cheesecake.
The cheesecake batter is baked in two batches, allowing that middle surprise layer of gingerbread crumbs.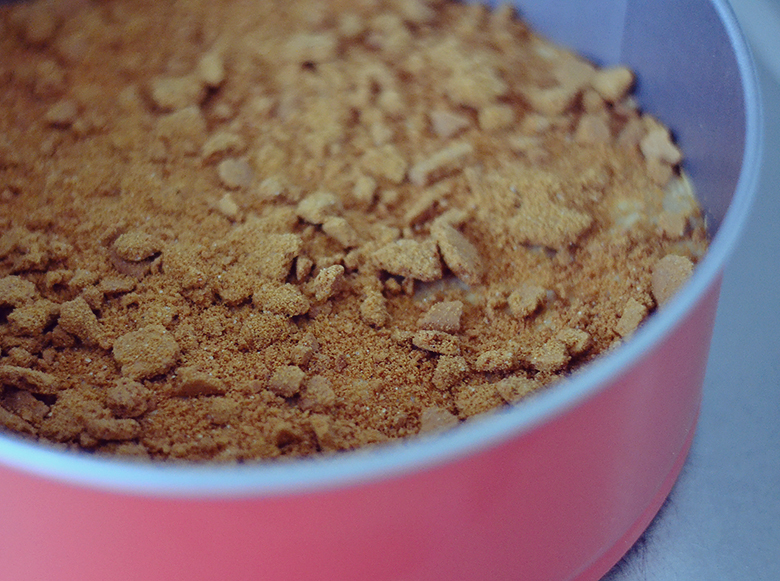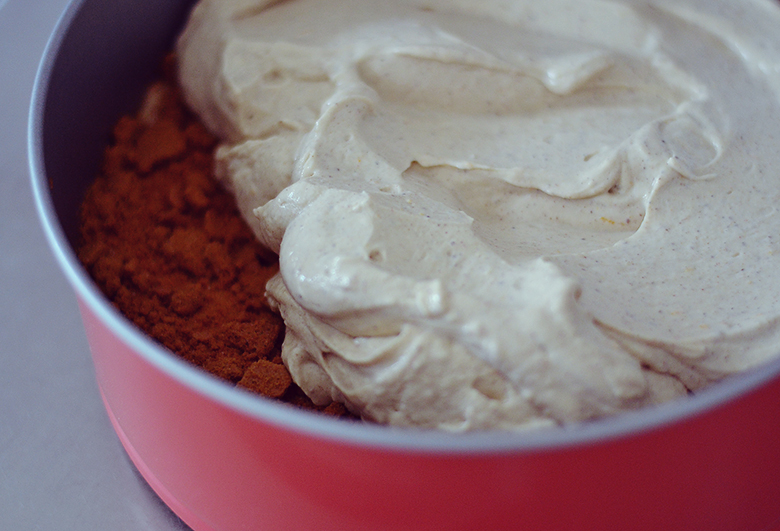 Then topped with the best frosting ever! Cream Cheese Frosting that is. And sprinkled with more gingerbread crumbs and a grating of white chocolate (it looks like SNOW!)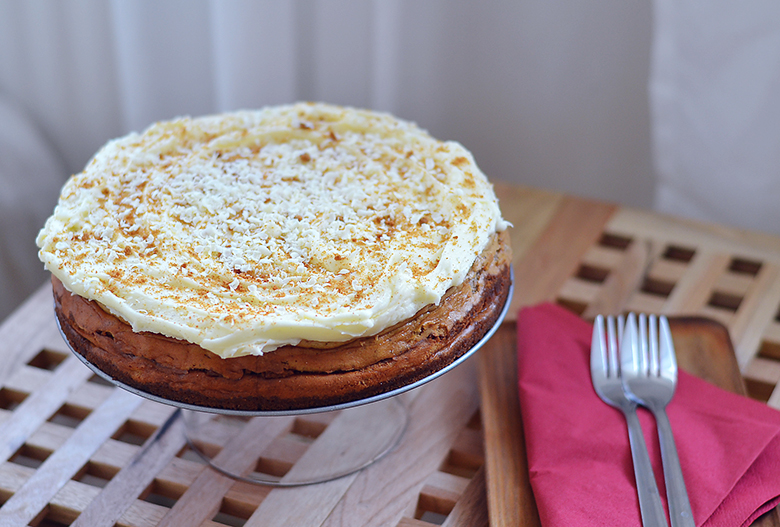 Recipe
CRUST:
25 gingerbread cookies (my favourite are Kung Oscar)
75 g / 2.6 oz butter, melted
CHEESECAKE BATTER:
800 g / 28 oz cream cheese
1/2 dl /  0.2 cups dark brown sugar
1/2 dl / 0.2 cups granulated sugar
1 dl / 0.4 cups light muscovado sugar
2 Tbs flour
2 tsp vanilla sugar
pinch of salt
1 heaping tsp cinnamon
1 tsp ground ginger
1/2 – 1 tsp cardamon
1/2 tsp ground cloves
zest of one orange
4 eggs
10 gingerbread cookies
FROSTING & TOPPING:
60 g / 2 oz butter, softened
5 dl / 2 cups powdered sugar
1 tsp vanilla sugar
squeeze of lemon (about 1 Tbs)
100 g / 3.5 oz cream cheese
2 gingerbread cookies
50 g / 2 oz white chocolate, chilled
Here's what you do:
Set your oven to 175 C (357 F).
Whip out your food processor and add the gingerbread cookies and melted butter to it. Pulse until you've got a fine grain. Then dump it into a spring form and press out the crumbs in the bottom of the pan. Put it in the fridge to chill while you mix the cheesecake batter.
Cream together your cream cheese and sugars.
Add flour, vanilla sugar, spices, and orange zest and mix.
Next, add one egg at a time while mixing.
Pour half of your batter in the spring form over your gingerbread crust. Bake in the oven for 15-20 minutes.
Meanwhile, place 10 gingerbread cookies in a plastis bag and smash them up until you've got small crumbs.
Once the bottom part of your cake is cooked, add the gingerbread crumbs and top with the rest of the cheesecake batter.
Pop it in the oven again for 35-40 minutes. Allow to cool completely.
To make your frosting, mix the butter, powdered sugar, vanilla sugar and lemon.
Add cream cheese and mix until you've got a smooth frosting.
Once the cheesecake has chilled completely, frost with the cream cheese frosting and add a crumble of gingerbread cookies, then grate the chilled white chocolate on top.
Enjoy!
Cheesecake recipe adapted from Lisa and Monica Eisenman.