I'm back from my mini vacation in Gothenburg where I attended Prana Festival, a two day music and yoga festival. In a way, it was a weekend of challenges and insights. Here's what a yoga festival made me realise.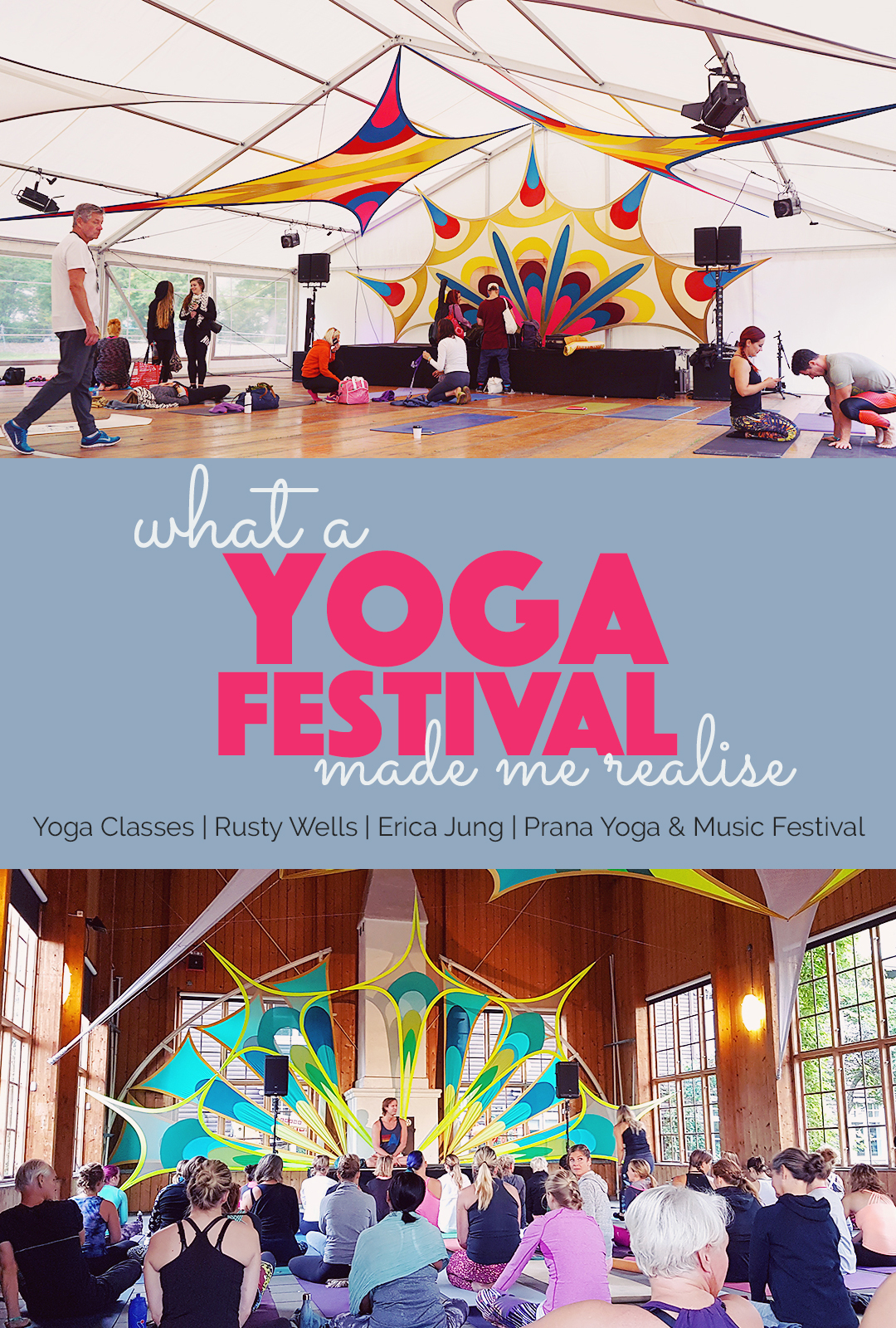 I actually debated skipping the festival. Up until the last minute I was having doubts, thinking that I would feel clumsy and lost in the yoga classes after not having done any yoga for months.
Then I remembered that a little over a year ago, I joined over 900 other yogis in a huge class led by Rachel Brathen (aka Yoga Girl). At that time I had almost no experience practicing yoga. That didn't make the class any less enjoyable though. In fact, to this day, that yoga class with Rachel is still the best yoga class I have ever taken.
So, I sucked it up and went to the festival.
To Prana Yoga Festival I go!
The festival was held in the beautiful park "Trädgårdsföreningen" in Gothenburg
My first class was at 9am on Saturday, "Flower of Power" led by Rusty Wells, and it lasted for three hours.
Rusty is a happy character from Alabama (though he teaches in the San Francisco Bay area). He knows how to get everyone laughing while holding a challenging pose for more breaths than you thought possible. This is perhaps why his classes are so popular.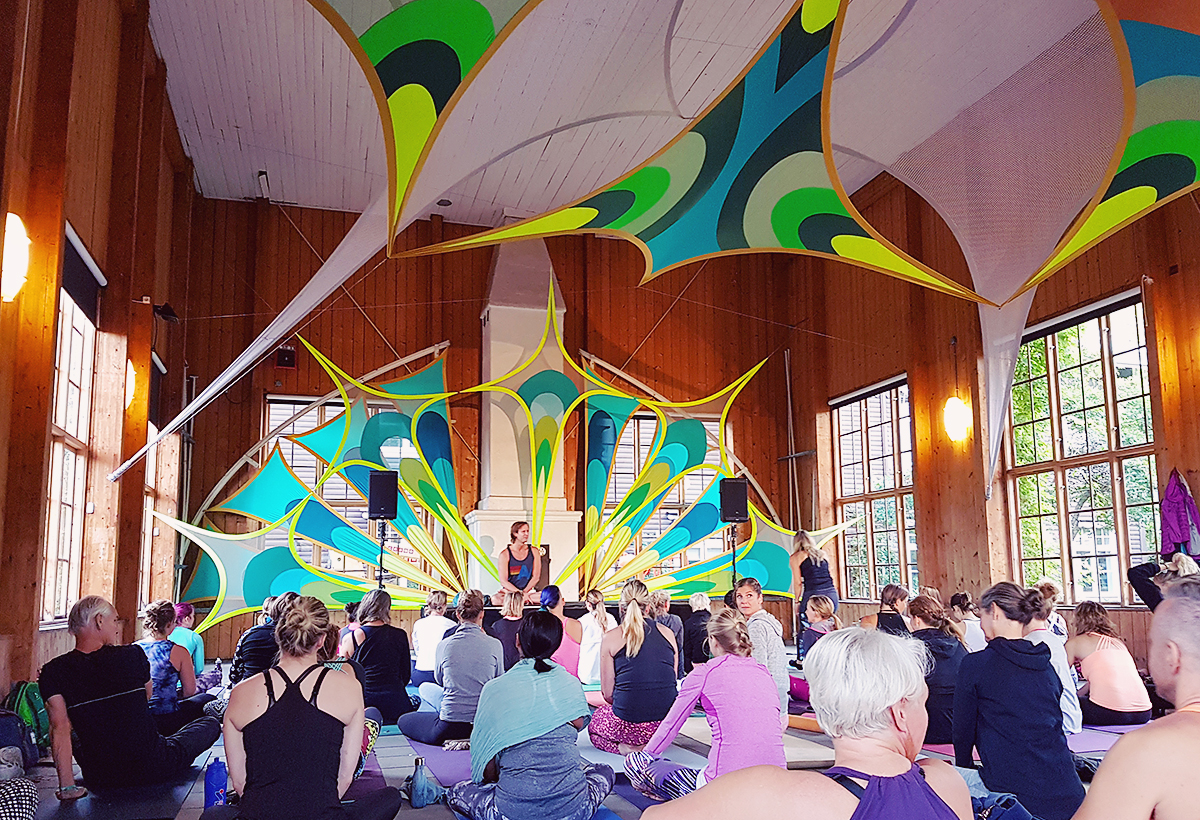 Flower of Power Yoga Class with Rusty Wells
In the beginning of class, Rusty touched on the subject of routine and why it can be a bad thing. He said that in his morning yoga practice one day, he had "woken up" mid practice. He had no memory of actually waking up, getting out of bed, moving to his mat, and performing the sun salutations he always did prior to the pose he was in. His practice had become so routine he was on auto pilot.
When we form a routine around something, we simply move through the motions and let time pass us by with no appreciation for what is here and now. We fail to acknowledge and act on how we feel or what we want. This really resonated with me considering my own realisation that I've been forcing myself through the motions of yoga while not actually enjoying it or finding it particularly fun at all.
The class itself was challenging and sweaty, but I liked the creative transitions. And the three hour long class honestly didn't feel that long at all.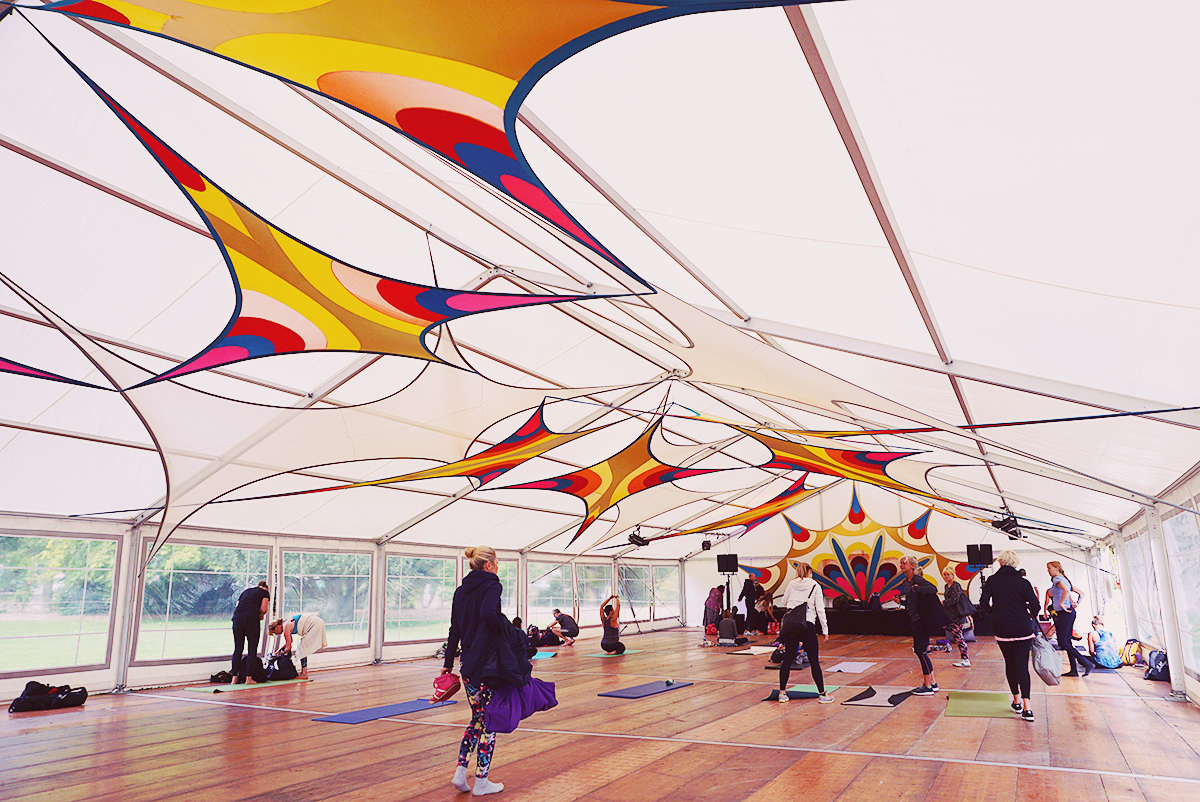 I loved the colorful kites they had in the ceiling of the tents where the yoga classes were held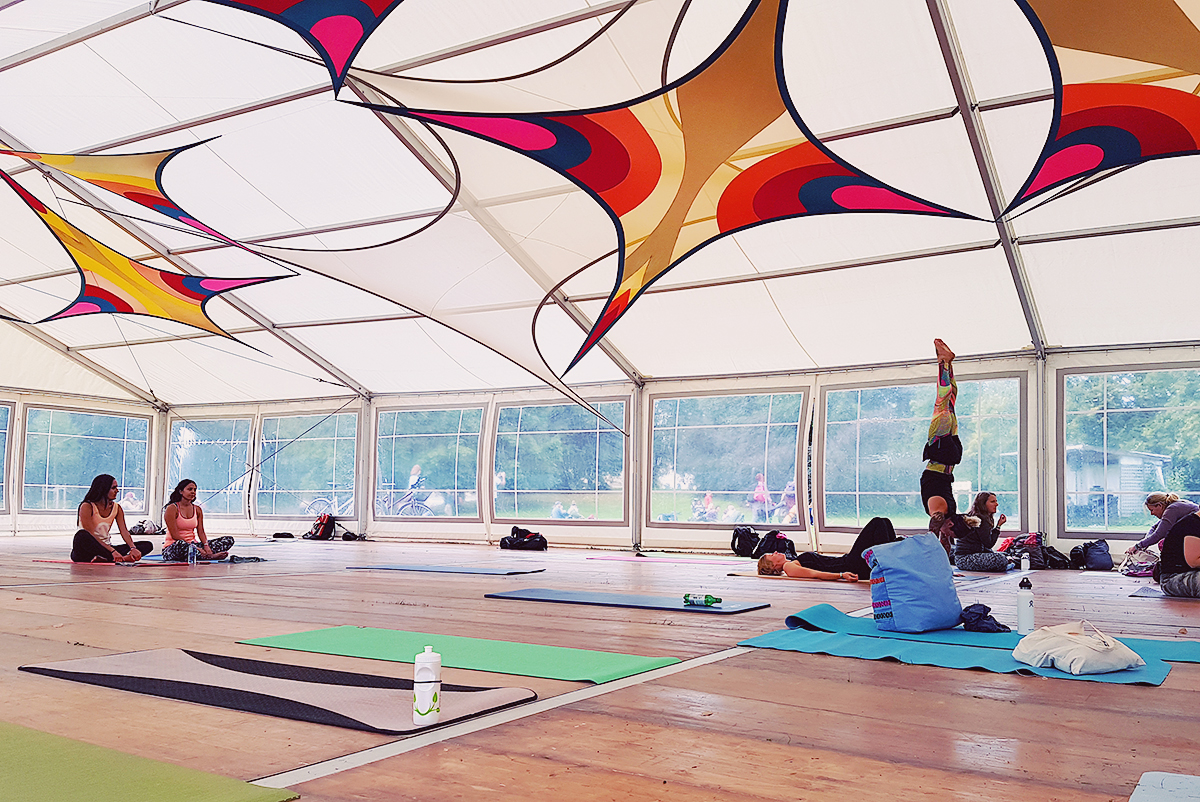 My second class,"Get high: Learn to float and fly" led by Erica Jung, started just 15 minutes after stepping out of savasana in Rusty's class. It was more of a workshop style class on how to transition between poses by "floating".
Erica showed us several techniques and exercises that help build strength and train the mind and body in mastering the art of "floating". By the end of the class everyone was sweating and exhausted.
Truth be told, although the class was interesting, I was feeling pretty wiped after so many hours of challenging yoga and found myself longing for it to be over.
Following Erica's class – and some 4.5 hours of pretty much non-stop yoga – I was beat. I had another class booked right after the session with Erica but I decided to skip it and honour my promise to listen to my body and not push it like I always do. Being honest with myself, I didn't feel like doing any more yoga that day.
I headed back to my hotel room, albeit with some restraint and feelings of guilt about skipping the rest of the classes I'd booked, but ultimately knowing that it was the right decision.
As for the big question of whether this yoga festival gave me new inspiration and motivation to pick up my yoga practice again. The short answer – and in truth – no. I can't say I had an "aha"-moment. For now, yoga will continue to be something I do on occasion, when the feeling strikes.
In the end, I'm glad I decided to go to the yoga festival because it did help me realise a couple of things: I now know that my fears about being clumsy and lost in the yoga classes were unfounded. On the contrary, I was surprised to find that I felt strong and confident in what I was doing. I even noticed that the two yogis on either side of me in Rusty's class were looking over at me to guide them when they didn't understand the cues from Rusty. The festival also gave me the opportunity to work on toning into my body's cues and what I really want. Even though doing so comes with a big bite of anxiety and guilt, it has got to be considered a win when I do.
—-
Never miss a post! Follow Banana Bloom on Bloglovin'.
And make sure you check out Banana Bloom on Instagram @BananaBloomblog and on Facebook to see what I'm up to!