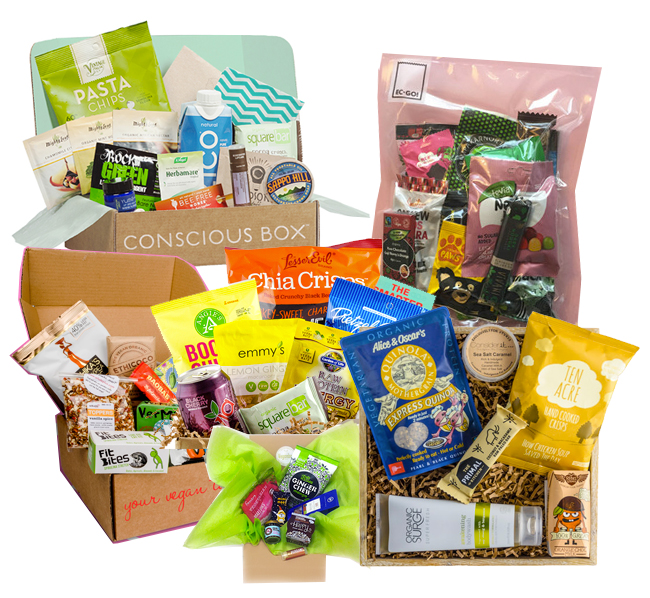 Subscriptions to boxes of products has become immensely popular the past couple of years. The way most of them work is that you subscribe monthly to a box of products on a particular subject (such as beauty products) and each month you receive a box of surprise goodies. It's a great way to discover new products and to test things you'd perhaps not shop for on your own.
Among the many different packs, there's a plethora of vegan boxes to sign up for. If you're curious or new to veganism, a subscription to one of these boxes could serve as a good inspiration or leap into the vegan lifestyle. I've compiled a list of vegan boxes for you that I've come across and thought sound interesting:
Vegan Box (SE)
Natural Box introduced their vegan box after fans of their original monthly packs containing healthy organic snacks and beauty products requested a similar box but with all vegan products. Sign up for a one off box or a 6 or 12 month subscription of all vegan snacks. Price from 269SEK/box.
Ec-Go! Bag (SE)
Ec-Go is for the candy lover. They offer monthly or bi-weekly subscriptions to bags full of good, often organic and often vegan candy. Note that the treats in these bags aren't always 100 percent vegan, though most of it is. If you find products you like, you can purchase them separately in the Ec-Go! Online shop. Price: 179 SEK/month.
Vegansk Snackbox (SE)
A monthly delivery of cookies, chips, candy, snackbars, drinks and more. Each box is filled with a surprise of vegan snack products. Created and distributed by VEGMAT who also make a vegan cooking and baking magazine which you can also sign up for a subscription to through their website. Price for the vegan snack box is 189 SEK/month.
Vegan Tuck Box (UK)
Vegan Tuck Box is a monthly subscription box containing a surprise selection of hand-picked exciting vegan snacks and treats. Vegan Tuck Box aim to deliver new or hard to find vegan snacks so that you can be the first to try new products on the market. Items include chocolate, cookies, sweets, snack bars, chips and other savoury snacks. They offer different sizes of boxes and varying combinations such as the vegan starter box and a gluten free box. Prices range from 9.50GBP to 19GBP.
The Vegan Kind (UK)
The Vegan Kind offer two boxes including either lifestyle or beauty products, both vegan and cruelty free. Each pack contains 5-8 items ranging from accessories to snacks and cosmetics depending on which box you choose. Price from 10GBP.
Flowbox (UK)
Flowbox offer a mini or maxi vegan box containing a selection of 5-6 vegan food, beauty and household products. Prices start at 9.95GBP.
Conscious Box (US)
The Conscious Box contains products for every facet of your life; hand-selected food, bath, beauty and home products. The boxes come in two sizes, taster or plus depending on if you prefer small test products or premium and full-size products. There's three different combinations, the classic (healthy, organic products), vegan, or gluten free. If you discover products you like, you can purchase them through the Conscious Box online store at special prices. Prices range from 16.95 – 19.95 USD/month including free shipping.
Vegan Cuts (US)
Vegan Cuts is for those who love to snack. Their monthly boxes include a range of vegan and mostly gluten-free snacks. Each pack contains about 7-10 full and sample size products and are priced at 19.95USD a month including free shipping within the US. They also offer shipping to Canada (for an additional 8USD) and international shipping (for an additional 15USD). Vegan Cuts also offer a vegan beauty box at the same price.
Petit Vour (US/CANADA)
For beauty lovers, Petit Vour offers a monthly subscription to all vegan beauty products. Their boxes include 4-5 personalised beauty products in a sample or full-size with enough product for you figure out if you like it. Prices start at 15USD.
The Vegan Box (AUS)
Australian based The Vegan Box offer monthly subscriptions to boxes full of cruelty-free, organic and healthy products. You can sign up for 3 or 6 months, or get a 1 off box just to try it. Prices range from 26.95AUD (for one box) to 149.95AUD (for a 6 month subscription). If you're more interested in beauty products than foodie stuff, The Vegan Box also offer a beauty box which contains organic and vegan beauty products that aren't animal tested.
Vegan Box (DE)
For German based vegans, Vegan-Box.de offer four different vegan boxes. Other than being vegan, Vegan Box also cater to those who may have allergies or other dietary preferences. They have four different combinations, including a gluten free box and a soy free box. Prices range from €14.90 to €24.90.
Vegan Box (FR)
France based Vegan Box offer a 1 off box, or 3 or 6 month subscriptions to a food or beauty box full of cruelty free and healthy products including recipes to help you discover new vegan dishes. Prices range from €22 per box.
Do you subscribe to any monthly boxes of goodies?