Sometimes, by sheer coincidence, you come across a good restaurant. Such was the case recently when I found good vegan eats at The Organic Grill in New York City.
One of my favorite things about traveling is eating! I always scope out good vegetarian and vegan restaurants I want to visit and add them to my map. I pin options close to where I'm staying as well as exiting eateries and bakeries that sound like they're worth the effort of a slightly longer trip to get to.
But, no matter the amount of research and recommendations, there's always going to be those unexpected spots you just happen to come across while wandering around. Especially in a city like New York where the restaurants and food options are absolutely endless.
That was the case with The Organic Grill in New York City. I spotted it as we walked to a different restaurant on one of our first nights in the city, it was just around the corner from where we were staying. So on one of the nights we found ourselves without a particular plan for dinner, and too tired to venture too far from our Airbnb, we decided to give The Organic Grill a try.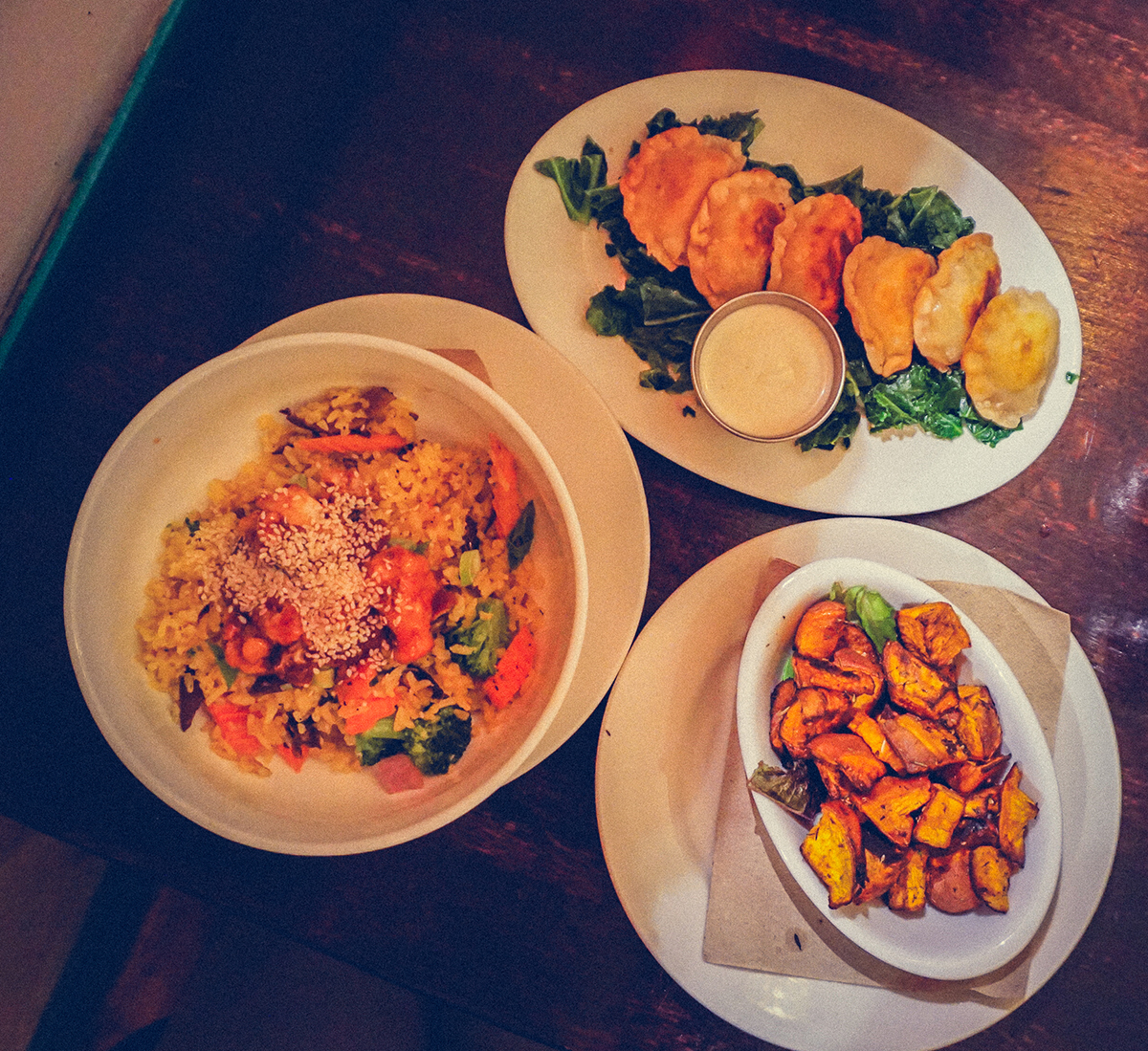 You'll find salads, bowls, sandwiches, and burgers on the menu – and everything is vegan. I opted for one of the bowls. The Kung Pao Bowl had yellow turmeric rice, mushrooms, scallions, broccoli, carrots, and onions, topped with crispy Kung pao cauliflower & sesame seeds. Tom opted for the Organic Grill Pierogies which are spelt flour pierogies filled with seasonal veggies. Served over sautéed kale with cashew cream drizzle.
Whenever I see sweet potato fries on the menu, I have to get them. I'm always on the hunt for the best sweet potato fries. I spotted them listed as a side on the menu and didn't hesitate to order them. Unfortunately, they weren't really the kind of fries I was expecting, more like oven roasted sweet potatoes. I wasn't too disappointed though as they were delicious.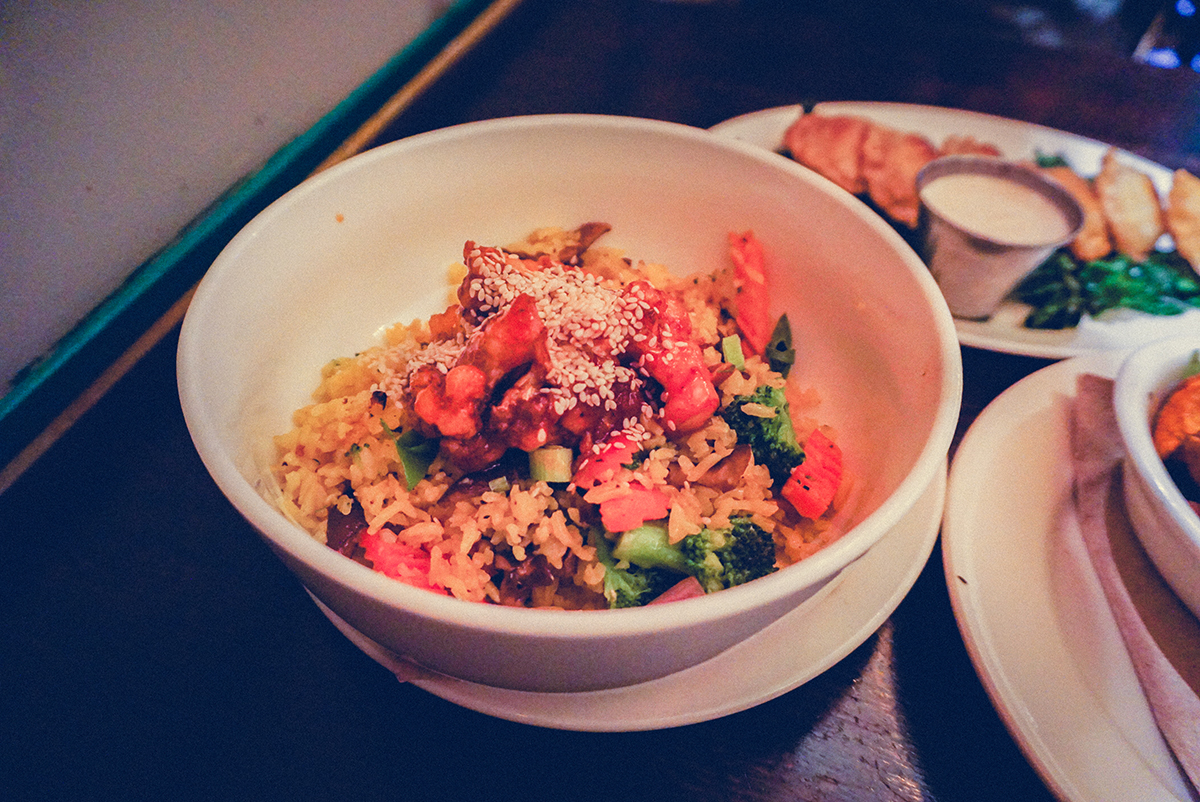 The Kung Pao Bowl was a hit too! I love a good bowl full of vegetables and rice, and the cauliflower had a delicious sweet and sour sauce that went well with the rest of the ingredients in the bowl. Tom was very pleased with his pierogies too.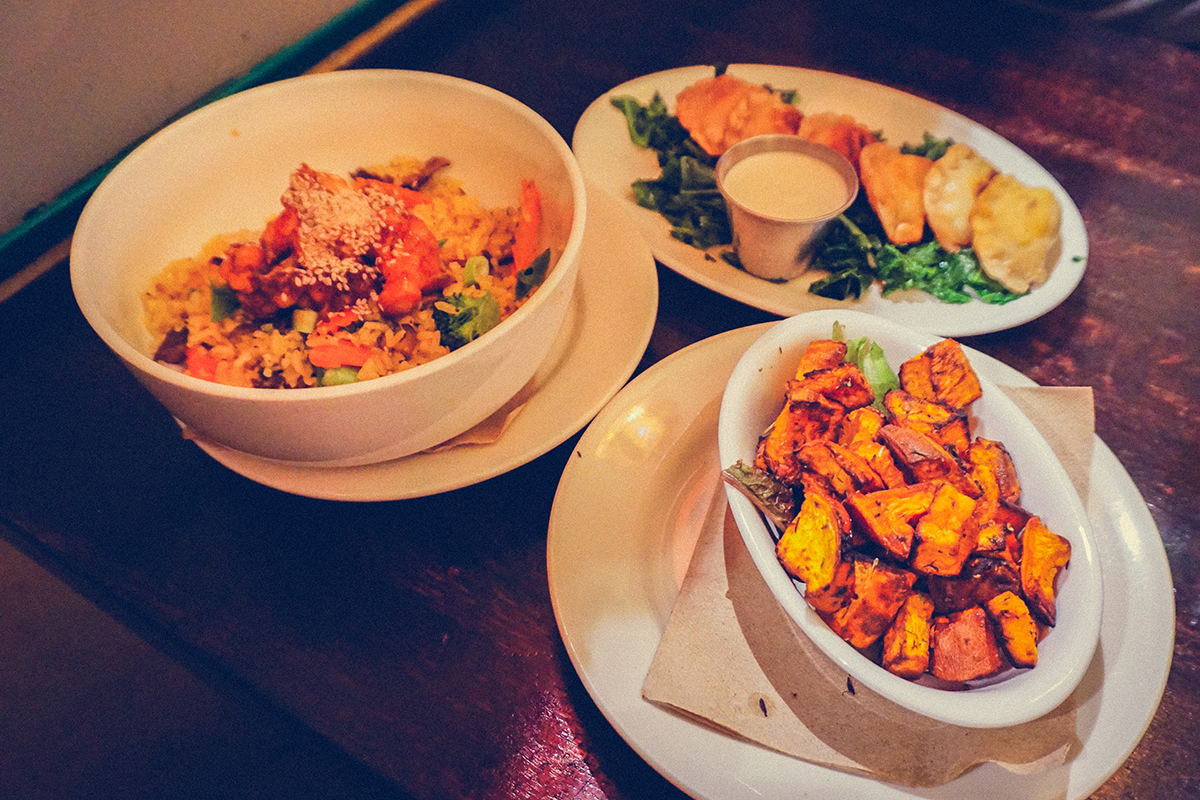 We shared a slice of vegan cheesecake for dessert too, but we inhaled it before I had time to take a photo of it. Just know that they've got some delicious daily desserts on offer as well, and you should probably get some.