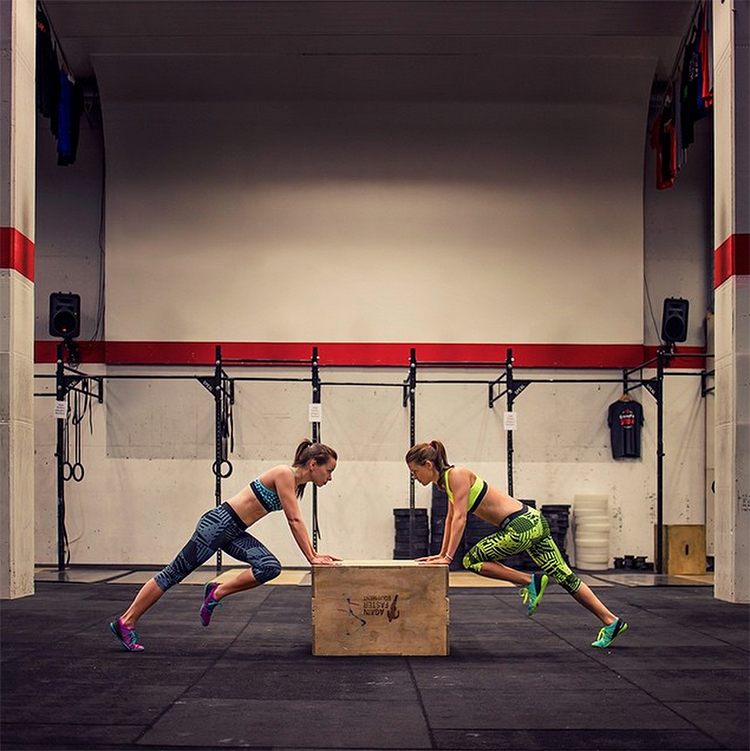 A couple of weeks ago I did a training photo shoot with Nike. The result of it is now live on their newly launched Swedish Instagram account – @nikesverige (I'm on the left in blue, above)
I think the most challenging but valuable part of doing this photo shoot was, for me, having to work out in just a sports bra. I know it sounds silly, though I'm sure it's completely relatable to some of you. Working out with my waist bare is something I have never really dared to do. It's not that I haven't craved the breezy, free feeling it would give (especially during particularly sweaty workouts, pole fitness classes or on hot summer days) but I've struggled to – as Nike would say – just do it.
As fate would have it, I've actually ended up facing the "sports bra challenge" two more times since this photo shoot. Once at the gym when the ventilation was shut off for three days due to technical issues and it was so hot in there you could barely breathe. By the third day the stuffiness had accumulated and created a sauna like atmosphere. At the time it was just me and three other girls there, and all of them stripped down to sports bras within minutes of starting their workouts. And (albeit with slight hesitation at first) I followed suit. The second time was at my pole fitness class last week. We were practicing inverts (hanging upside down on the pole) and this is one of many pole fitness moves where you want to use the skin from your middle to get some extra grip. Sure enough, my teacher recommended this and I thought: challenge accepted.
Have I been one hundred percent confident and comfortable when I've done it? Absolutely not. But it's been worth it every single time. And I will keep challenging myself, over and over again, until the self-shaming voices that echo in my head are silenced. Because ultimately, it's a tragic waste of time and life to let something as trivial as a little skin get in the way of feeling free.

Some "behind the scenes" snaps from the photo shoot. My favourite part was getting to climb on the ropes, I couldn't resist doing some invert climbs like I've learned at my Pole Fitness classes.