I'm learning to value myself. One step in that direction is to treat my body with good products that aren't full of nasty chemicals that will do my body and our planet harm. Instead, I've invested in natural and organic beauty products, check out my 10 Natural Organic Cruelty Free Makeup Favourites.
One of my intentions for this year is to spend on myself, or "treat myself" more. I've always been a saver, yet sooner spend money on others than on myself. And while avoiding unnecessary consumption, saving money, or spending it on people you love or people in need is always the better choice, there's something to be said about what we deem ourselves worthy of.
I often think I shouldn't spend on myself, that I don't deserve it, or that I'm not worth it. And when it comes to makeup, I've always bought the cheapest products that don't last very long and are packed full of bad-for-you ingredients.
But you know what? I deserve better than that.
I don't want to be putting harmful chemicals on my body, nor do I want bad chemicals to be washed down the drain and out onto our planet. So, I've invested in natural, cruelty free, and – as much as possible – organic products and found some favorites already.
Side note – of course there's nothing that says you have to wear makeup. Makeup is something you should use for yourself, and only if you enjoy it. Personally, I think makeup is fun and I'm inspired to use it because applying makeup is like painting a canvas, allowing me to experiment and let my creativity flow.
10 Natural Organic Cruelty Free Makeup Favourites

Long Last Concealer with Super Fruits
by 100% Pure
I've used some random cover stick from a mainstream brand for years, so I didn't really know what to expect with this pot of cream concealer. Thankfully, I love it! I use a brush to apply it and then blend it with my fingers. It works really well on my skin, covers nicely and doesn't crease or get too sticky or greasy. I think the fact that I apply the matte finishing powder from Lily Lolo (mentioned below) on top adds to the longevity of it too.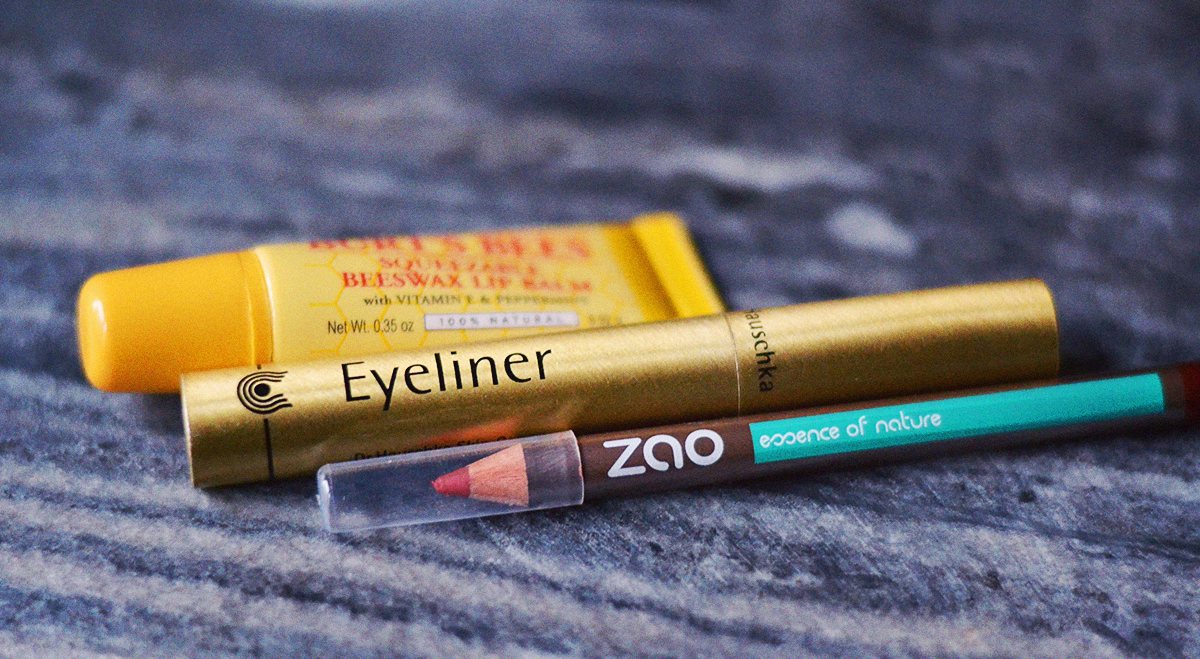 Squeezable Beeswax Lip Balm with Vitamin E & Peppermint
by Burts Bees
This lip balm has been such a saver! Every winter I have the same problem – my lips get extremely dry, crack, and look and feel horrible. I've tried so many different lip balms to try to repair my dry lips, but nothing has helped. That is, until I tried this lip balm. To my complete and utter surprise it has kept my lips smooth all winter long!
Liquid Eyeliner
by Dr. Hauschka
This liquid eyeliner from Dr. Hauschka is one of the few organic or "good" and natural products that has been part of my makeup set for a couple of years now. It's cruelty free, long lasting and has a good brush tip for applying that perfect thin line.
Lip Pen
by Zao
I actually bought this at a vegan convention, thrilled to find a brand that sells both cruelty free/vegan and organic products. The pen is super smooth and easy to apply and the colour is slightly shimmery so it can be used as is and blended for a subtle lip stain, or applied with a lipstick over it.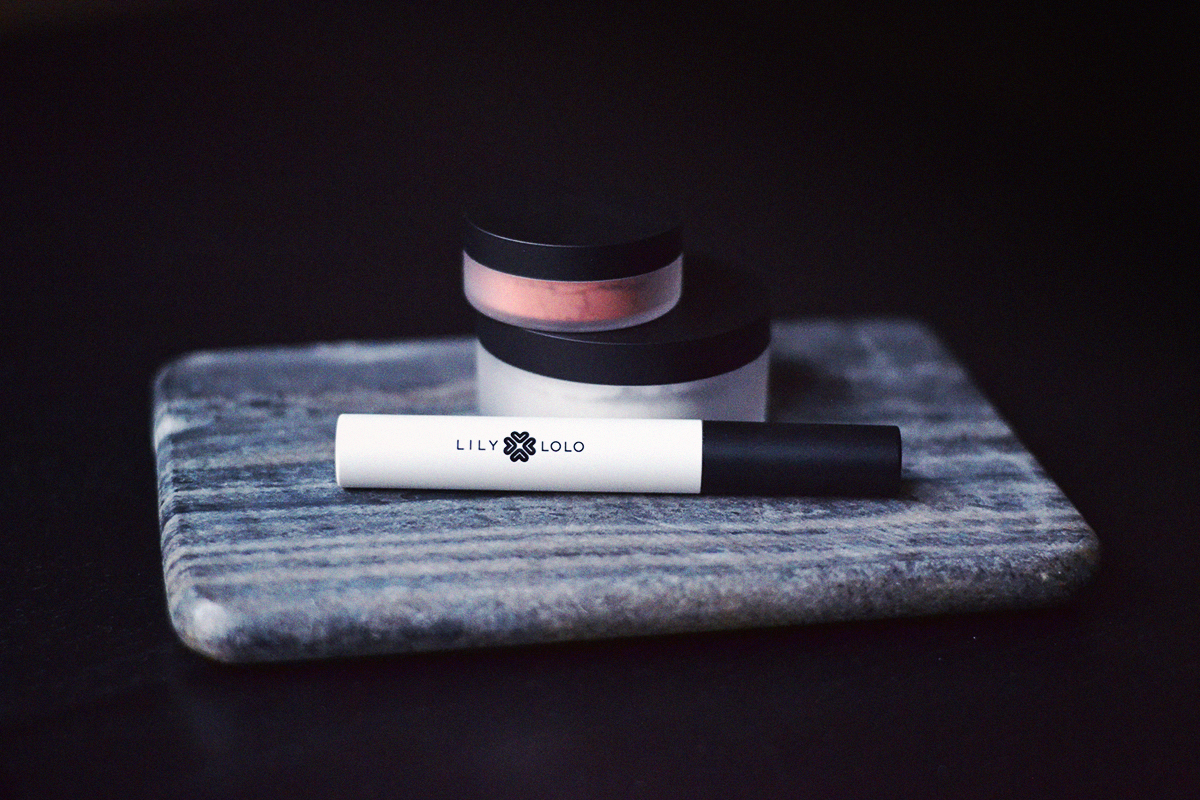 Mineral Blush (in Beach Babe)
by Lily Lolo
The nice thing about mineral powders like this blush is that little goes a long way. I hardly touch my brush to the powder and then gently blend it from the apples of my cheeks towards my ears and it surprises me every time how much color so little powder gives – and it's long lasting too! I had to gamble with the shade of this blush since I ordered it online but I'm happy with my choice – the beach babe color is pink with a hint of orange.
Flawless Matte Finishing Powder
by Lily Lolo
I've used a wide brush to just dab and dust a little bit of this finishing powder along my t-zone (brow, nose, chin area) after applying my makeup. I'm so surprised about this product, I can only imagine it's this finishing powder that is contributing to my makeup lasting longer and not "melting" off my face. The matte touch is really nice too, preventing greasy or shiny spots.
Natural Mascara (in Black)
by Lily Lolo
I had seen some really positive reviews about this mascara online but after trying it, I can't say I completely agree with some of the more enthusiastic users out there. Although I like this mascara (mainly for it's good ingredients) I think it lumps up a little bit too much if you apply more than one layer, which I always tend to do.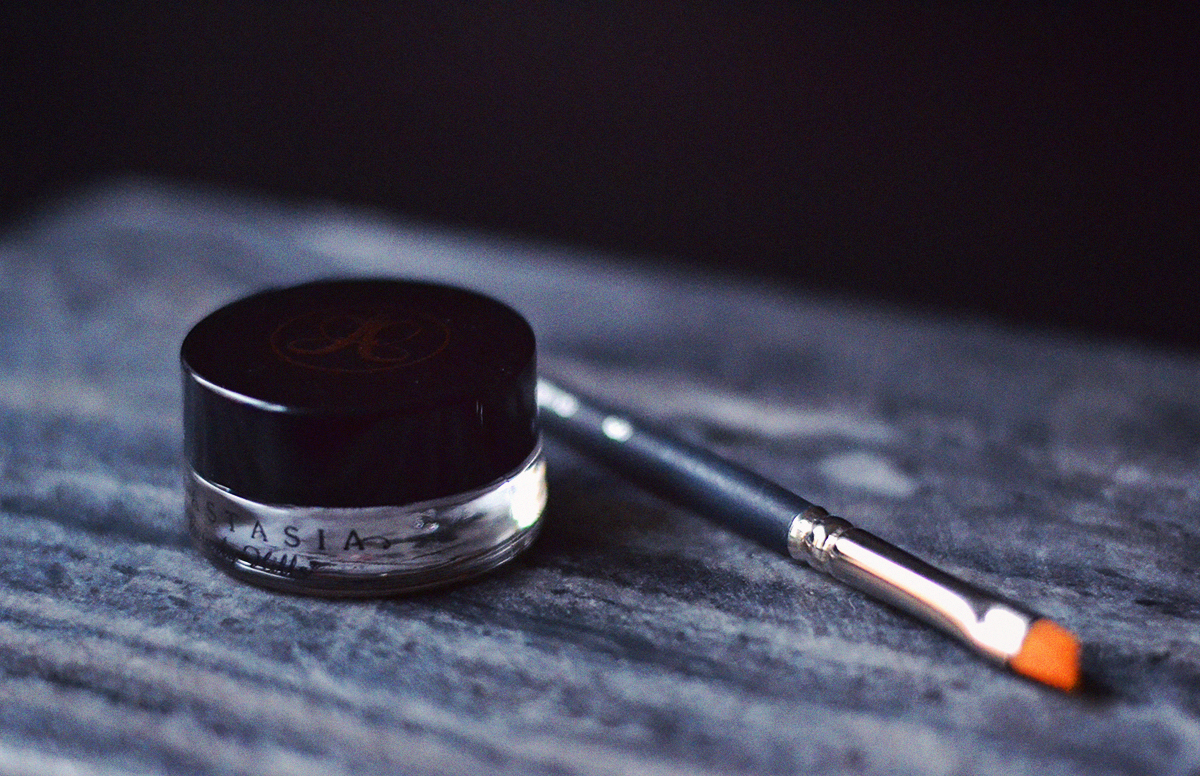 Dip brow pomade (in Dark Brown)
by Anastasia Beverly Hills
I've heard so much about the Anastasia Beverly Hills products and in particular how good the dip brow pomade is. So I couldn't resist trying it myself. Anastasia Beverly Hills products aren't necessarily all natural and organic, but they are cruelty free. The little pot of brow colour is a creamy consistency and I use a slanted brush to apply it. Note though that a little goes a long way! You barely have to touch the brush to the color to have enough to cover.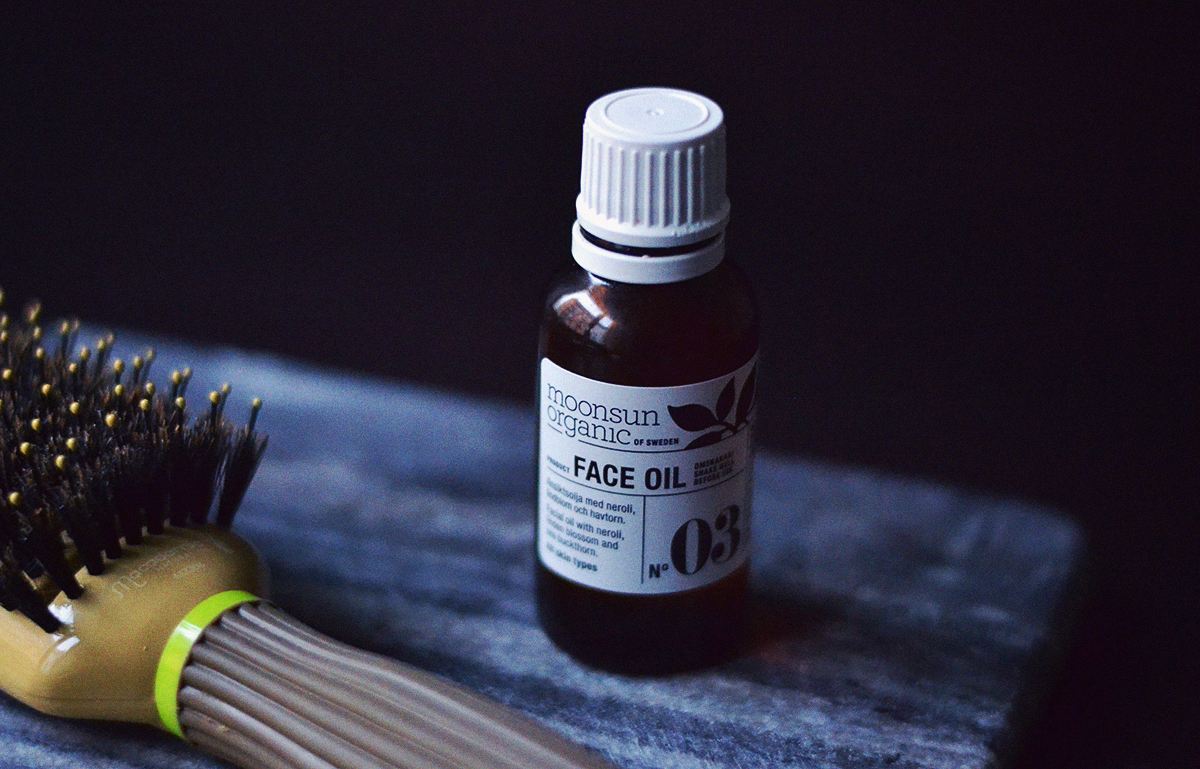 Face oil
by MoonSun Organics
I am obsessed with this face oil! I apply a couple of drops of it to my face in the evening before I got to bed. Now in the wintertime when my skin tends to feel dry after I've washed my makeup off it's nice to massage my face with oil. It has a orange/gold tint to it so it also gives a little bit of a sun kissed glow.
What are your favourite makeup products and brands?
*Disclaimer: None of the products mentioned in this post are sponsored. I am not promoting any companies in particular, this is just a guide and help to anyone else who is looking for natural beauty products. This is my honest review and experience using these products.