The traditional biskvi or Sarah Bernhardt cookie is coated in dark chocolate. This is a delicious and slightly tangy variation of that cookie. These vegan white chocolate biskvier are filled with a citrusy buttercream and coated in sweet white chocolate.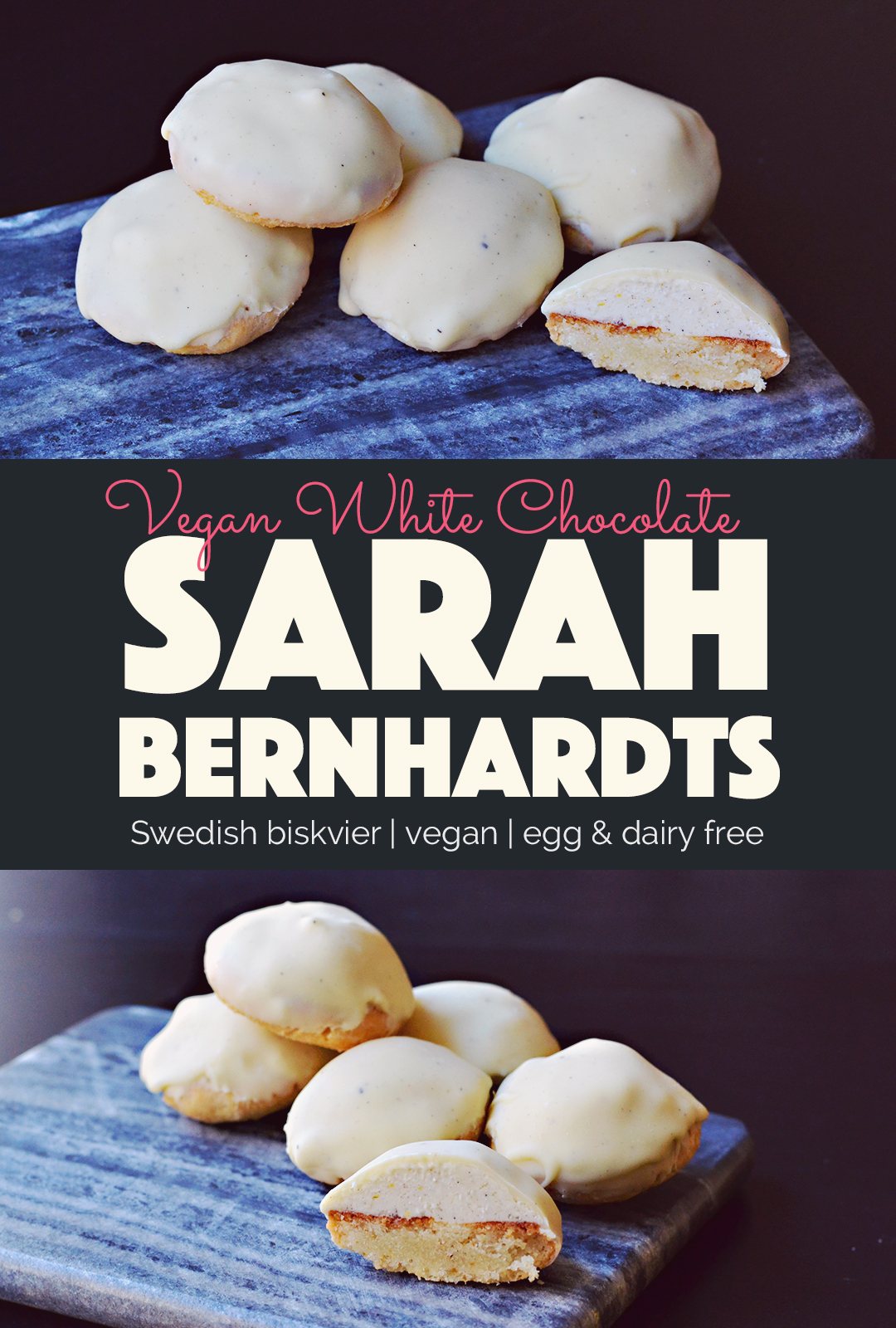 You can thank my boyfriend for all the white chocolate variations of bake goods that are whipped up in my kitchen and posted here. He despises milk or dark chocolate, but loves white chocolate. Meanwhile most other people in my life are super fans of dark chocolate. So I'm constantly battling these two camps when deciding what to bake.
Aiming to please, I often bake two versions of whatever I'm making – one dark chocolate version, and one white chocolate version.
This was the case when I recently made vegan biskvier (known as Sarah Bernhardts to some). I made one batch of regular dark chocolate biskvier, and one batch of white chocolate biskvier. For the white chocolate biskvier I decided to add a little hint of lemon. Citrus and white chocolate work very well together, and I almost think a little bit citrus is a necessary to tone down the super sweetness of white chocolate.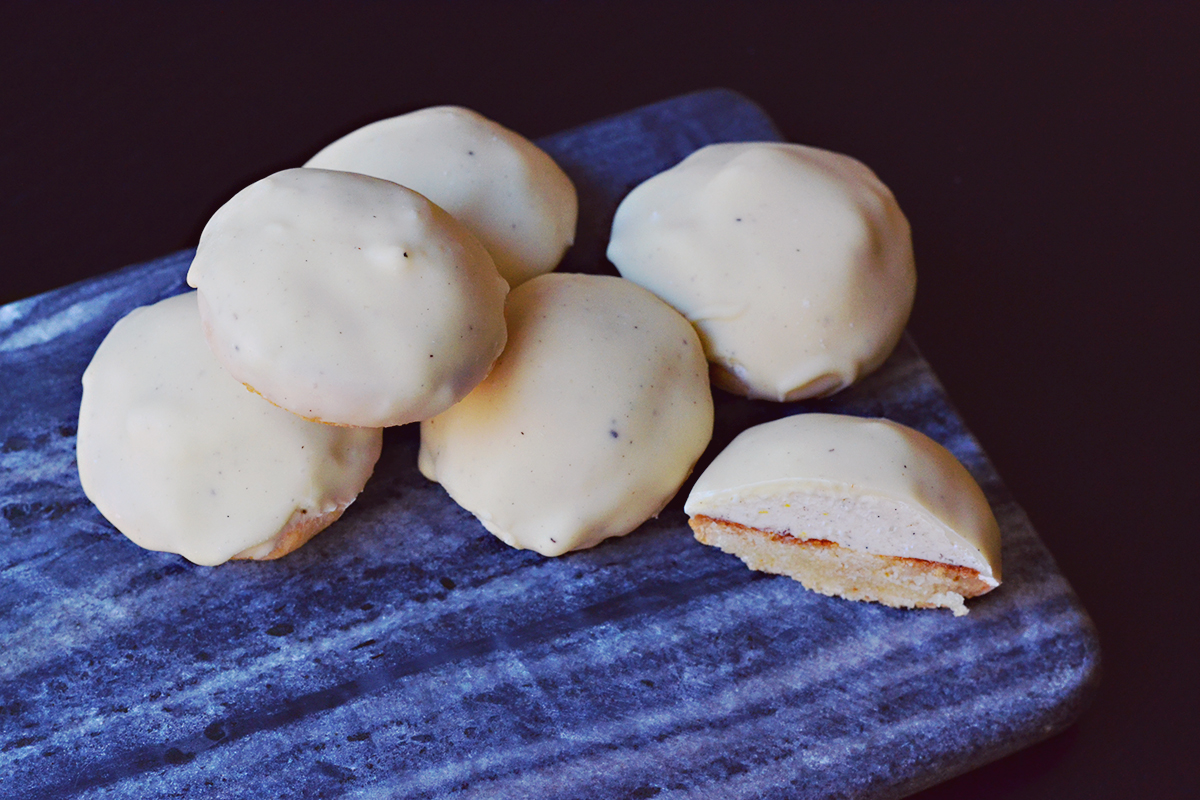 Related: Vegan Chocolate Biskvier (Sarah Bernhardts)
So, whether you belong to camp dark chocolate or camp white chocolate, I've got you covered. These vegan white chocolate biskvier are for the white chocolate lovers.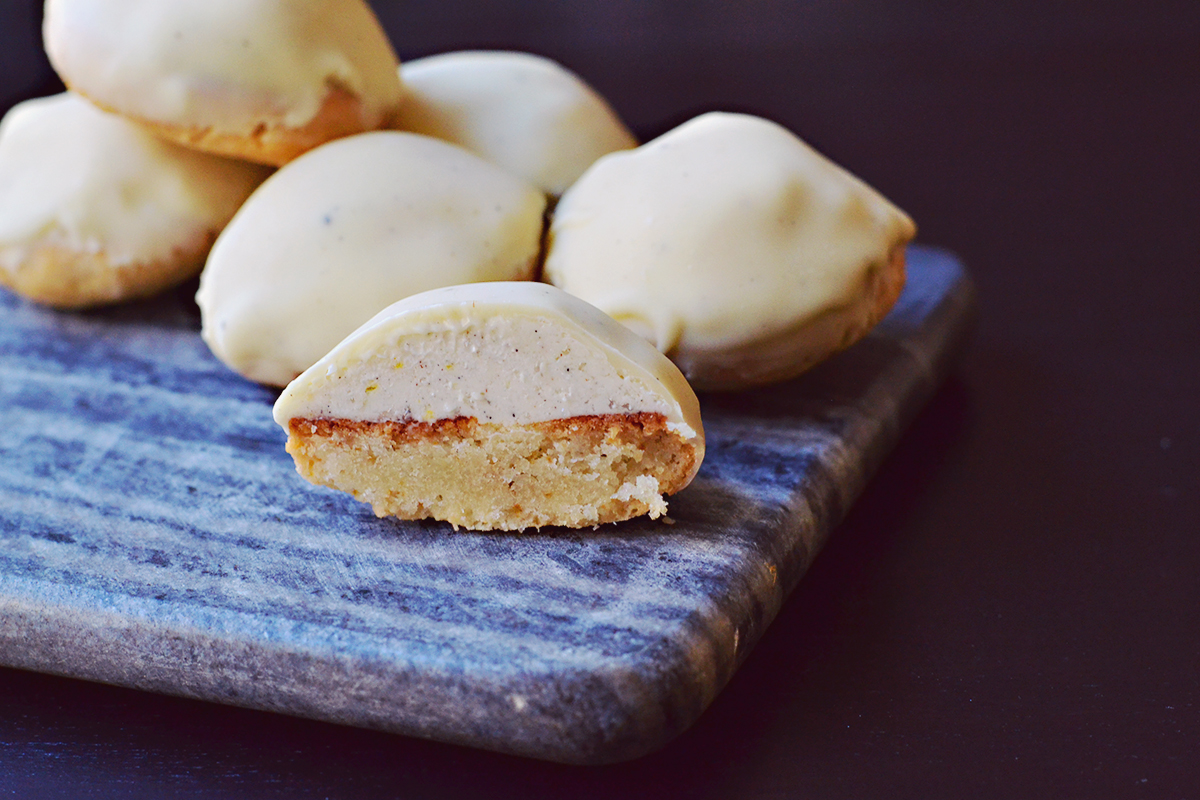 Vegan White Chocolate Biskvier or Sarah Bernhardts
Yield: about 20 cookies
Cookie base
500 grams (17.5 oz) almond paste, chilled
½ dl (4 Tablespoons) powdered sugar
1 teaspoon baking powder
4 Tablespoons corn starch
3 Tablespoons almond milk
Buttercream filling
250 grams (9 oz) vegan butter, softened
3 dl (1 cup + 4 Tablespoons) powdered sugar
4 teaspoons bourbon vanilla powder
1 lemon, zest of
Coating
200 grams (7 oz) vegan white chocolate
Method
Line a baking tray with parchment paper and set the oven to 150 C / 300 F.
Grate the chilled almond paste an place in a medium sized mixing bowl.
Add the powdered sugar, baking powder, corn starch and almond milk and mix to a dough.
Roll the dough into balls and flatten them into rounds on the baking tray, about 3-4 centimetres (1-1.5 inches) in diameter and about 5 mm thick.
Bake in the oven for about 20 minutes until lightly golden along the edges.
Allow to cool completely on a wire wrack while you mix the buttercream filling.
Grate the lemon and whip together the zest with the butter, powdered sugar, and vanilla until you have a smooth batter.
Transfer the buttercream filling to a piping bag and pipe a small mound on the bottom side of each almond cookie base. (If you don't have piping bags you can use a knife to carefully form a small mound on each cookie).
Place the cookies in the fridge or freezer to firm up for at least 30 minutes. You want the buttercream topped cookies to be quite cold or frozen when you dip them in the chocolate coating so that the chocolate doesn't melt the buttercream filling and cause a gloppy mess.
Melt the white chocolate for coating and allow to cool slightly. Remove the cookies from the freezer and carefully dip each top into the melted chocolate to cover the buttercream.
Place back on a tray in the fridge to allow the chocolate coating to firm up.
Store in an airtight container in the fridge for a week or in the freezer for up to a month.
Enjoy!