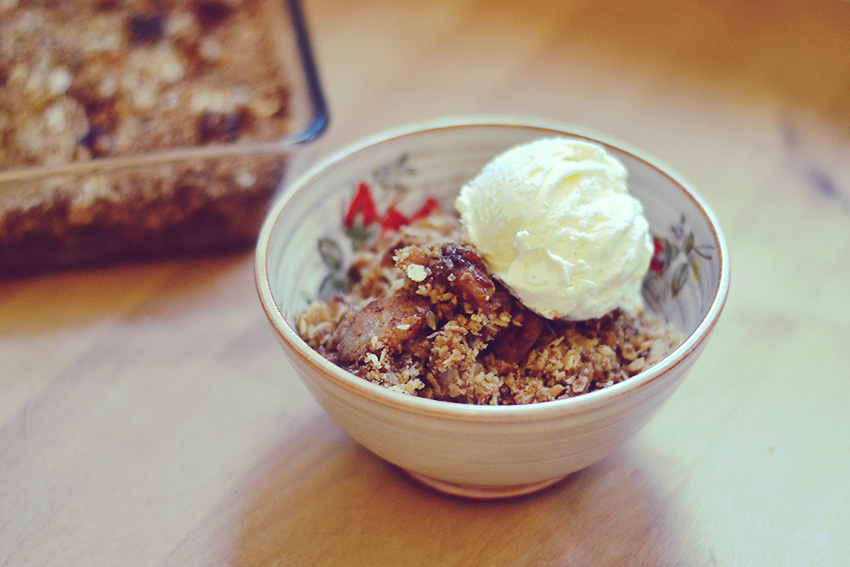 I was in one of my usual creative moods the other day and decided to whip up a crumble pie out of some pears, apples, and a thumb of ginger that were starting to look a bit sad.  I could have used a recipe, but instead decided to give myself complete creative freedom and let the measuring cups rest. I threw a little bit of this and a little bit of that in a mixing bowl, I opted for healthy ingredients in place of the normal – and slightly less healthy – ingredients. Then popped it in the oven and waited.
I'm honestly still shocked at how great it turned out – I need to ditch my measuring cups and recipes more often! After tasting the pie I quickly wrote down approximate measurements so that I could share it with you.
Pear and Ginger Crumble
Filling
4 ripe pears, peeled
2 small apples, peeled
1 thumb size piece of ginger, grated
1 dl / 0.5 cup coconut sugar
0,5 dl / 0.25 cup raw cane sugar
1/2 – 1 tsp cinnamon
1/2 tsp cardamon
Crumble

2-3 dl / 1 cup oats
1 dl / 0.5 cup soy flour
2 tsp lucuma powder
1 dl / 0.5 cup coconut sugar
0,5 dl / 0.25 cup shredded coconut
2 heaping tablespoons coconut oil (not melted)
Method
Set your oven to 350F / 180 C / gas mark 4.
Chop up the pears and apples into bite sized pieces, place in a medium size bowl and sprinkle the grated ginger, cinnamon, cardamon and sugar on top and toss to coat. Pour the fruit into an oven proof dish.
In a medium sized bowl, combine all the ingredients for the crumble topping, mixing and squeezing the crumble with your hands. Spread it across the top of the fruit and top it with some crushed walnuts and a sprinkle of coconut sugar.
Place on a wire rack in the middle of the oven and bake for 20 minutes. Enjoy with vegan ice cream or vanilla custard.