Tomato sauce mixed with sheets of pasta, add in the fact that it's vegan (shock full of nutritious veggies) and super easy to make – we've got a winner! This is the Vegan Lasagna That Pretty Much Cooks Itself.
Every weekend, usually on a Sunday afternoon, I pile the kitchen counter high with ingredients and get to work preparing food for the week. I like to make a big dish of something tasty that I can divide into boxes and bring to work for lunch, and have ready when I get home from work to eat for dinner.
I have a couple of requirements when it comes to my food prep: it's got be quick and easy to cook, make a lot of food so that it'll stretch several days worth of lunches and dinners, and require minimal amount of pots, pans and utensils (so I don't have to tackle a mountain of dishes). I rarely (if ever) follow a recipe, I'm very much a "throw something together" kind of girl, and I prefer to scour the pantry for whatever needs using up and mix together some magic out of that.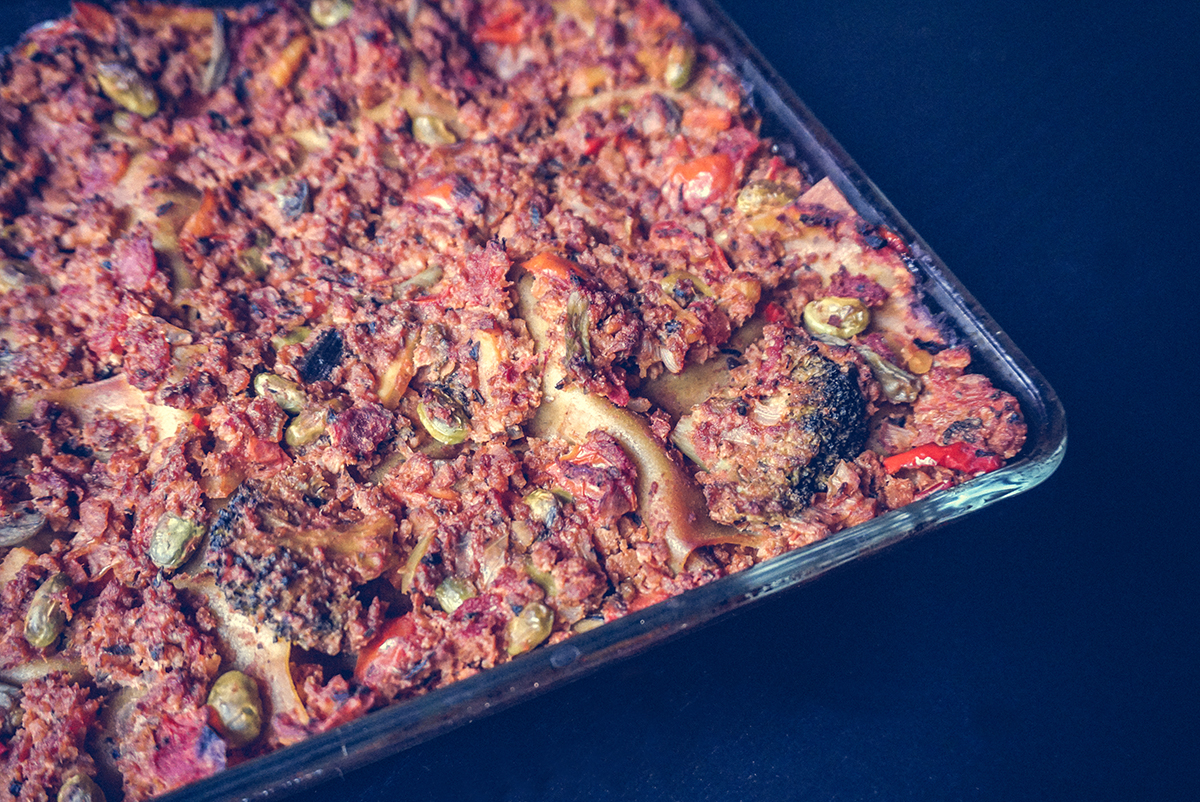 Vegan Lasagna That Pretty Much Cooks Itself
A dish that covers all my requirements is lasagna. I can throw almost anything into it, cartons of beans, veggies needing to be used up, spices, herbs, onions and tomatoes. I pop everything in a pot and let it simmer for 40 minutes while I get up to other things. Then quick in a pan, layered with sheets of pasta and in the oven it goes to, once again, cook itself for half an hour while I tend to other things. Easy peasy!
Have I convinced you that this Vegan Lasagna That Pretty Much Cooks Itself is something you need to make this week? I hope so!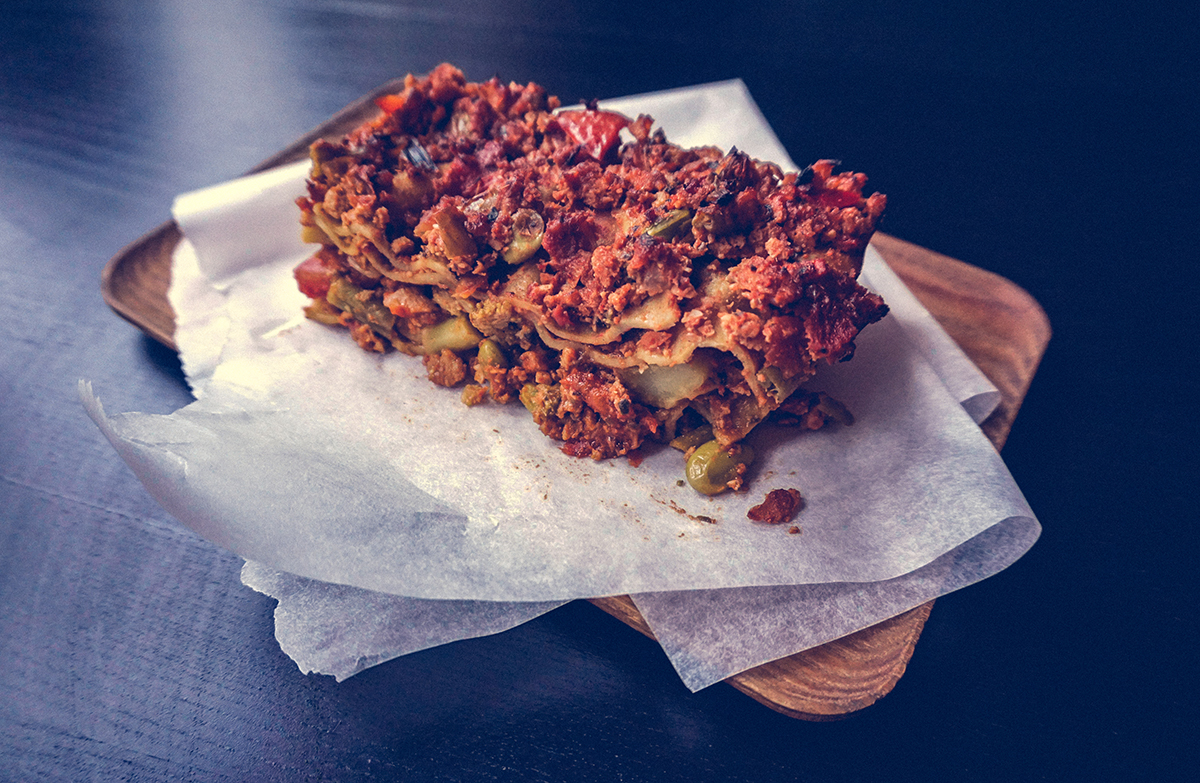 Vegan Lasagna That Pretty Much Cooks Itself
Ingredients
400 grams / 14 oz vegan/vegetarian mince (if you can't get hold of this you can substitute mixed beans and lentils)
1 can mixed beans/peas/lentils
250 g / 9 oz frozen mixed vegetables (broccoli, zucchini, peppers and the like)
2 cans (800 grams / 28 oz) crushed tomatoes
250 grams / 9 oz cherry tomatoes, chopped
1 yellow onion, finely chopped
2 cloves garlic, minced
1 tsp oregano
1 tsp basil
1/2 tsp garlic powder
1/2 tsp onion powder
1 stock cube
1-2 cups of water
salt & pepper
1 package lasagna pasta sheets (I used lentil pasta sheets)
Method
In a large pot over medium high heat, combine all the ingredients for the sauce, adding enough water to give it something to simmer in.
Let the sauce come to a simmer and then lower the heat slightly.
Let it simmer for 30-40 minutes, stirring every once in a while.
Once the sauce has come together and your onion and other vegetables are soft, remove from heat and pre-heat the oven to 200 C / 392 F.
Cover the bottom of a large dish with a couple of spoonfuls of the sauce, then press enough pasta sheets down to cover it. Spoon a generous amount of sauce over the sheets. Repeat this process until you've used up all your sauce or the dish is full.
Bake in the middle rack of the oven for 30-35 minutes, checking it now and then to make sure the top isn't burning (if it's getting too dark, cover the top in tinfoil).
Remove and let cool. Cut into squares and enjoy straight away or transfer to boxes for lunches and dinners for the week.
So easy.