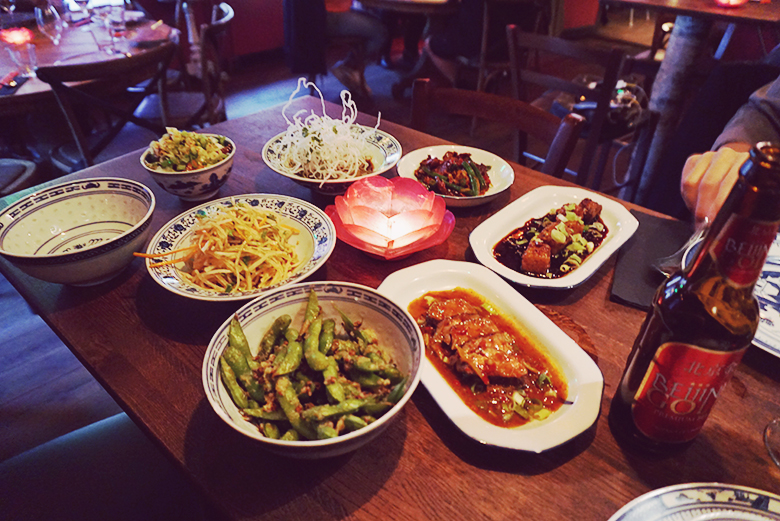 For my birthday dinner in Gotland, we'd booked a table at Surfers in Visby. Surfers offer Sichuan cuisine with the dining style being a mix of small dishes, intended for you to order to share around the table. At least half their menu is vegan and most of the dishes that aren't can be made vegan with simple substitutions.
Our waiter recommended that we get 3-4 dishes each. Everything on the menu sounded unique and intriguing, unlike anything I'd eaten before. I finally settled on edamame beans (in Sichuan pepper, ginger and salt), the mung bean jelly (jasmine tea, koriander, chili and crispy noodles), the ginger tofu (secret recipe, fried tofu in syrup) and the radish salad (garlic, ginger, chili, rice vinegar and koriander).
Everything was absolutely mouth wateringly delicious. The mung bean jelly was a flavourful and exciting dish because of the contrasting texture of the jelly and the crispy and crunchy noodles. The radish salad had a cool and refreshing flavour. The spicing of the edamame beans was quite different from how I've eaten them before, and delicious. But, my favourite was the tofu. It was perfectly crispy on the outside and bathing in a delicious syrup; a fantastic dish in both taste and texture and I enjoyed every bite of it.
Sichuan pepper and ginger were listed in almost all the dishes on the menu. Despite being rather sensitive to food with too much of a sting to it, I thought the dishes I chose were more flavourful than spicy. In other words, perfect for me. Tom, on the other hand, loves a fiery dish and was pleased with his spicy selection. One of his dishes was exceptionally heavy on the heat and recommended to be eaten last to avoid numbing the palette before tasting the other dishes.
Aside from the fantastic food, the staff were very friendly and accommodating. They were happy to explain the dishes to us and eager to help us figure out what to order to suit our preferences. The interior of Surfer's is intimate, dimly lit, and great both for both big and small groups. Their round tables seat 8 to 10 people and are perfect for big groups of friends.
With such a great dining experience we're thrilled about Surfer's recently opening a restaurant in Stockholm. We'll definitely be paying our local Surfer's a visit.

5 out of 5 bananas
Great food, nice atmosphere, friendly staff, several vegan options on the menu. Would definitely eat here again and would recommend the place to a friend.