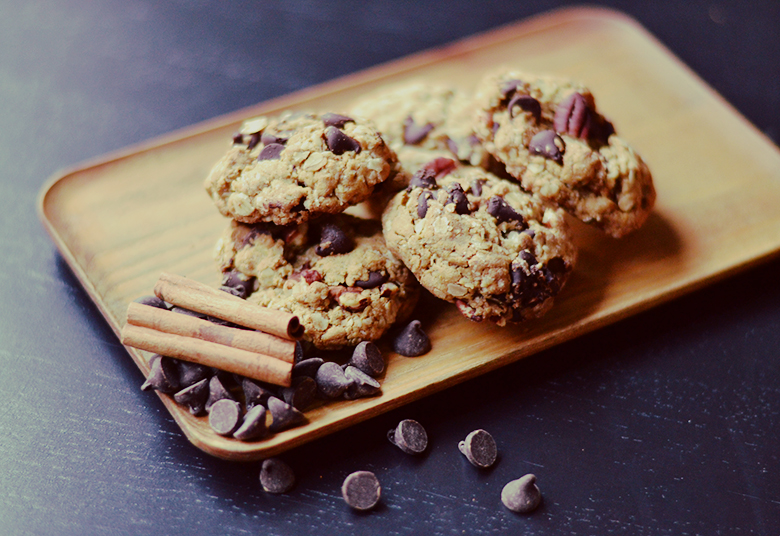 I was in Boston a couple of weeks ago on a fly-by visit for Thanksgiving. For the dinner, my aunt prepared a beautiful buffet of traditional holiday foods and I pitched in and made the veggie dishes, one of which was brussel sprouts that I mixed with salt, pepper and olive oil and roasted in the oven, then topped them off with caramelised pecans and cranberries. They disappeared off the buffet table in the first round and people kept asking if there were more (this despite them being total brussel sprout haters before).
The dessert table was every bit as impressive as the dinner, featuring vegan chocolate chip cookies and vegan pumpkin pie! I liked the chocolate chip cookies so much that I even nabbed three of them to take with me on my flight home. And then I of course created my own version of them as soon I got home.
VEGAN CHOCOLATE CHIP OATMEAL PECAN COOKIES
1 cup softened coconut oil
1/2 cup brown muscovado sugar
1/2 cup coconut sugar
1 tsp vanilla extract
1 1/2 cups flour
pinch of salt
1 tsp baking soda
1/3 cup boiling water
2 cups rolled oats
1 tsp pumpkin pie spice or cinnamon
1/2 cup pecans (or other nuts)
3/4 cup vegan chocolate chips
METHOD

1. Set the oven to 176C / 350 F.
2. Beat the softened coconut oil until soft.
3. Add the sugars and vanilla extract and beat until fluffy.
4. Add the flour and salt and mix well.
5. Dissolve the baking soda in boiling water. Blend into mixture.
6. Stir in the rolled oats, nuts, pumpkin pie spice and chocolate chips. And mix well with a spoon or your hands.
7. Roll into balls and place on baking trays lined with parchment paper. Place in the freezer to firm up for 10-15 minutes before popping them in the oven.
8. Bake at 176C / 350F for 10 to 12 minutes.
Enjoy!