When the heat strikes like it has in Sweden this summer, I kind of just want to eat ice cream for breakfast lunch and dinner. And a lot of ice cream has been eaten, but I've been balancing it with other cool meals that are slightly more nutritiously dense, like smoothie bowls and nice cream. And, these lovely Raw Nice Cream Sandwiches!
When I was and ice cream was on offer, I'd often select an ice cream sandwich. I loved the soft cookie with the smooth vanilla ice cream, such a treat! These raw nice cream sandwiches are reminiscent of those chilled treats I had as a kid. But they're dairy free, vegan and made with simple and natural ingredients like dates, nuts and bananas.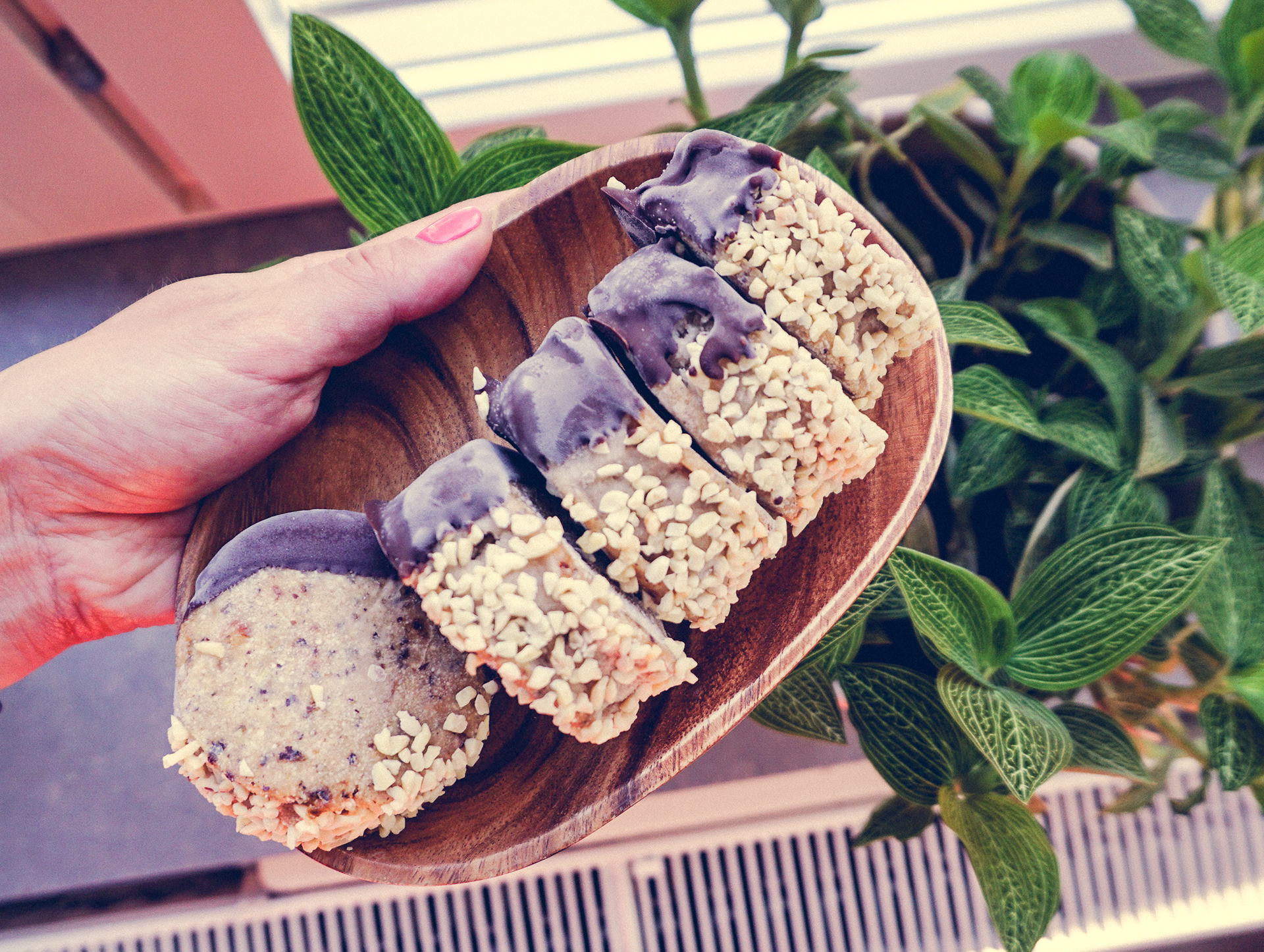 They're also super fun to make and can be varied depending on what flavour of ice cream you prefer. I opted for nuts and chocolate because that's my jam. The cookie part is chewy and has a hint of lemon to it, and the ice cream is made of one ingredient only – frozen bananas.
Raw Nice Cream Sandwiches
For the cookie
2 cups almond flour
1/2 teaspoon pure vanilla powder
10 small dates (or 5-8 medjool dates)
1 tablespoon coconut oil, melted
1 tablespoon maple syrup
zest of 1 medium lemon
For the ice cream
To garnish
1 cup melted vegan dark chocolate
1 cup chopped almonds
Or other variations: sprinkles, peanuts, chocolate chips, cacao nibs, coconut, mint leaves
How to
Add all the ingredients for the cookie to a food processor with the blade attachment. Blend until you have a dough. Gather it t a ball and place it on a piece of parchment paper, add another piece of parchment paper on top and press down and then use a rolling pin to roll it out to a thin sheet. Remove the top layer of parchment paper and cut out circles (I used a wine glass for this). Place on a tray lined with parchment paper and pop it in the freezer to set.
Meanwhile, make the nice cream – simply blend the chunks of frozen bananas in a high speed blender until you've got a creamy ice cream consistency. Place in the freezer until you're ready to assemble your raw nice cream sandwiches.
Prepare a bowl of chopped nuts and another bowl of melted chocolate (if using). Sandwich a scoop of the nice cream between two pieces of cookie and roll the outer edges in nuts and chocolate. This step is a little bit tricky, you're best getting your hands messy and shaping the sandwiches by melting the ice cream a bit in your hands. Work quickly so they don't melt too much though, and place in the freezer as soon as you've got your ice cream sandwiches assembled.
Take the raw nice cream sandwiches out of the freezer a couple of minutes before serving, to allow them to defrost slightly and soften. Then, tuck in!