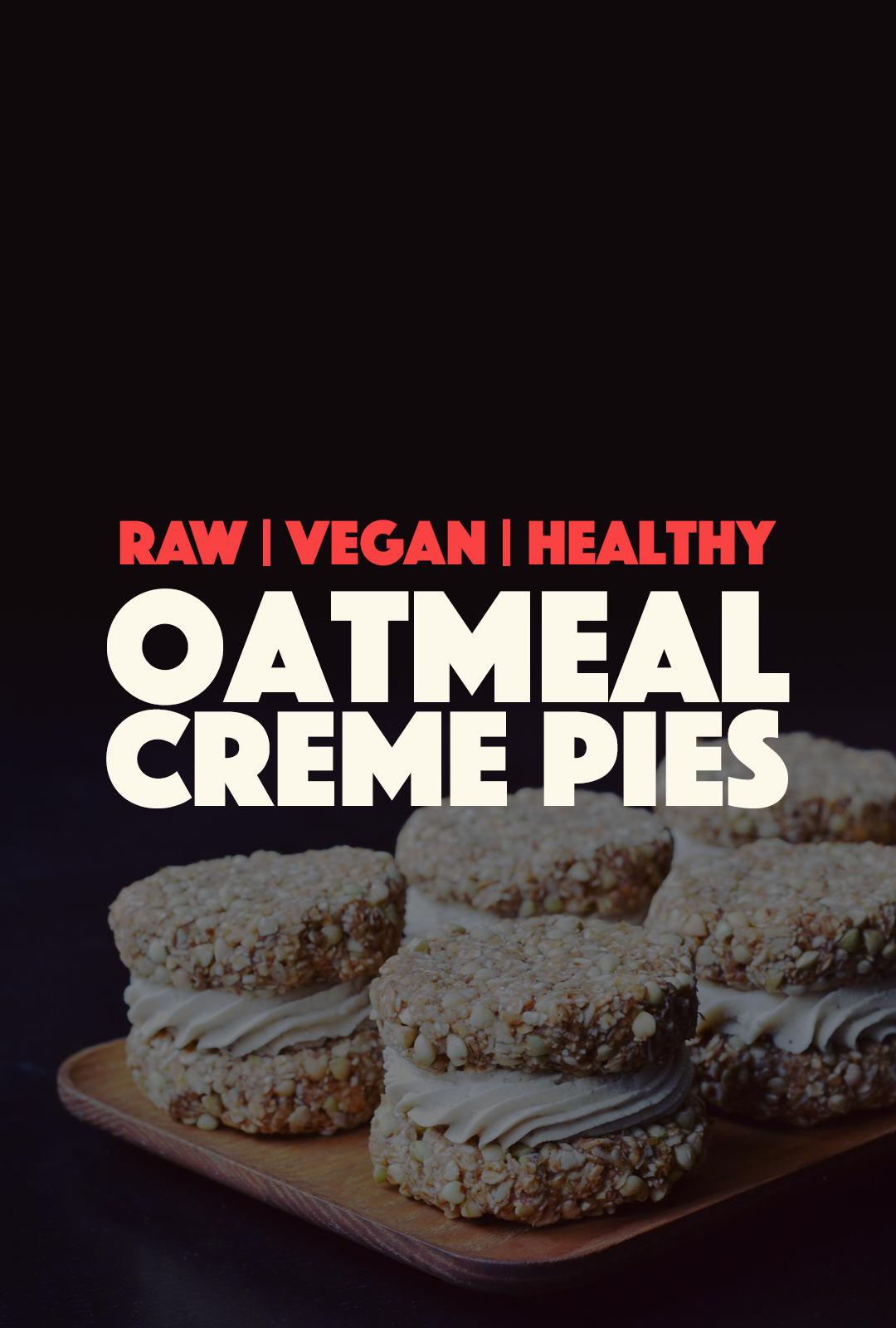 Have you ever had an oatmeal creme pie? If you have, you probably know that it's like the best cookie in the world. If you haven't… oh boy do I feel for you.
Oatmeal creme pies are two delicious, chewy oatmeal cookies sandwiching a generous slab of frosting. You just can't go wrong with a combination like that.
I first encountered oatmeal creme pies at a farmers market in Boston many years ago. My aunt was at the market selling her hand made jewellery while my cousin and I ran around the stalls looking for something for breakfast.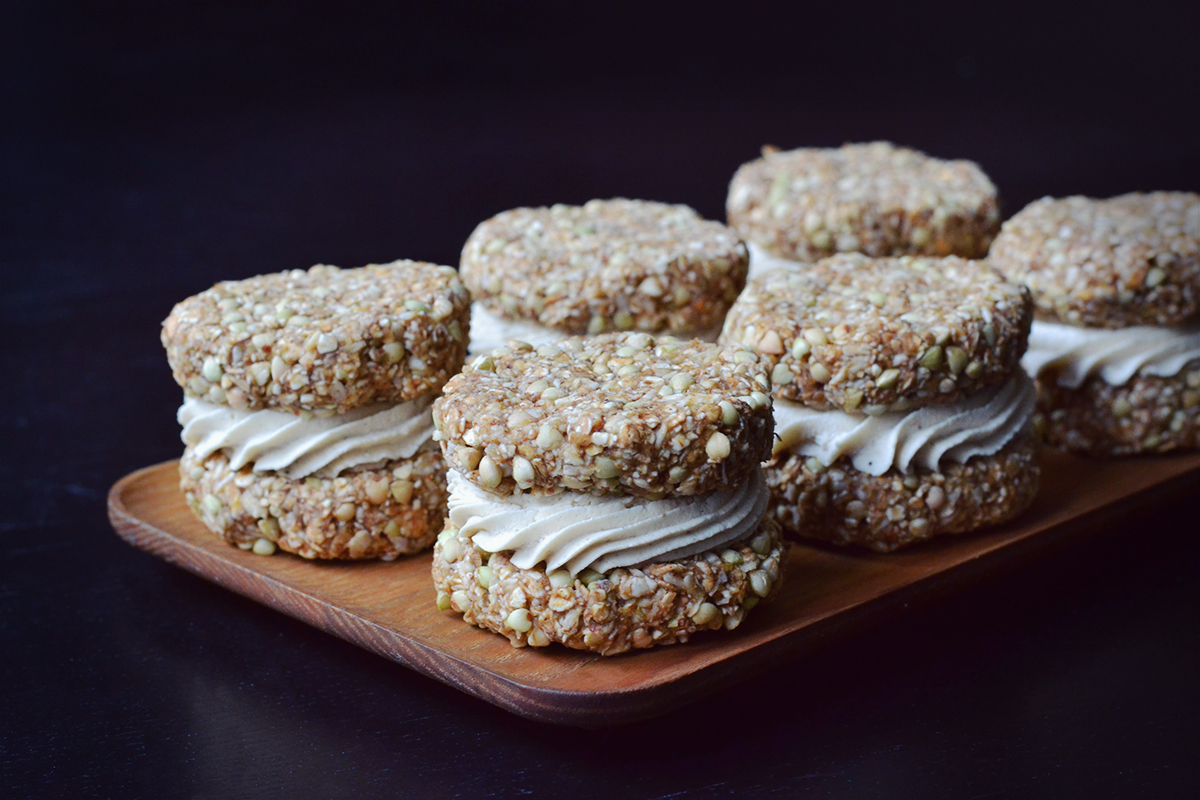 We came across a woman selling home made oatmeal creme pies and my cousin flipped and suggested we get them. Yes, for breakfast. I had no idea what they were but they looked delicious and, well, we were kids so of course we were going to eat cookies for breakfast. Besides, they've got oatmeal in them. That's like breakfast, right?
I've since grown up and don't eat cookies for breakfast. Unless they're raw vegan and refined sugar free.
Oh snap, looks like I just made raw vegan oatmeal creme pies that also happen to be refined sugar free. I guess cookies for breakfast is on!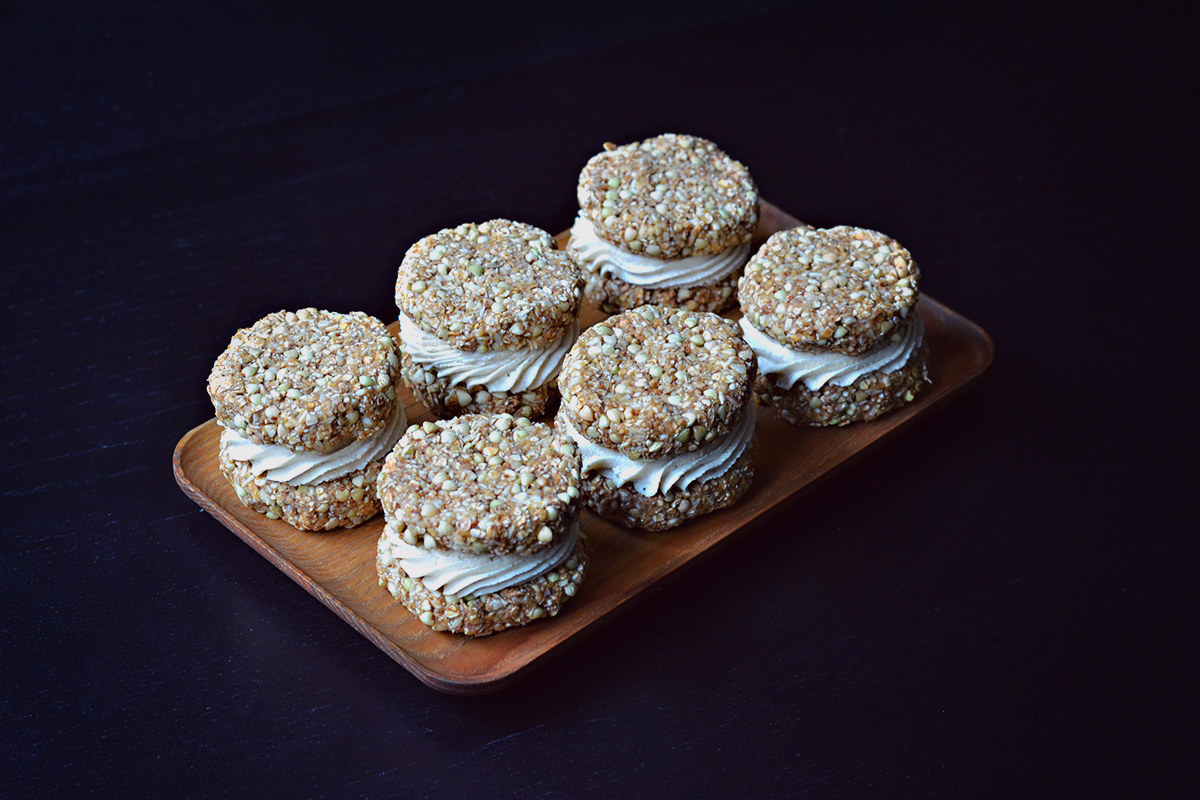 Raw Vegan Oatmeal Creme Pies
Makes 6 sandwich cookies
For the cookies
1 Cup buckwheat (soaked for 8-24h)
1 Cup oatmeal
1/4 cup unsweetened shredded coconut
1,5 teaspoons mesquite powder
1 large ripe banana
2 Tablespoons maple syrup
1/2 teaspoon cinnamon
pinch of salt
For the frosting
1/2 cup cashews, soaked overnight (preferably for 24h)
1/2 tsp bourbon vanilla
2 Tbsp maple syrup
3 Tbsp coconut oil, melted
1/2 tsp apple cider vinegar
Method
For the cookies: drain and rinse the buckwheat. Mash the banana with a fork.
Place all the ingredients for the cookies in a medium sized mixing bowl and mix together with a spoon or your hands.
Shape the dough into 12 even sized cookies and place on a tray in the freezer to set while you make the frosting.
To make the frosting: drain and rinse the cashews. Place all ingredients for the cashew cream in a high speed blender or food processor (I swear by my Blendtec).
Blend until very smooth, place in the freezer for 20-30 minutes.
After 30 minutes, take the frosting batter out of the freezer and whip it with an electric beater. Repeat this process four times every 15 minutes until the cream has cooled and stiffened enough to transfer to a piping bag.
Use a pipe tip to pipe frosting onto one cookie (or spread frosting with a knife) and sandwich a second cookie on top.
Store the finished cookies in the freezer, taking out 10-20 minutes before serving to allow to defrost slightly.
Store any leftover frosting in an airtight container in the fridge for up to a week.
Have you ever tasted an oatmeal creme pie?