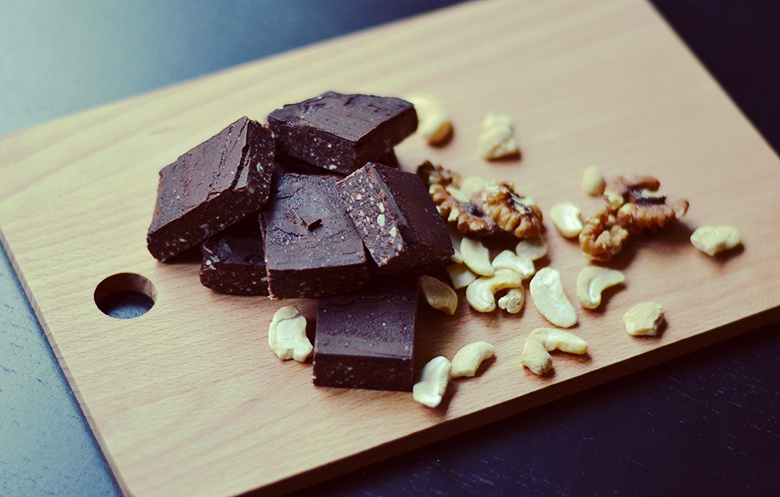 My aunt is a real entertainer. She hosts parties and get togethers with friends and family all the time and knows just how to organize everything perfectly. She stocks the fridge and freezer full, preparing for weeks in advance.
I guess you could say I was a little inspired by my aunt when I started baking this week, stocking my own freezer full of cookies and candies for the upcoming holiday parties and events (besides, I love having an excuse to bake almost every day).
All this preparing of course also gives me the chance to share my recipes with you early, so that you can go ahead and make these treats for your Christmas dessert table too. First out (of many) are these raw double chocolate squares.
Raw Double chocolate Squares
INGREDIENTS
8-10 medjool dates, pitted
1/2 cup cashews
1/2 cup walnuts
1 Tbs cacao powder
1 Tbs carob powder
1 heaping teaspoon mesquite powder
For the Chocolate Ganache
1-2 Tbs coconut oil, melted
1-2 Tbs cacao powder
2 Tbs date syrup (or other liquid sweetener)
1 Tsp mesquite powder
METHOD
1. Line a small container, about 8×6 inches, with parchment paper. In a food processor fitted with the blade attachment, mix the medjool dates, cashews, walnuts, cacao, carob and mesquite powder until you've got a thick dough. Press the dough into the container and place in the freezer.
2. In a small bowl, mix the ingredients for the chocolate ganache until everything is smooth and no lumps remain.
3. Use a spatula to spread the ganache on the cold base, then place back in the freezer to set. Once completely set, cut into bite sized squares. Store in the freezer, take out about an hour before serving to allow to defrost.