When I cook, I like to make stuff that is quick and easy. I'm very much a "throw it all in a bowl" kind of cook. Aside from being a really simple yet delicious lunch or dinner, bowls are also great because they can be endlessly varied.
My lunches lately have been this peanut tofu bowl. I make a big batch of the peanut tofu and enough quinoa, bulgur or rice to last several meals. Then all I need to do is chop some vegetables and assemble the bowl, meal ready in five minutes!
This peanut tofu does't take very long to prepare either, but since it keeps well in the fridge you'll have enough for leftover lunch boxes for a couple of days. Check out the recipe below! What do you put in your bowl?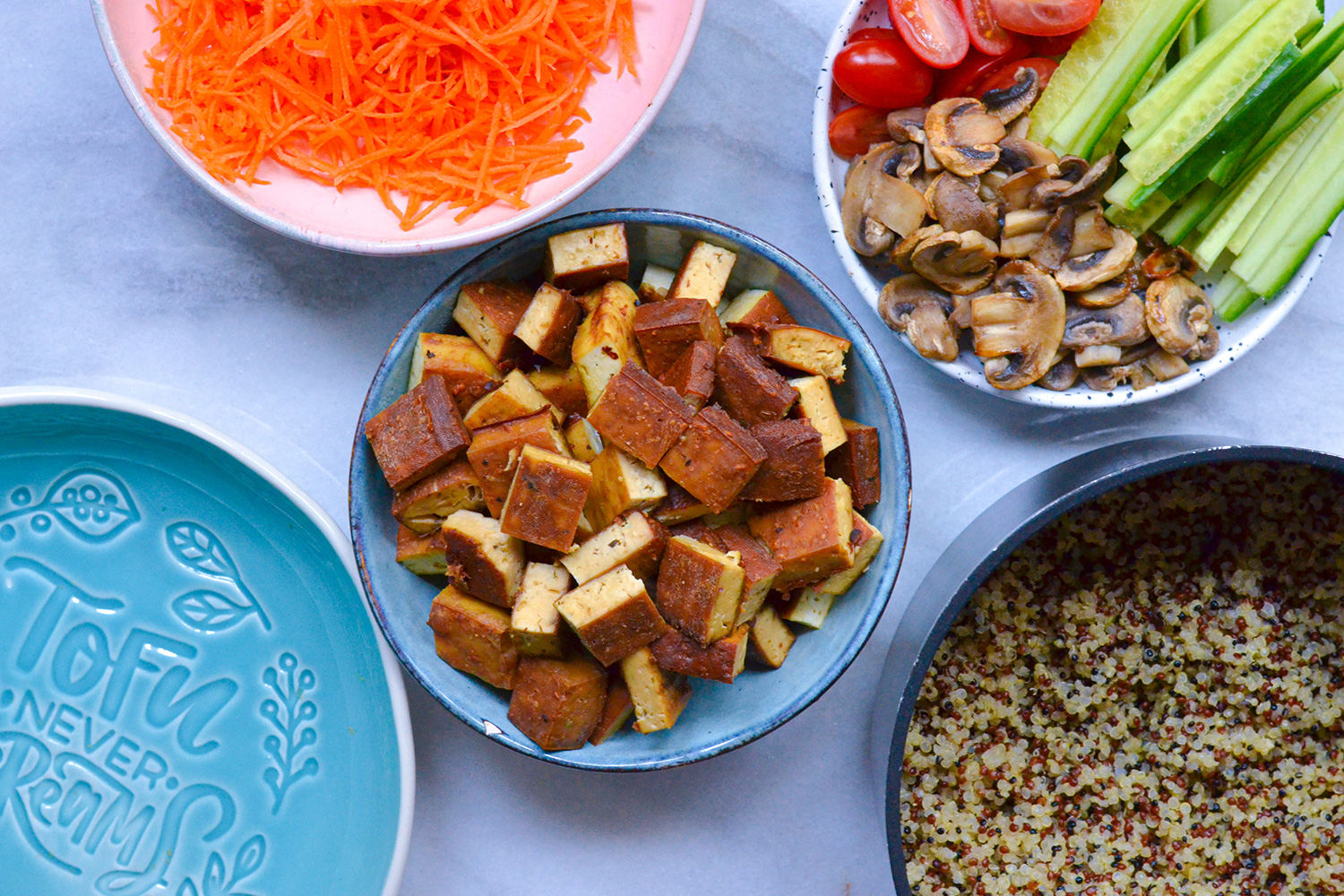 Peanut Tofu Bowl
Peanut tofu
450 grams tofu (I used both plain and smoked tofu)
1/4 cup peanut butter (I used powedered peanut butter)
2 tbsp soy sauce
3 tbsp maple syrup (I used sugar free syrup)
1 clove garlic
1 small piece ginger
To assemble your bowl
Cooked rice, quinoa or bulgur
Lettuce
Tomatoes
Shredded carrots
Sautéed mushrooms
Cucumber
… or any other vegetables you like!
Method
Heat the oven to 180C
Cut the tofu lengthwise into thinner blocks and blot dry with paper.
Add the peanut butter, soy sauce, syrup, finely chopped garlic and ginger to a blender and mix until smooth.
In a bowl, add the tofu and pour the peanut sauce over it to coat. Place the pieces of tofu in an oven dish lined with parchment paper. Brush more of the peanut sauce over the tops. Save any peanut sauce that's leftover as a dressing (you can also double the batch so you have peanut sauce for dressing as well).
Bake in the oven for 20-25 minutes.
Meanwhile, prepare your vegetables and other bowl ingredients. The vegetables and grains listed in the recipe are just suggestions, get creative – it's your bowl!
Once baked, remove the tofu from the oven and allow to cool, then cut into cubes.
Assemble your bowl and drizzle with left over peanut sauce or olive oil.
Enjoy!