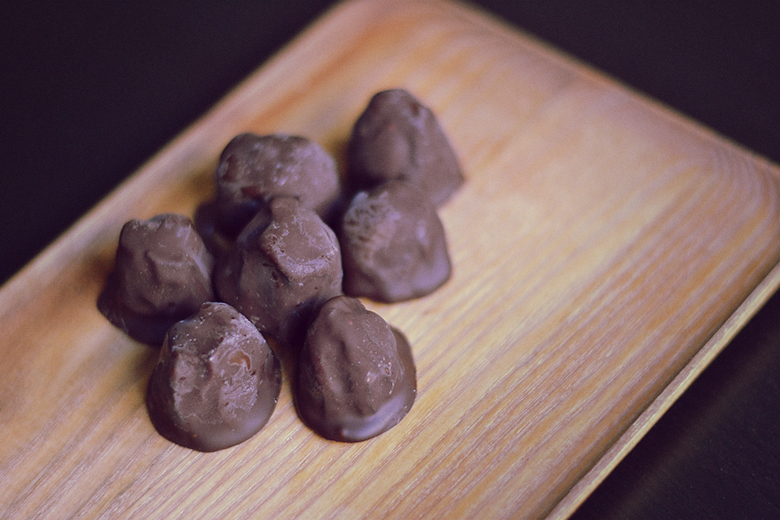 This time of year is definitely high season for my baking and creativity. I love wrapping presents and making (or baking) gifts for people. December has always been somewhat of a non-stop creative flow of baking, cooking, crafting and testing out ideas.
One of my sparks this year was to make a bunch of pretty treats to put in a hand made chocolate box for Christmas. I assembled anything and everything that I could combine or dip in chocolate to make beautiful little truffles, worthy of a place in the pretty box I'd spent two hours carefully crafting together.
I had some marsipan on hand and considered how best to make use of it. Staring at my pile of ingredients I finally settled on dates stuffed with marsipan, dipped in dark chocolate. By cutting them in half and standing them on their cut side, they look like fancy domed chocolates, perfect.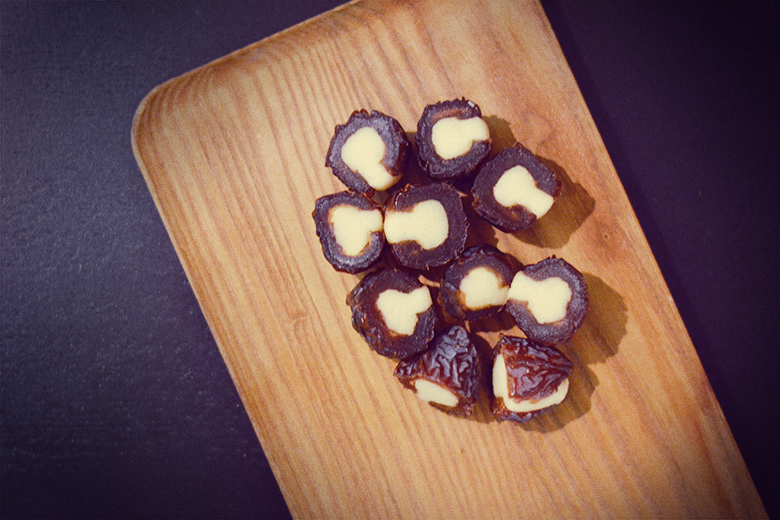 Inside the truffles
DATE & MARSIPAN CHOCOLATE TRUFFLES
Yield: 20 truffles
10 dates, pitted
1 golf ball size piece of marsipan
100 grams / 3.5 oz dark chocolate (vegan)
METHOD
1. Stuff each date with a bit of marsipan.
2. Cut each date in half so that you can stand each half date on its cut side.
3. Melt the chocolate over simmering water or in the microwave.
4. Line a tray with parchment paper.
5. Dip each half date in the chocolate, making sure to cover it completely, then place it on the tray with the cut side down so each piece can stand.
6. Place in the freezer to set, about 30 minutes.
7. Store in an airtight container in the fridge or freezer.
Enjoy!