My base cookie recipe is probably the recipe I've baked the most through the years. It's my go to whenever I need a quick dessert that's easy to transport to a friend's house. And it's fun too because it can be varied so much, even though I most often end up doing white chocolate chip.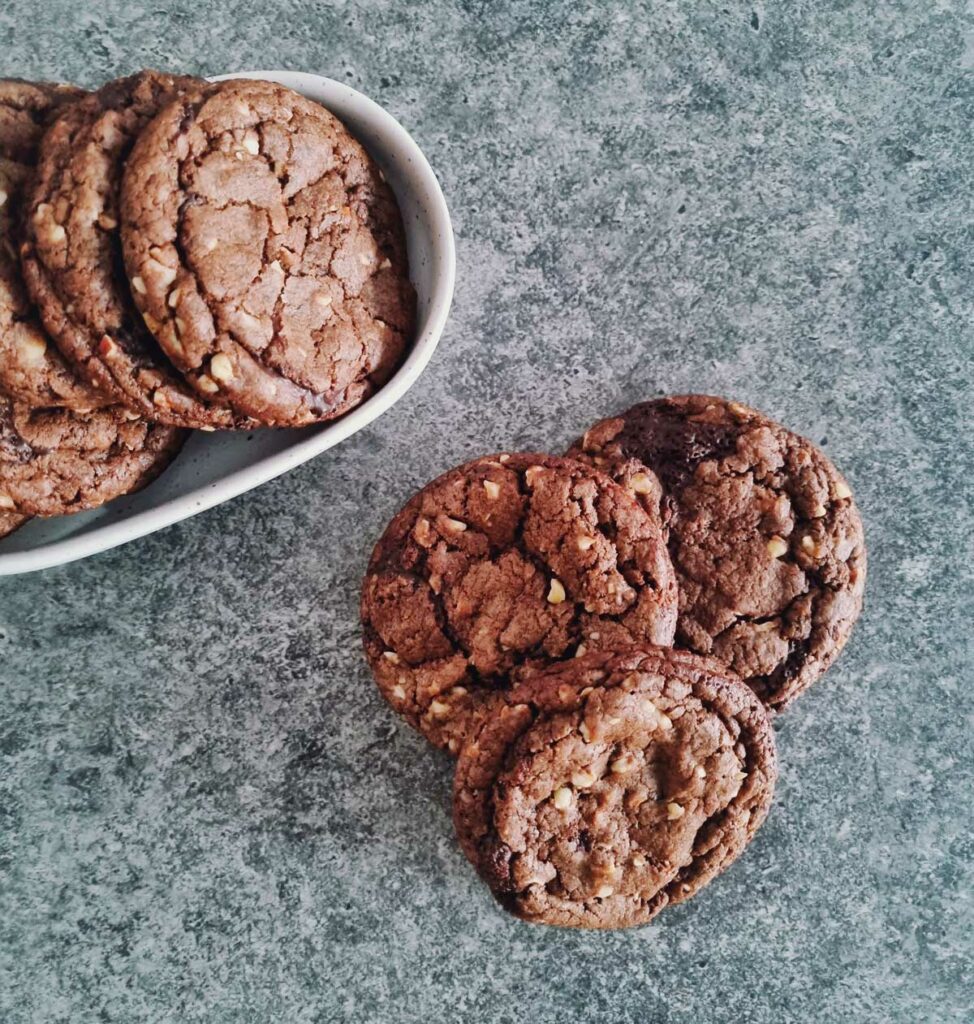 Recently, I wanted to bake a bunch of cookies as a little thank you-gift for a friend. They'd mentioned they like dark chocolate and nuts, so I whipped out my base cookie recipe to try a dark chocolate and nut version of it to make Dark Chocolate Chip and Nut Cookies.
I substituted some of the flour for dark cocoa powder, chopped up a generous amount of dark chocolate and hazelnuts, crossed my fingers, and hoped what came out of the oven would be delicious Dark Chocolate Chip and Nut Cookies. And it was!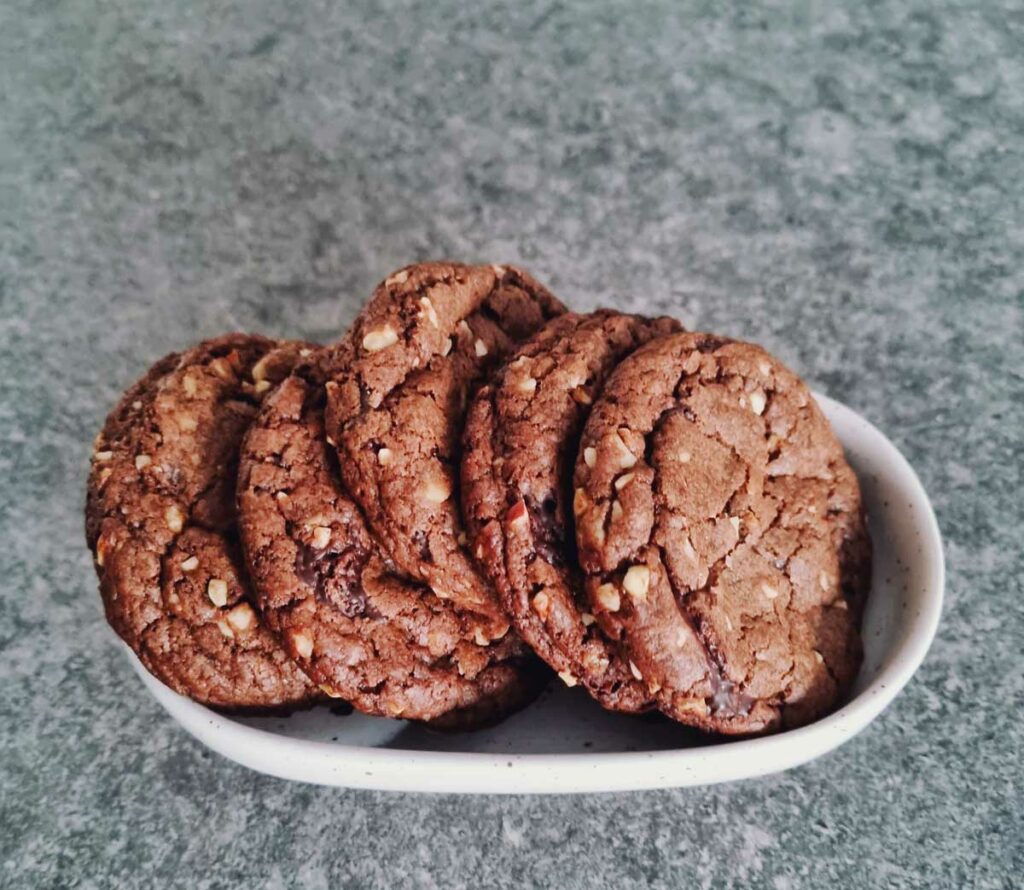 If you, or a friend of yours, is into dark chocolate and nuts, then here's your sign to bake these cookies!
Ingredients
1 cup vegan butter, melted
1 cup brown sugar
1 cup white sugar
3/4 cup chickpea brine (from 1 pkg of chickpeas, aka aquafaba)
2 cups all purpose flour
1/2 cup cocoa powder
1 tbsp potato starch
1 tsp salt
1 tsp baking soda
200 grams chocolate (70%), chopped
160 grams chopped hazelnuts (or other nuts)
How to make the cookies
In a large mixing bowl, combine the melted butter, sugars and chickpea brine. Using an electric beater, mix until combined.
In a separate mixing bowl, combine the dry ingredients (flour, cocoa, baking soda, potato starch, and salt).
Pour the dry ingredients into the bowl of wet ingredients and whip again until you have a smooth dough.
Add your chopped chocolate and nuts to the dough and fold in using a spatula.
Refrigerate the dough for 3 hours.
Pre-heat the oven to 365F (185C) and line a baking tray with parchment paper.
Roll the dough into balls (about the size of a golf ball). Place 9 balls of dough at a time on the baking sheet (3 rows of 3 dough balls). The cookies will spread out a bit so you don't want them too close.
Bake in the middle of the oven for 10 minutes.
Place a glass over each cookie and swirl it around as soon as you take them out of the oven, this will give the cookies a nice round shape and edge.
Allow the cookies to cool on the baking tray for 3-5 minutes before transferring them to a cooling rack.
Enjoy!