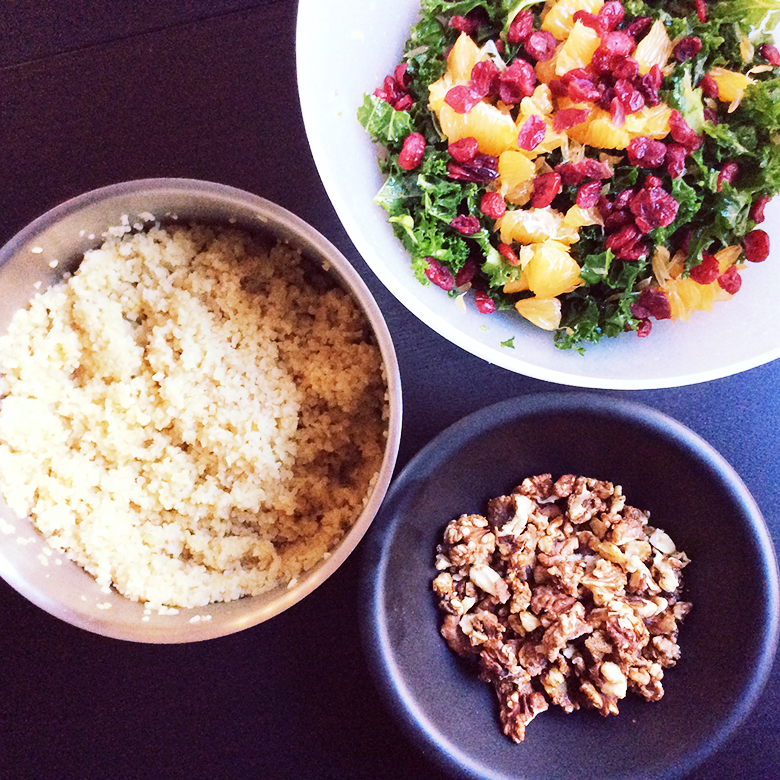 This weekend we were invited to a Christmas celebration dinner at my boyfriend's friends. I brought dessert – a frosted gingerbread cake – and also threw together this Christmassy bulgur salad to bring to the dinner. It's a really quick and easy salad that is great for larger companies, it tastes of Christmas and looks pretty.
CHRISTMAS SALAD WITH CRANBERRIES & CANDIED WALNUTS
Serves: 10-12 people
4 portions of bulgur (follow directions on the pack)
2 handfuls of walnuts
2 Tbsp brown sugar
2 handfuls of cranberries
A big bunch of kale
1 clementine, peeled and skin removed
Juice of 1 clementine
2-3 Tbsp olive oil
1/2 tsp cinnamon
Salt & pepper to taste
METHOD
1. Cook the bulgur according to the directions on the package. Set aside to cool.
2. In a clean and dry pan, roast the walnuts with the brown sugar, keep an eye on it and keep stirring to coat the walnuts as the sugar melts. Once all the sugar has melted, set the nuts aside while you continue preparing the rest of the salad.
3. In a large mixing bowl, add the kale and drizzle some olive oil and squeeze the juice of a clementine over it. Massage the olive oil and juice into the kale with your hands (this will make it soften and decrease in size).
4. Peel a clementine and remove the skin from the pieces of it so all you've got left is the "meat" of the fruit. Add the pieces of clementine and the cranberries to the kale.
5. Fluff the cooked and cooled bulgur with a fork and then add it to the kale, clementines and cranberries. Mix it all together.
6. Add the walnuts and mix again.
7. Sprinkle some salt, pepper and a little bit of cinnamon over the salad and mix again.
8. Before serving, drizzle the salad with some more olive oil.
Enjoy!