I remember coming across turtle clusters for the first time in a little boutique in Boston many years ago. The woman working in the boutique was so surprised I didn't know what they were that she offered me a free sample to try, and I loved them.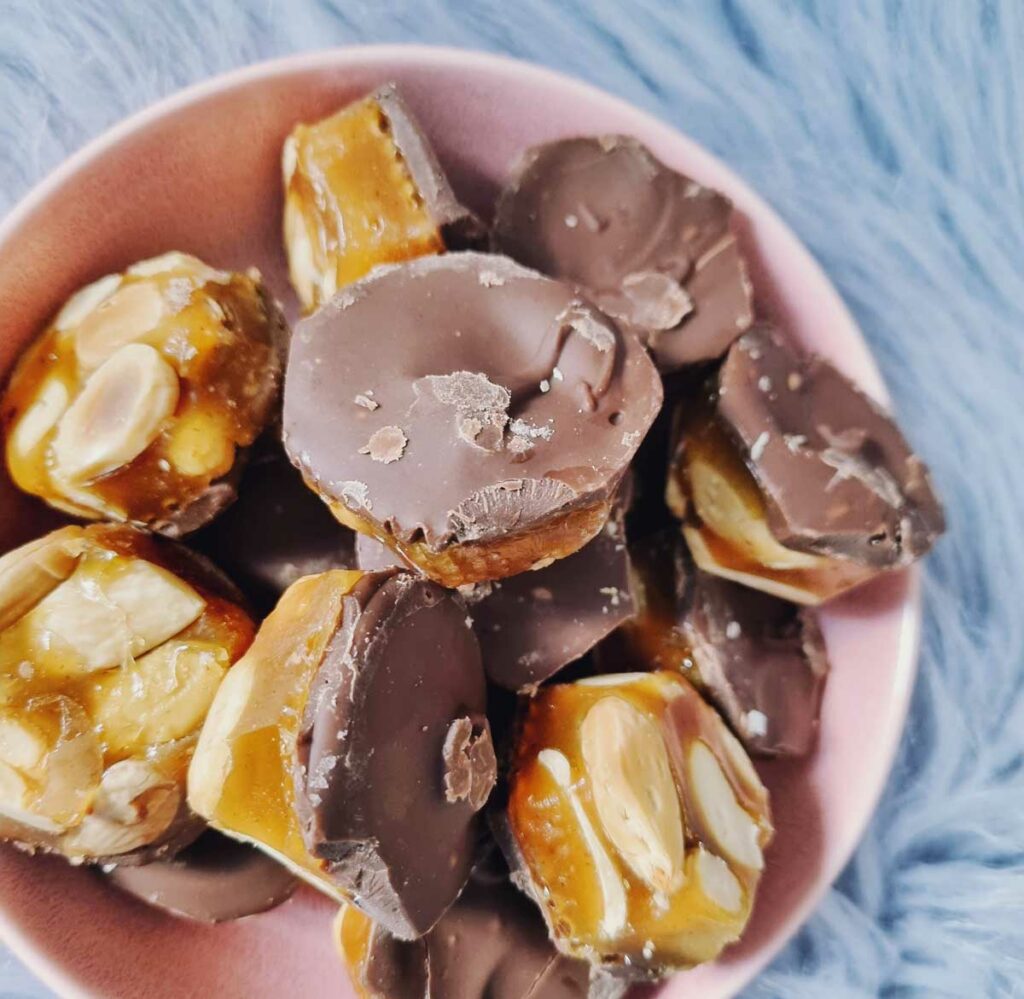 They're commonly made with pecans, but since they're hard to come by here in Sweden so I used salted cashews and almonds in mine.
I made mine vegan by using oat cream instead of dairy cream and dairy free butter for the caramel sauce. Whenever I make vegan caramel sauce, I often struggle with that it doesn't set properly so it floats out all over the place. Knowing this often happens, I chose to make my Almond Cashew Caramel Turtle Clusters in mini cupcake forms to keep the caramel in place. Note: This was a mistake! Do not make these in paper cups. The caramel gets stuck like glue to the paper. I ended up having to slice the caramel cups out of the paper cups to save them.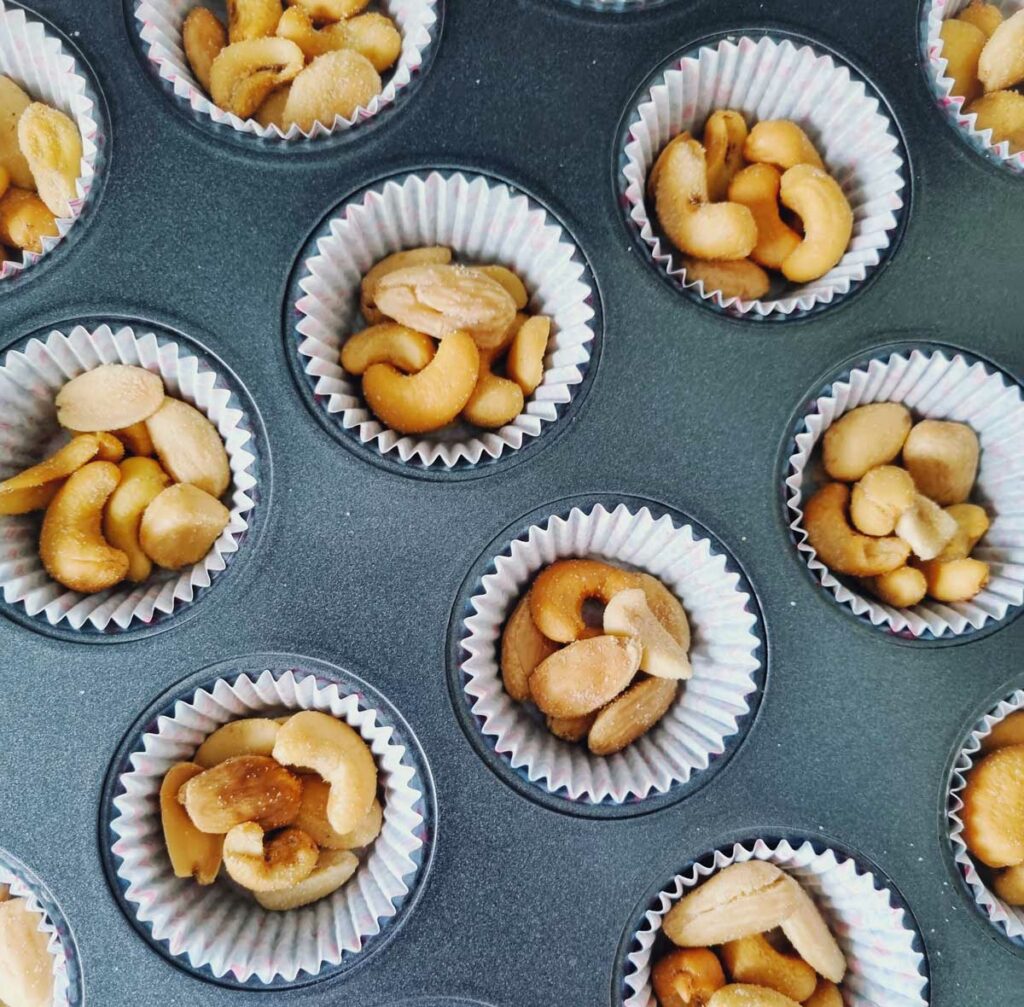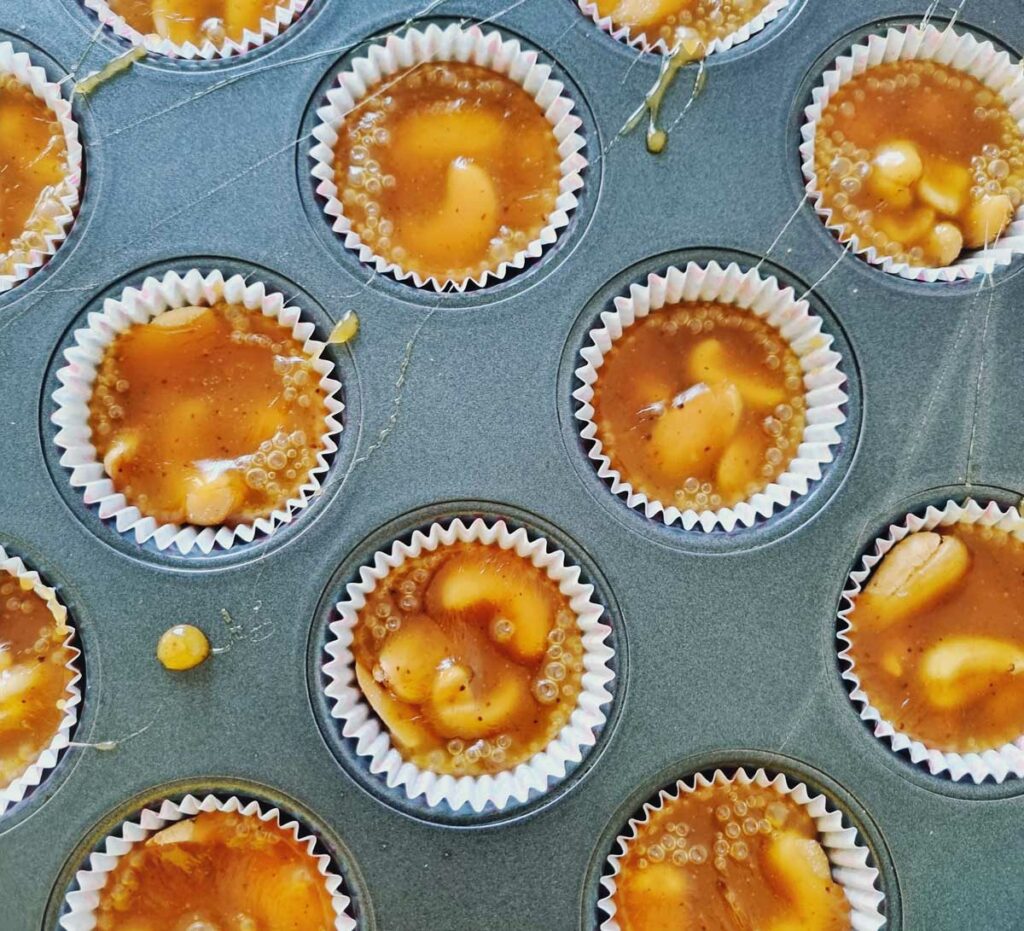 Here's how to make Almond Cashew Caramel Turtle Clusters, not in paper cups.
Ingredients
For the base
2 cups of salted almonds and cashews

For the caramel sauce
50 grams (1.7 oz) vegan butter
3 dl (300 ml or ~10 fl oz) vegan cream (I used Oatly oat cream)
3 dl (~1.2 cups) sugar
1 1/2 dl (~0.6 cups) syrup

To top with
300 grams (~10 oz) vegan milk or dark chocolate
How to make Almond Cashew Caramel Turtle Clusters
Butter or oil a mini cupcake tin, or line a baking tray with parchment paper.
Place 4-5 nuts (mixing a few almond and a few cashews) in each form in the mini cupcake tin, or make small piles of nuts on the baking tray. Set aside while you make the caramel sauce.
In a large saucepan, add the butter, cream, sugar and syrup and bring to a boil. Lower the heat slightly and let bubble until the caramel reaches a temperature of 125C (257F). This will take about 20-25 minutes. Once it's reached temperature, remove from the heat and let rest for a minute until it stops bubbling.
Spoon the caramel sauce over the nuts into each form, only fill about 3/4 of the way so you leave space for the chocolate. Transfer the tray to the fridge or freezer until set (about 1-2 hours).
Melt the chocolate and spoon a little bit over each of the clusters. Transfer to the fridge again until set. Store in an airtight container in the fridge for up to a week or in the freezer for up to a month.
Enjoy!