This Vegan Dark Chocolate Glazed Cake came about thanks to my mom asking for something VERY chocolate-y for her birthday dessert. I think it's the lack of flour in this cake combined with the different sources of chocolate (both chopped chocolate and cocoa powder, topped with a chocolate glaze) that just make it so extremely fudge-y, undeniably chocolate-y, and just plain perfect for a chocolate lover like my mom!
Needless to say this cake was a huge hit with my mom and definitely hit the spot for me too. I recommend you serve it with a scoop or two of vanilla ice cream, it makes all the difference.
Related: Vegan Dark Chocolate Fudge Recipe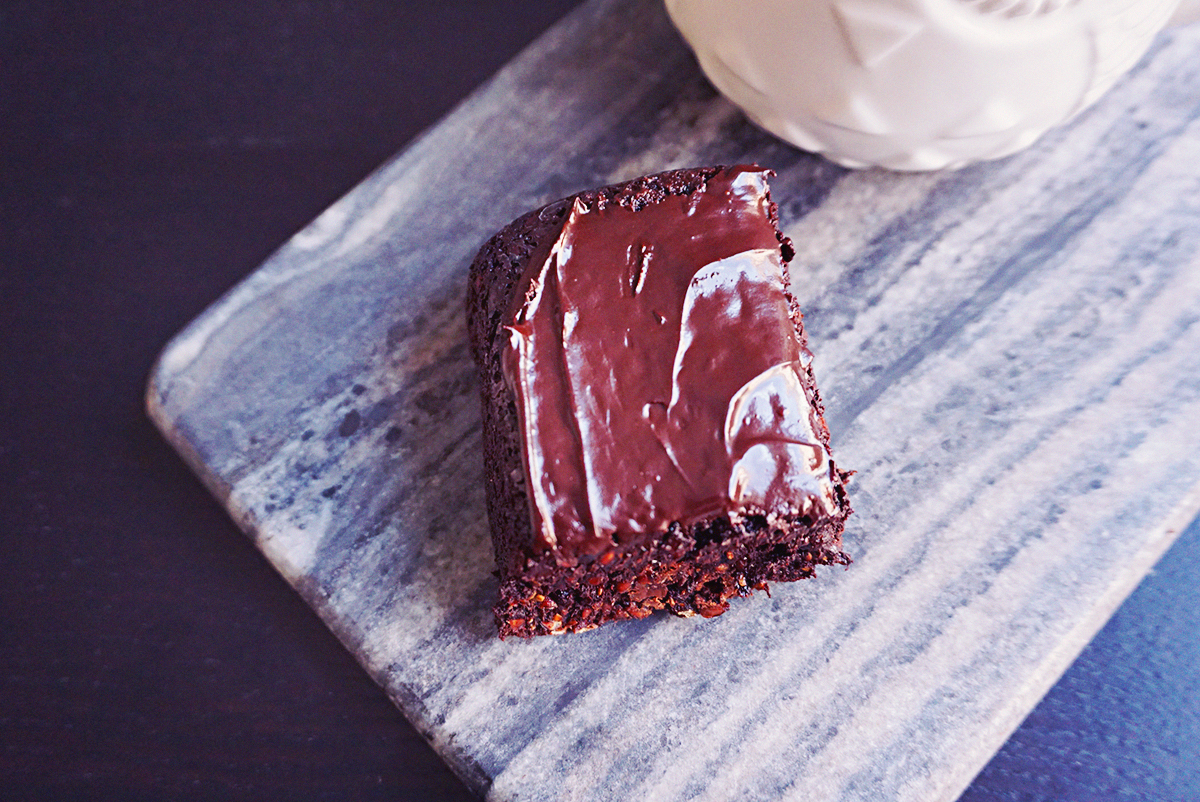 Gluten Free, Dairy Free, Vegan Dark Chocolate Glazed Cake
Ingredients
1/2 cup ground flaxseed
1/2 cup cocoa powder
1 tsp baking soda
pinch of salt
1 tsp vanilla extract
6 tbsp agave syrup (or other liquid sweetener)
1 chia egg (1 Tbsp chia seeds mixed with 3 Tbsp water)
1/2 cup + 2 tbsp banana, mashed/pureed
1/4 cup dark chocolate, chopped
For the glaze
2 heaped tsp of powdered sugar
1 heaped tsp cocoa powder
2-3 Tbsp almond milk (or other plant based milk)
Method
Preheat the oven to 350 F (180 C)
Mix together the ground flaxseed (if you can't find ground flaxseed, whole flax works too), cocoa powder, baking soda and salt in a bowl.
In a separate bowl, whisk together the vanilla extract, agave, chia egg and banana puree until smooth.
Pour the wet ingredients into the dry ingredients and mix until completely combined.
Grease a small loaf pan with coconut oil or other plant based oil and pour the mixture into it. Sprinkle the chopped dark chocolate over the cake and use a spatula to push it into the batter slightly.
Bake in the middle of the oven for about 40 minutes until the cake is completely set on top and doesn't wobble.
To make the glaze: stir together the powdered sugar and cocoa powder, add a little bit of almond milk at a time and stir vigorously until you get a thick glaze. you need less almond milk that you think so go easy and stir a lot until adding more, you don't want the glaze to get runny!
Let the cake cool completely and then spread the glaze on top using a spoon or spatula.
Serve with a couple of spoons of vanilla ice cream, enjoy!