Activewear has become a popular thing to wear whether you're a regular at the gym or not. With the abundance of trendy and fun fitness clothing available, not to mention how comfortable it is, I don't blame you.
A big portion of my wardrobe is dedicated to activewear. Not surprisingly considering I'm a regular at the gym, but I'm also crazy about the cool styles available now. There's a ton of brands that design activewear I'd love to wear both in and out of the gym. I've compiled some of my favorite brands in this list of 8 activewear brands you'll love.
I don't know about you, but I feel more excited about working out if I have an outfit I feel good in. That said, of course you can workout in whatever you want – as long as it's comfortable and doesn't prevent you from moving freely.
I'm most often drawn to clothes – both activewear and "everyday wear" – that is a bit different. I can't really describe what I mean to you, I kind of know it when I see it. But there's several examples below that are easily on my wish list.
I have two of the sports bras from LNDR and I love them. The color combinations are great and I'm a sucker for a good seamless piece of activewear. One thing to keep in mind if you're ordering from LNDR is to go up a size or two, their clothes are TINY and very tight. I have a size M-L in their sports bras.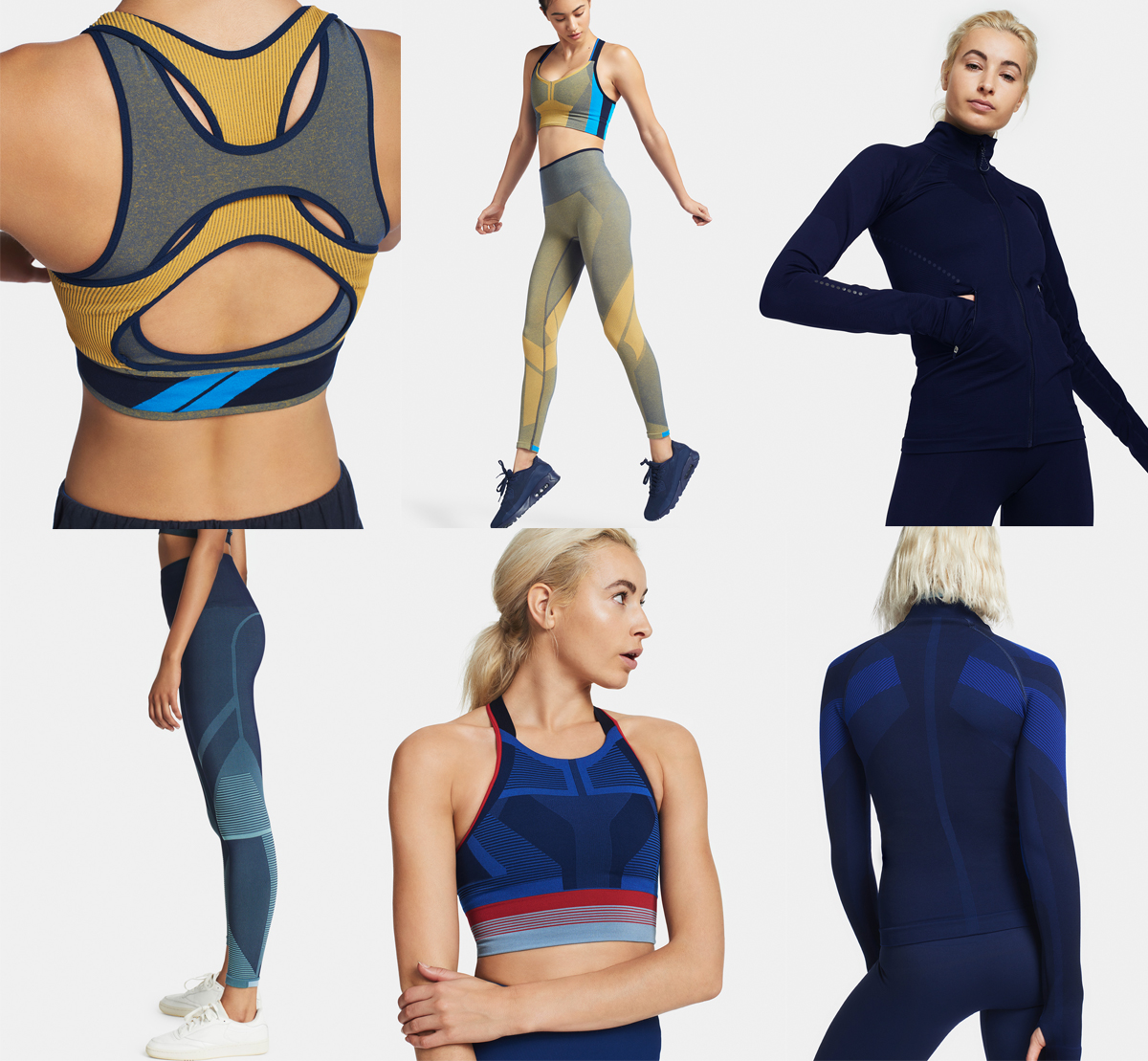 1. Eagle Sports Bra, 2. Motion Leggings, 3. Blackout Jacket, 4. Spectrum Leggings, 5. Spectrum Sports Bra, 6. Spright Jacket
I have four pair of Gymsharks seamless leggings, they're my absolute favorite! They fit perfectly, are super comfortable and hug all the right places. Most recently I got the ombre leggings in peach and they're so nice! The thing about Gymshark though is that they're extremely popular, so they sell out quickly. A tip is to follow their ambassadors on Instagram to find out when they'll be dropping a new stock of their latest styles – and then go on their site and buy them as soon as they drop as their most popular styles sell out within minutes.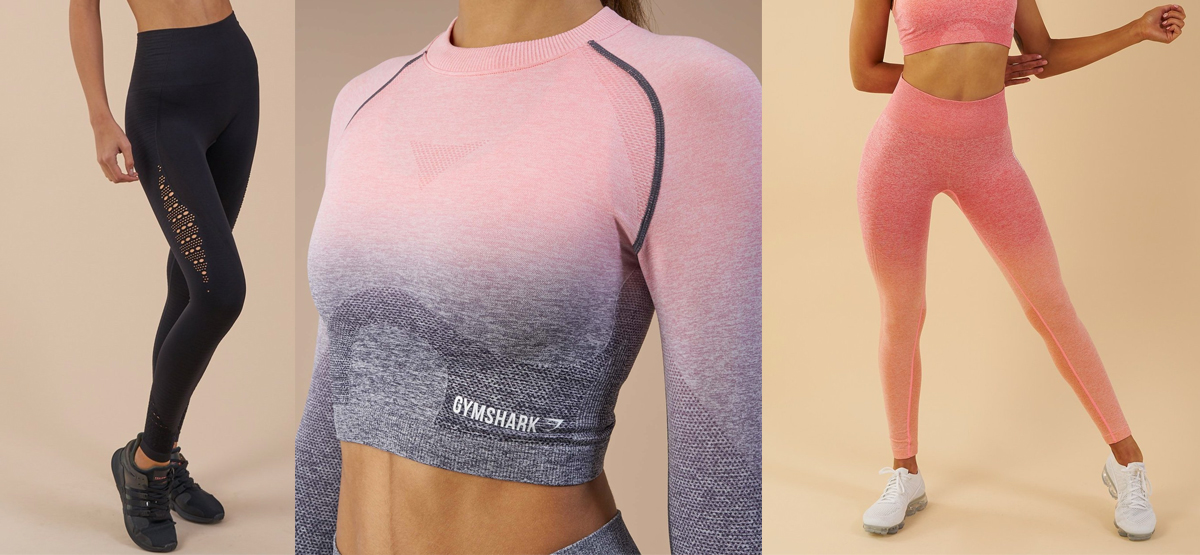 1. Seamless Energy High Waisted Leggings, 2. Ombre Seamless Crop Top, 3. Ombre Seamless Leggings
Asos just recently introduced their own activewear label – 4505. They're constantly adding new styles to the line and a lot of it is clearly inspired by some of the most popular fitness brands right now. As you can see by the styles I've selected below, they're similar to both LNDR and Gymshark mentioned above. I've got a couple of tops from the 4505  line, including the black seamless cami top below and I really like them! They're super comfy and what's nice about the line is that it's not as expensive as a lot of the popular active wear and I love that they offer a wide range of sizes – including petite, tall and curve!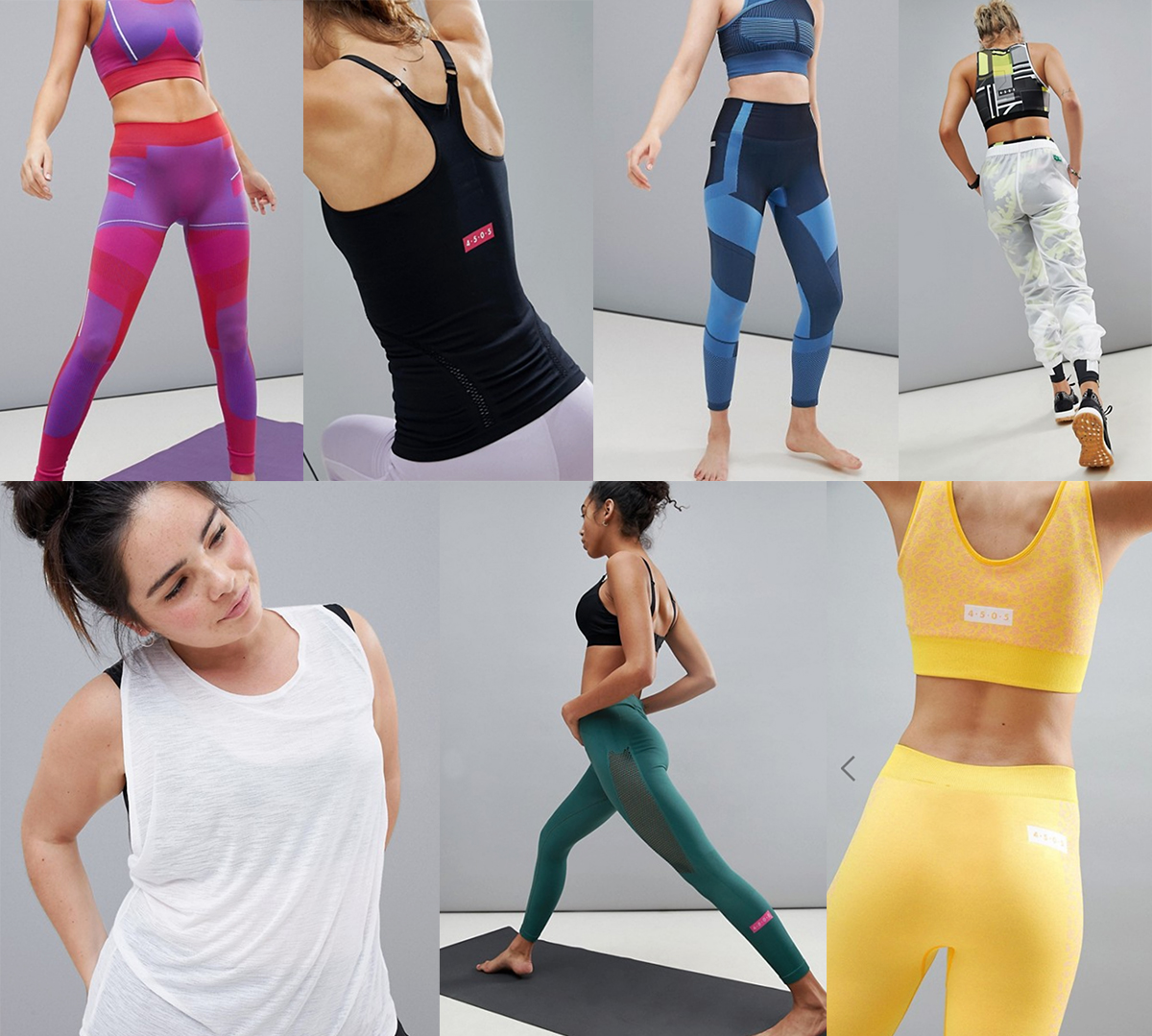 1. Seamless Geometric Legging, 2. Seamless cami top, 3. Seamless yoga legging, 4. Trackpant in sheer reinforced fabric, 5. Gym vest in sheer fabric, 6.  Yoga 7/8 legging, 7. Seamless yoga legging with leopard panels
No Ka'Oi is one of the more expensive activewear brands. I don't own anything from them (yet) but absolutely love their stuff. Their collection is fun, quirky and definitely the type of activewear you could wear to the gym or for a night out. I've got it all on my wishlist, especially the Willau Bra with embroidery and the Nohona Nula Sweater – swoon!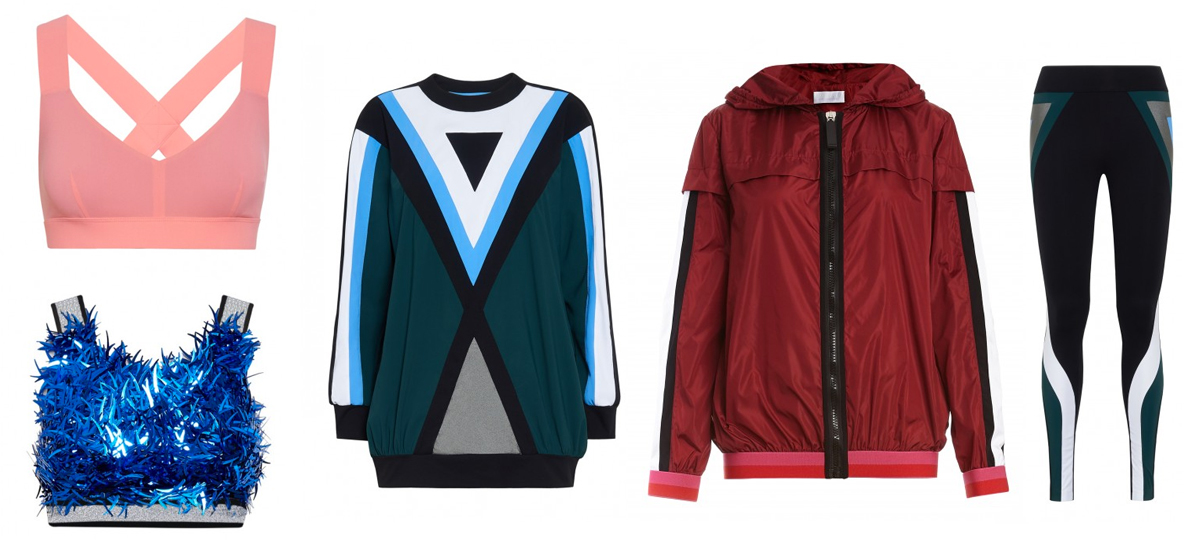 1. Ola Bra, 2. Willau Bra with embroidery, 3. Nohona Nula Sweater, 4.  Hanuna Jacket, 5. Nohona Kimi Leggings
Ultracor is another more expensive line of activewear but they've got a lot of nice stuff. I'm a sucker for cutout details so I absolutely love the gradient legging and ultramesh top as well as the triax crop top. The star studded designs are also super fun – who doesn't love something shiny!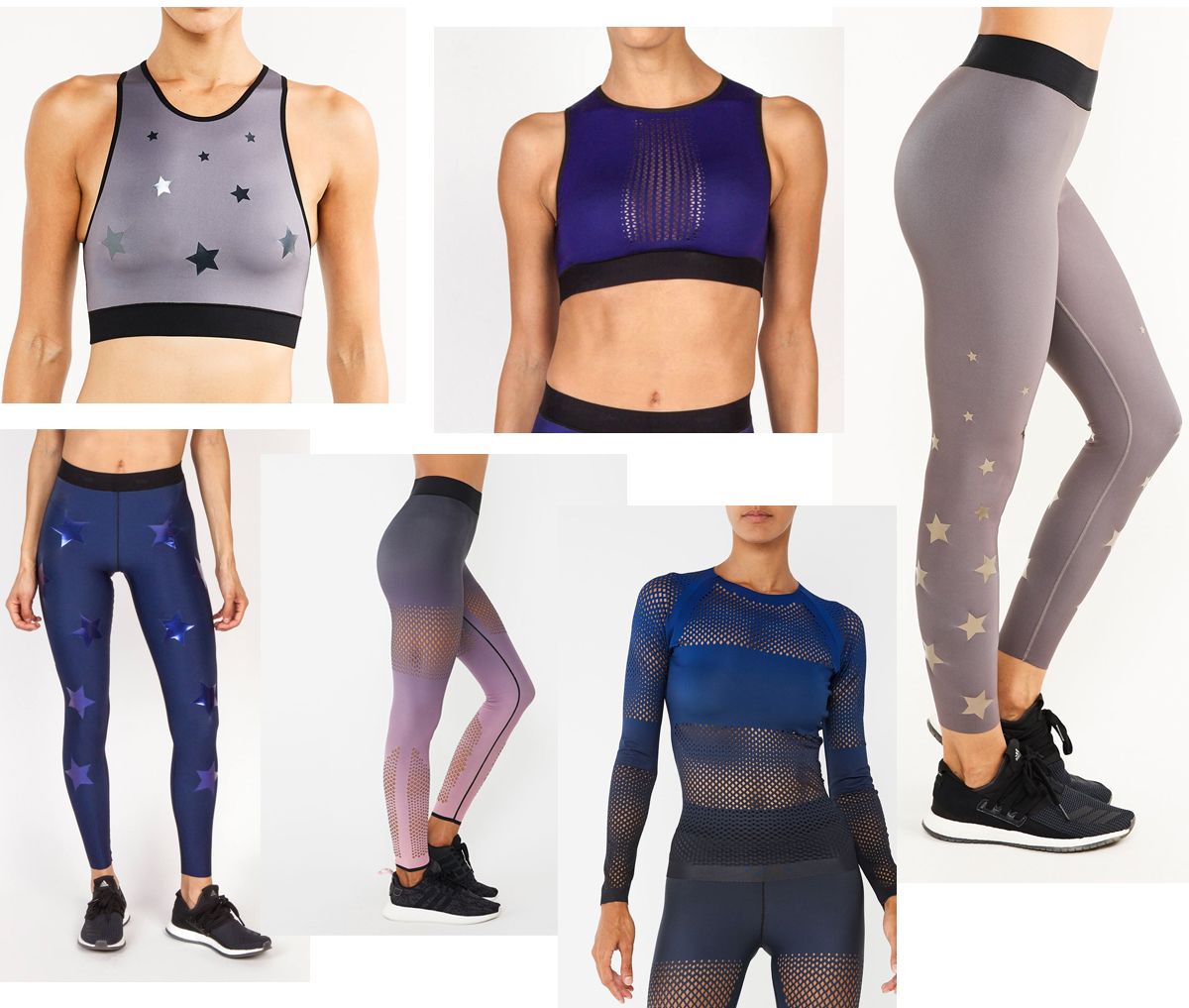 1. Altitude luster top, 2. Level triax crop top, 3. Metallic luster legging, 4. Silk knockout legging, 5. Ultramesh silk gradient legging, 6. Velocity silk ultramesh top
Perfect Moment offer a range of basic activewear in bold colors. As with the other brands mentioned here, this clothing line also has a lot of items that could work as regular day-to-day wear in addition to activewear. I like the red, blue and yellow color combination in their current collection and the chevron details.
1. Starlight fitness top, 2. Chevron cropped tee, 3. Chevron sweatshirt, 4. Starlight hoodie, 5. Strapped sports bra
Yet another more expensive but oh-so-trendy activewear brand is P.E Nation. They've got some fun and quirky designs and a lot of their current collection looks like formel 1 racing style clothing. My favorites of the items selected below are the glory leggings, the major win sweat (love the zipper detail on the shoulder), and the hustler sweat (love the color).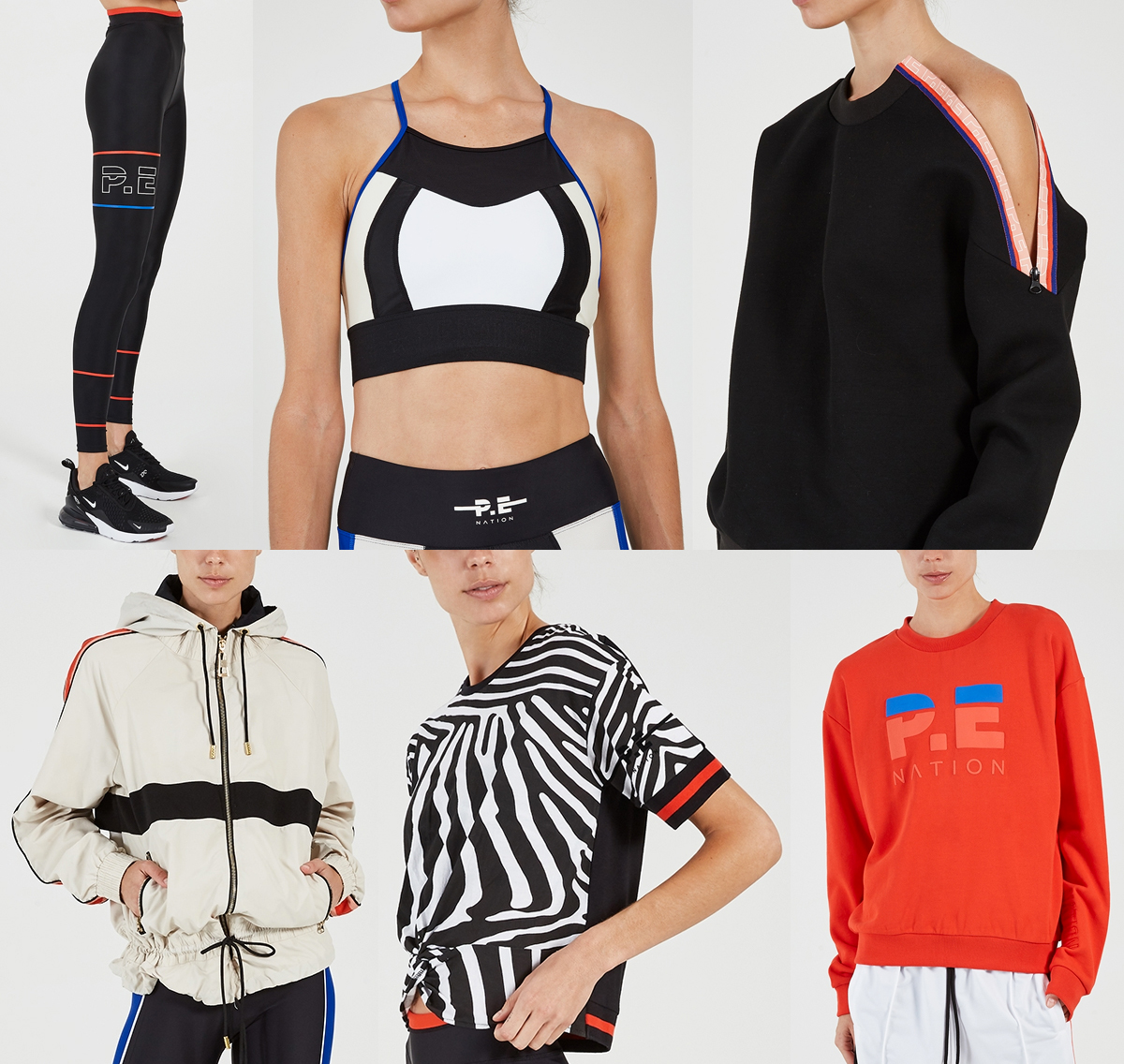 1. Glory legging, 2. Open water crop, 3. Major win sweat, 4. Man up jacket, 5. Winning streak tee, 6. Hustler sweat
The Upside are big worldwide but have become particularly popular in Australia. Their collection includes activewear and swimwear and a small selection of accessories. They've got some fun pattern designs, including the cat pants below – with polka and cat dots and the leggings with leaves and red stripe panel along the side of the leg. The cat and leave patterns are also available on jackets.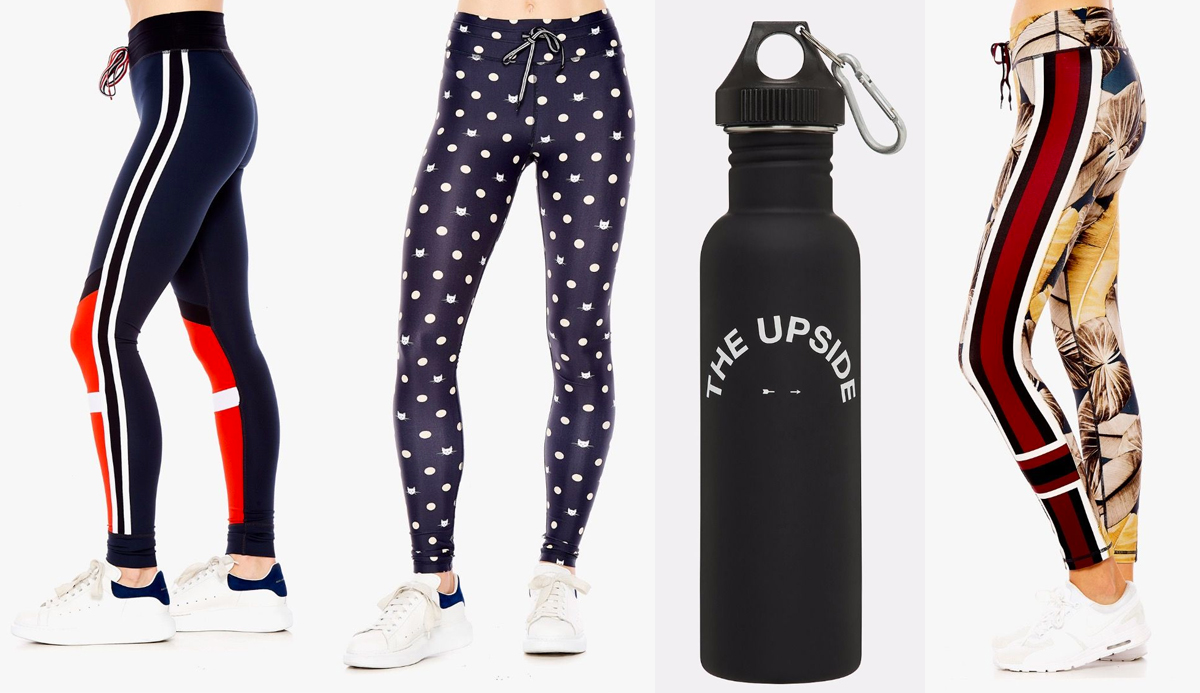 1. Color blocked matte yoga pant, 2. Cats yoga pants, 3. The Upside water bottle, 4. Leaves matte midi pant
What are your favorite active wear brands?